Period
The Asuka period ( 飛鳥時代 , Asuka jidai ? ) was a period in the history of Japan lasting from 538 to 710 (or 592-645), although its beginning could be said to overlap with the preceding Kofun period .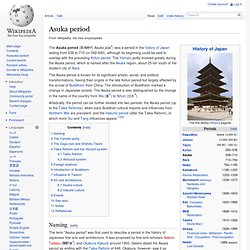 Asuka period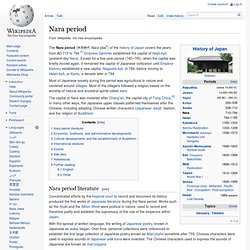 The Nara period ( 奈良時代 , Nara jidai ? ) of the history of Japan covers the years from AD 710 to 794. [ 1 ] Empress Gemmei established the capital of Heijō-kyō (present-day Nara ). Except for a five-year period (740–745), when the capital was briefly moved again, it remained the capital of Japanese civilization until Emperor Kammu established a new capital, Nagaoka-kyō , in 784, before moving to Heian-kyō , or Kyoto , a decade later in 794.
Nara period
The Heian period ( 平安時代 , Heian jidai ?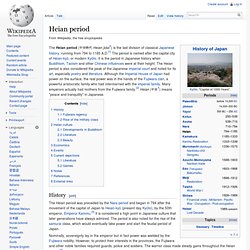 Heian period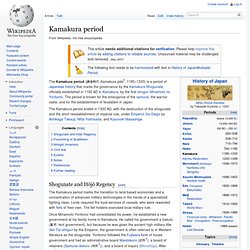 The Kamakura period ( 鎌倉時代 , Kamakura jidai ?
Kamakura period
Kenmu Restoration
The Kenmu (or Kemmu ) restoration ( 建武の新政 , Kenmu no shinsei ? ) (1333–1336) is the name given to both the three-year period of Japanese history between the Kamakura period and the Muromachi period , and the political events that took place in it. [ 1 ] The restoration was an effort made by Emperor Go-Daigo to bring the Imperial House and the nobility it represented back into power, thus restoring a civilian government after almost a century and a half of military rule. [ 2 ] The attempted restoration ultimately failed and was replaced by the Ashikaga shogunate (1336–1575). [ 2 ] This was to be the last time the Emperor had any power until the Meiji restoration of 1867. [ 2 ] The many and serious political errors made by the Imperial House during this three-year period were to have important repercussions in the following decades and end with the rise to power of the Ashikaga dynasty. [ 2 ]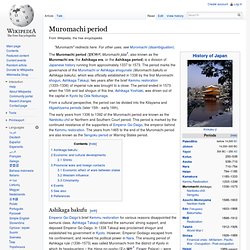 The Muromachi period ( 室町時代 , Muromachi jidai ? , also known as the Muromachi era , the Ashikaga era , or the Ashikaga period ) is a division of Japanese history running from approximately 1337 to 1573. The period marks the governance of the Muromachi or Ashikaga shogunate ( Muromachi bakufu or Ashikaga bakufu ), which was officially established in 1338 by the first Muromachi shogun , Ashikaga Takauji , two years after the brief Kemmu restoration (1333–1336) of imperial rule was brought to a close.
Muromachi period
The Sengoku period ( 戦国時代 , Sengoku jidai ?
Sengoku period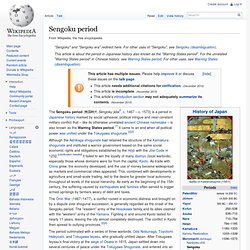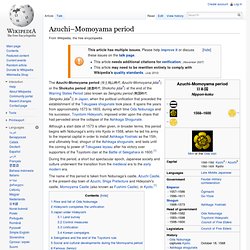 The Azuchi-Momoyama period ( 安土桃山時代 , Azuchi-Momoyama jidai ?
Azuchi–Momoyama period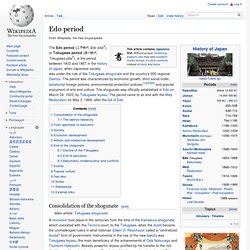 Edo period
The Edo period ( 江戸時代 , Edo jidai ? ) , or Tokugawa period ( 徳川時代 , Tokugawa jidai ?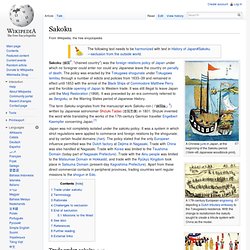 A Chinese junk in Japan, at the beginning of the Sakoku period (1644–48 Japanese woodblock print). A 17th century European engraving depicting a Dutch tributary embassy to the Tokugawa's residence.
Sakoku
Bakumatsu
Bakumatsu ( 幕末 , bakumatsu ?