Period
The Asuka period (飛鳥時代, Asuka jidai?) was a period in the history of Japan lasting from 538 to 710 (or 592-645), although its beginning could be said to overlap with the preceding Kofun period.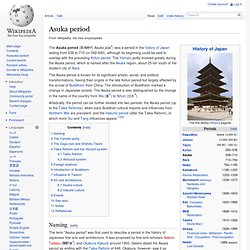 Asuka period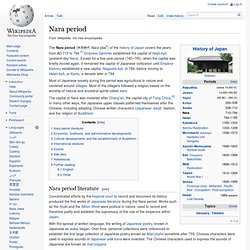 The Nara period (奈良時代, Nara jidai?) of the history of Japan covers the years from AD 710 to 794.[1] Empress Gemmei established the capital of Heijō-kyō (present-day Nara). Except for a five-year period (740–745), when the capital was briefly moved again, it remained the capital of Japanese civilization until Emperor Kammu established a new capital, Nagaoka-kyō, in 784, before moving to Heian-kyō, or Kyoto, a decade later in 794.
Nara period
The Heian period (平安時代, Heian jidai?)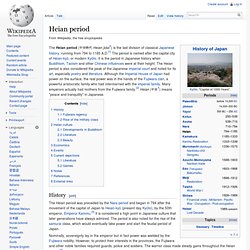 Heian period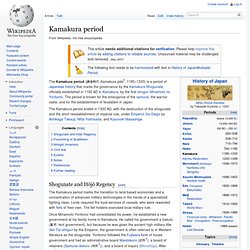 The Kamakura period (鎌倉時代, Kamakura jidai?
Kamakura period
Kenmu Restoration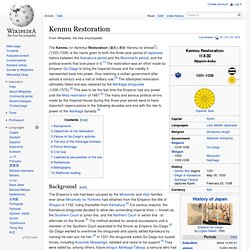 The Kenmu (or Kemmu ) restoration ( 建武の新政 , Kenmu no shinsei ?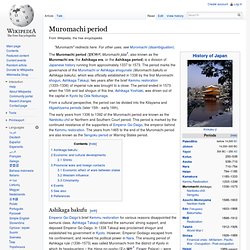 The Muromachi period (室町時代, Muromachi jidai?, also known as the Muromachi era, the Ashikaga era, or the Ashikaga period) is a division of Japanese history running from approximately 1337 to 1573. The period marks the governance of the Muromachi or Ashikaga shogunate (Muromachi bakufu or Ashikaga bakufu), which was officially established in 1338 by the first Muromachi shogun, Ashikaga Takauji, two years after the brief Kemmu restoration (1333–1336) of imperial rule was brought to a close.
Muromachi period
The Sengoku period (戦国時代, Sengoku jidai?)
Sengoku period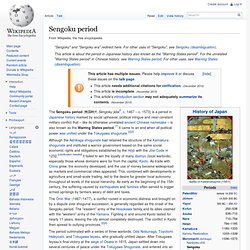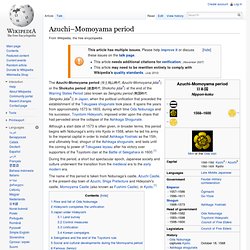 The Azuchi-Momoyama period (安土桃山時代, Azuchi-Momoyama jidai?)
Azuchi–Momoyama period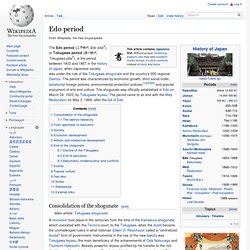 Edo period
The Edo period (江戸時代, Edo jidai?), or Tokugawa period (徳川時代, Tokugawa jidai?)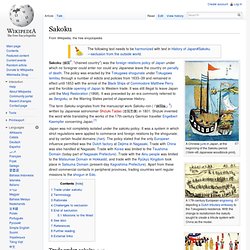 A 17th-century European engraving depicting a Dutch tributary embassy to the Tokugawa's residence. With the change to isolationism the bakufu sought to create a tribute system with China as the model.
Sakoku
Bakumatsu
Although these two groups were the most visible powers, many other factions attempted to use the chaos of Bakumatsu to seize personal power.[1][page needed] Furthermore there were two other main driving forces for dissent: first, growing resentment on the part of the tozama daimyo (or outside lords), and second, growing anti-western sentiment following the arrival of Matthew C.