Japan mapping (Rad/Quake)
Maps Identify Fallout and Radiation Hotspots from Japan Nuclear Disaster
By Edwin Cartlidge of Nature magazine The distribution of fallout from the crippled Fukushima Daiichi nuclear power plant has now been mapped by two independent teams. The charts reduce the uncertainty surrounding the amount of contamination across Japan, and help to show which areas should be safe to return to farming.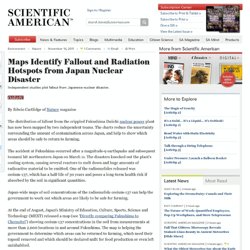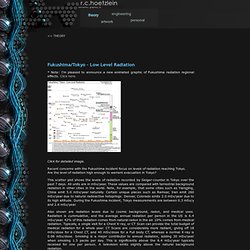 Fukushima/Tokyo - Low Level Radiation « rchoetzlein - Theory
* Note: I'm pleased to announce a new animated graphic of Fukushima radiation regional effects. Click here. Click for detailed image.
Map of Radiation Measurements by Greenpeace team
Japan Status
#geigermaps
Safecast
RDTN.ORG
The wisdom of a crowd armed with radiation detection devices is helping to chart radiation readings across Japan as the country struggles to avoid a nuclear catastrophe. RDTN.ORG, built by Portland, Oregon-based Uncorked Studios, with the help of many external contributors, asks people to submit readings from their locations for posting on a Google map that aggregates the data. RDTN is currently using data from Pachube and Marian Steinbach's Japan Radiation Open Data blog, and will add data from other "reliable" sources as they become available. The site maintains that it is not meant to replace official nuclear agencies.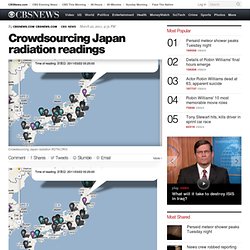 Crowdsourcing Japan radiation readings - Tech Talk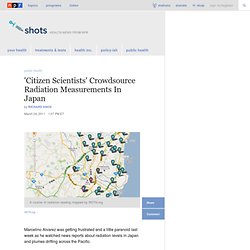 'Citizen Scientists' Crowdsource Radiation Measurements In Japan : Shots - Health Blog
hide captionA cluster of radiation reading mapped by RDTN.org RDTN.org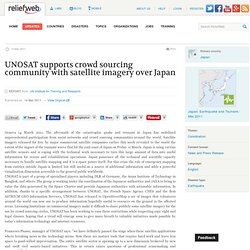 UNOSAT supports crowd sourcing community
Geneva 14 March 2011. The aftermath of the catastrophic quake and tsunami in Japan has mobilised unprecedented participation from social networks and crowd sourcing communities around the world. Satellite imagery released for free by major commercial satellite companies earlier this week revealed to the world the extent of the impact of the tsunami waves that hit the east coast of Japan on Friday 11 March.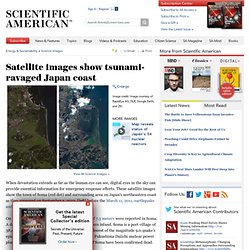 Satellite images show tsunami-ravaged Japan coast: Scientific American Gallery
EnlargeImage courtesy of RapidEye AG, DLR, Google Earth, and ZKIMORE IMAGES When devastation extends as far as the human eye can see, digital eyes in the sky can provide essential information for emergency response efforts.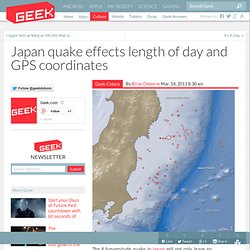 Day length & GPS coords
The 8.9-magnitude quake in Japan will not only leave an everlasting impression on the country, but globally as a result of the quake's effect on the rotation of the Earth and GPS coordinates. Incredibly, the earthquake in Japan was so powerful it sped up the rotation of the Earth resulting in the shrinking of a 24-hour day by 1.8 milliseconds. The estimate comes from Richard Gross who is based at NASA's Jet Propulsion Laboratory in Pasadena, California. Gross' estimate could change as additional data about the quake is gathered. He had recently stated that the day shrank by 1.6 milliseconds, but has since updated the original estimate based on new information. How could an earthquake speed up the Earth's rotation?
Google Crisis Response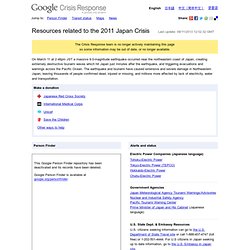 The Crisis Response team is no longer actively maintaining this page so some information may be out of date, or no longer available. On March 11 at 2:46pm JST a massive 9.0-magnitude earthquake occurred near the northeastern coast of Japan, creating extremely destructive tsunami waves which hit Japan just minutes after the earthquake, and triggering evacuations and warnings across the Pacific Ocean.
Prefectures of Japan
Prefectures of Japan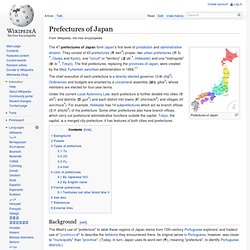 ESRI Japan Earthquake
Nuclear Impact
Japan Quake Map
Texas Tech - Japan Earthquake
with R, ggplot2, and FFmpeg 1 Introduction As a follow-up to 'Analysis of Japanese Earthquakes Data', I sought to produce a map including infomation about epicenter and magnitude. Last article have contributed to visualize the frequency of earthquakes, on the other hand I have attempted to visualize infomation about epicenter and magnitude on a map with R, ggplot2, and FFmpeg. 2 Data
Japan Quake Map