Embassy Advice
Home | Embassy of the United States Tokyo, Japan
Japan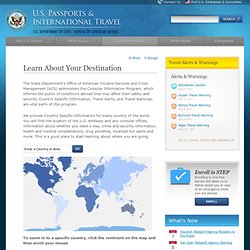 COUNTRY DESCRIPTION: Japan is a stable, highly developed parliamentary democracy with a modern economy. Tourist facilities are widely available, except in coastal areas of Northeast Japan still recovering from the aftermath of the March 11, 2011, earthquake and tsunami. Please read the Department of State's Background Notes on Japan for additional general information. Back to Top
Travel Advisory 31-March US Emb Japan
This Travel Warning replaces the Travel Warning dated March 21, 2011 . In response to the situation at the Fukushima Daiichi Nuclear Power Plant, the United States Nuclear Regulatory Commission (NRC), the Department of Energy, and other technical experts in the U.S. Government have reviewed the scientific and technical information they have collected from assets in country, as well as what the Government of Japan has disseminated. Consistent with the NRC guidelines that would apply to such a situation in the United States, we continue recommending, as a precaution, that U.S. citizens within 50 miles (80 kilometers) of the Fukushima Daiichi Nuclear Power Plant evacuate the area or take shelter indoors, if safe evacuation is not practical. On March 16, the State Department authorized the voluntary departure from Japan of eligible family members of U.S. government personnel assigned to the U.S. Embassy in Tokyo, the U.S.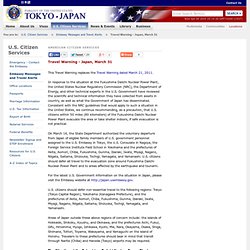 Ministries of Foreign Affairs
Embassy of France in Japan
Ambassade de France au Japon
FCO Japan travel advice
The FCO advise against all travel to parts of the country.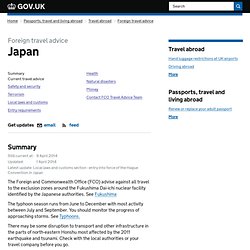 HPA response to explosions at the Japanese nuclear power plant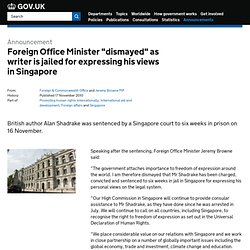 Speaking after the sentencing, Foreign Office Minister Jeremy Browne said:
DFAT Travel Advice for Japan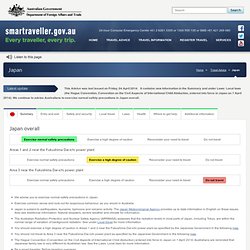 Summary Japan overall Deliberate Evacuation Area Within 20km of the Fukushima Dai-ichi nuclear site, and Areas 2 and 3 as designated by the Japanese Government We advise you to exercise normal safety precautions in Japan. Exercise common sense and look out for suspicious behaviour, as you would in Australia.