Embassy Advice
Home | Embassy of the United States Tokyo, Japan. Japan. The State Department's Office of American Citizens Services and Crisis Management (ACS) administers the Consular Information Program, which informs the public of conditions abroad that may affect their safety and security.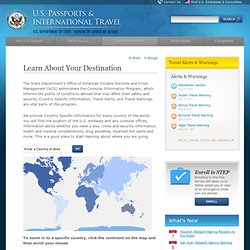 Country Specific Information, Travel Alerts, and Travel Warnings are vital parts of this program. We provide Country Specific Information for every country of the world. You will find the location of the U.S. embassy and any consular offices, information about whether you need a visa, crime and security information, health and medical considerations, drug penalties, localized hot spots and more. Travel Advisory 31-March US Emb Japan. This Travel Warning replaces the Travel Warning dated March 21, 2011.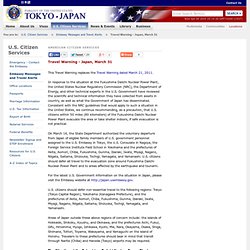 In response to the situation at the Fukushima Daiichi Nuclear Power Plant, the United States Nuclear Regulatory Commission (NRC), the Department of Energy, and other technical experts in the U.S. Government have reviewed the scientific and technical information they have collected from assets in country, as well as what the Government of Japan has disseminated. Consistent with the NRC guidelines that would apply to such a situation in the United States, we continue recommending, as a precaution, that U.S. citizens within 50 miles (80 kilometers) of the Fukushima Daiichi Nuclear Power Plant evacuate the area or take shelter indoors, if safe evacuation is not practical. On March 16, the State Department authorized the voluntary departure from Japan of eligible family members of U.S. government personnel assigned to the U.S. Embassy in Tokyo, the U.S. Ministries of Foreign Affairs. Ambassade de France au Japon. FCO Japan travel advice.
The Foreign and Commonwealth Office (FCO) advise against all travel to the exclusion zones around the Fukushima Dai-ichi nuclear facility identified by the Japanese authorities.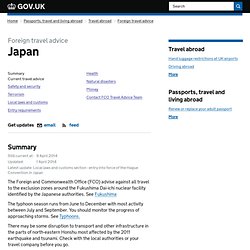 See Fukushima The typhoon season runs from June to December with most activity between July and September. You should monitor the progress of approaching storms. HPA response to explosions at the Japanese nuclear power plant. FCO - Japanese earthquake. An earthquake measuring 8.9 on the Richter scale struck 250 miles (400km) from Tokyo at 1446 local time yesterday.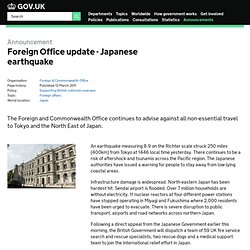 There continues to be a risk of aftershock and tsunamis across the Pacific region. The Japanese authorities have issued a warning for people to stay away from low-lying coastal areas. Infrastructure damage is widespread. DFAT Travel Advice for Japan. Summary Japan overall Areas 1 and 2 near the Fukushima Dai-ichi power plant Area 3 near the Fukushima Dai-ichi power plant We advise you to exercise normal safety precautions in Japan.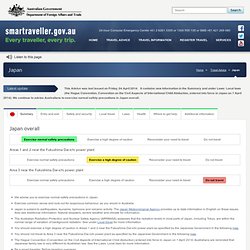 Exercise common sense and look out for suspicious behaviour, as you would in Australia.
---