Jacob & Bram's Mgical Sharing Folder of Sharing
TIL there is a fan made edit of "Star Wars: The Phantom Menace". It removes 18 minutes of dialogue and almost every scene with Jar Jar Binks, critics say its better than the original. : todayilearned. In the RAW | johnbrawley. My involvement in the development of the Blackmagic Cinema camera has raised the question of just what it means to have a RAW camera to shoot with.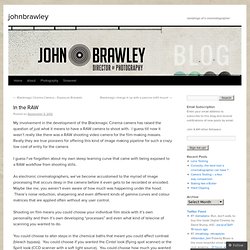 I guess till now it wasn't really like there was a RAW shooting video camera for the film-making masses. Really they are true pioneers for offering this kind of image making pipeline for such a crazy low cost of entry for the camera. I guess I've forgotten about my own steep learning curve that came with being exposed to a RAW workflow from shooting stills. An Unexpected Ass Kicking. Nothing has blown my mind quite like this case.. John Cleese on How to Be Creative. e49WB.jpg (500×647) The Great New York-to-Paris Auto Race of 1908 | Past Imperfect.
Myherobymattrhodes-d4sr1ot-2.jpg (423×10496) zSzrI.gif (500×500) Why The Joker and Not Batman is the Savior of Us All. What if I told you that Batman is not the true hero in the Dark Knight saga?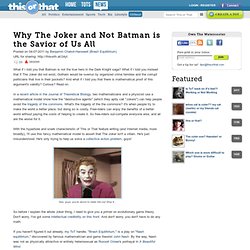 What if I told you instead that if The Joker did not exist, Gotham would be overrun by organized crime families and the corrupt politicians that live in their pockets? And what if I told you that there is mathematical proof of this argument's validity? Curious? Five Leadership Mistakes Of The Galactic Empire. VSCO Film | Visual Supply Co. LrMo2.jpg (1284×2894) MAPS: A Complete Guide To National Stereotypes All Around The World. Massive Kinetic Racetrack Makes LA Debut. LA, it's almost time.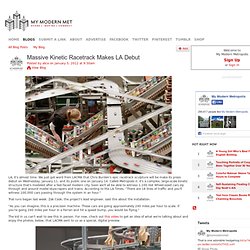 We just got word from LACMA that Chris Burden's epic racetrack sculpture will be make its press debut on Wednesday, January 11, and its public one on January 14. Called Metropolis II, it's a complex, large-scale kinetic structure that's modeled after a fast-faced modern city. Soon we'll all be able to witness 1,100 Hot Wheel-sized cars zip through and around model skyscrapers and trains. According to the LA Times, "There are 18 lines of traffic and you'll witness 100,000 cars passing through the system in an hour. "
---