Italien
Acerbis International. Cattelan - cataloghi interattivi. Philosophy. Letti imbottiti letti in tessuto letti tessili produzione e design - TWILS. S.r.l. - Mazzoli. CASA. Fendi Casa Classic Collection introduces another dimension of exclusivity and glamour.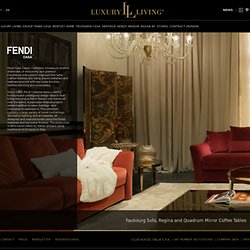 Excellence and comfort highlight the sofas crafted traditionally using prized materials and leathers adorned with exclusive buckles, Selleria stitching and embroidery. Since 1989, Fendi Casa has been creating furniture and prestigious design objects that bring the unique Fendi flavour into homes all over the world. A pervasive lifestyle project where tradition is never nostalgic and innovation is paramount. The collection contains a large variety of home furnishings, decorative lighting and accessories, all designed and manufactured using the finest materials and exclusive finishes. It : Colombostile : Hand Made / Made in Italy. It : FLEXFORM IT. Bontempi | Mobili . Tavoli . Sedie . Complementi . Divani . Letti design . Letti d'autore.
It : Cattelan Italia. It : Arper Italian furniture. It : Armani Casa. It : GERVASONI SPA - Furniture Industry Since 1882. It : Magis. It : Molteni&C. MDFITALIA. Meridiani - HOME PROJECTS OPENAIR. It : i4 Mariani s.p.a. - industria specializzata nella produzione di mobili.
ZANOTTA Design. DONGHIA | Home Page. It : Kristalia. Mobili design - LAGO.it. It : De Padova. It : plank.
---