to sort...
Get flash to fully experience Pearltrees
Tony Kushner was set to get an honorary degree but his name was removed form the list, apparently because of his critical views on Israel. Photograph: Dario Cantatore/Getty Images A row over the decision by a leading New York university to refuse playwright Tony Kushner an honorary degree due to accusations he was too critical of Israel has deepened as several high profile honorary degree holders renounced their own awards.
« Back to the Blog
A significant and potentially consequential controversy erupted last week when Politico 's Ben Smith — seemingly out of nowhere — wrote about what he described as deviations from "the bipartisan consensus on Israel" from several writers and bloggers at two of Washington's most well-connected Democratic political organizations: Center for American Progress and Media Matters. Naming Matt Duss, Eli Clifton, Eric Alterman and Ali Ghraib at CAP, along with former AIPAC employee MJ Rosenberg at Media Matters, Smith wrote that they regularly offer "a heretical and often critical stance on Israel heretofore confined to the political margins" and added: "warm words for Israel can be hard to find on [CAP's] blogs."
I've written several times about the coordinated smear campaign to brand writers at the Center for American Progress as "anti-Semites" in order to punish them for defying mandated orthodoxies on Israel and to deter others from doing so. While that smear campaign, having done its job, is now winding down, the predictable effects of it are only beginning: CAP is now censoring those targeted writers, and those who defended them are now being similarly smeared. First, the self-censorship at CAP: both The Weekly Standard 's Daniel Halper and Philip Weiss document how a post written by two of the targeted CAP writers, Ali Gharib and Eli Clifton, was censored in important, substantive ways.
The below record is divided into two broad categories: (1) CAP's substantive positions against Israel and on the side of anti-US, anti-Israel, and anti-Western forces (2) CAP's rhetoric and tactics of personal attacks against political opponents.
The film "Mission Impossible 4" opened in US theatres in recent weeks, starring BMW, Apple and Tom Cruise. A two-hour-long commercial on steroids.
Finally, weeks after Newt Gingrich's remarks citing Palestinians as an "invented people," in last night's Florida presidential debate, the GOP candidates were confronted by a Palestinian—and a Republican Palestinian too! The man, Abraham Hassan respectfully affirmed that he does exists and asked Republican candidates to explain how they will bring peace to the Middle East.
The Republican candidates for president once again tried to out-do the Likud Party in their devotion to the doctrine of the Iron Wall and their attempt to erase the Palestinian people from history and justify their being kept in a condition of statelessness and lack of citizenship in any state.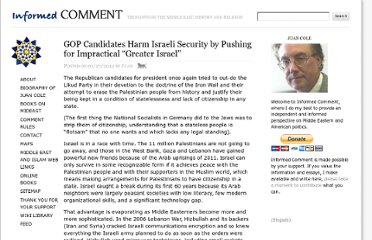 It is hard to believe that anyone who defends Israel's legitimacy as a state would buy into former Speaker Newt Gingrich's argument that Palestine is an "invented nation".
Text size this story is by Republican candidate Newt Gingrich's characterization of the Palestinians as an "invented" people is an "alarming attempt to diminish the Palestinian people and to diminish Palestinian history," according to David Remnick, the Pulitzer Prize-winning editor of the prestigious New Yorker magazine.