History of the Israel / Palestine Conflict - perspectives...
Ella Habiba Shohat is Professor of Cultural Studies and Women's Studies at CUNY. A writer, orator and activist, she is the author of Israeli Cinema: East/West and the Politics of Representation (Univ. of Texas Press, 1989) and the co-author (with Robert Stam) of Unthinking Eurocentrism: Multiculturalism and the Media (Routledge 1994). Shohat co-edited Dangerous Liaisons: Gender, Nation and Postcolonial Reflections (University of Minnesota Press, 1997) and is the editor of Talking Visions: Multicultural Feminism in a Transnational Age, (MIT Press/The New Museum, 2000). She writes often for such journals as Social Text and the Journal for Palestine Studies. … more about the author When issues of racial and colonial discourse are discussed in the U.S., people of Middle Eastern and North African origin are often excluded.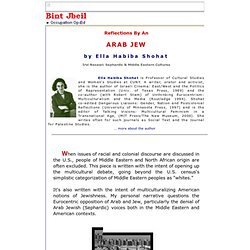 Reflections By An Arab Jew - Ella Shohat
Past is Present: Settler Colonialism in Palestine (New Issue of Settler Colonial Studies)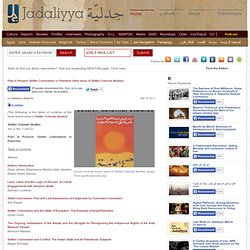 Follow Us From the Editors Don't miss Tadween Publishing Blog
Occupied by Memory: The Intifada Generation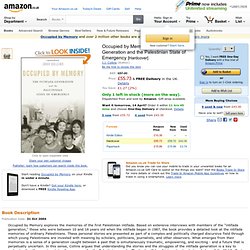 Review "One of the best illustrations of contemporary scholars' fascination with the concept of memory as a concept closer to experience, a more human, subjective, and politically subversive notion than History." --Critique of Anthropology "In this fascinating ethnographic account, John Collins shows how Palestinians remember, re-shape, and reinvent in their popular imagination the first Inti-fada, or uprising, of 1987-1993." --Middle East Journal The book will be of interest not only to scholars of the Middle East, but also to those interested in nationalism, discourse analysis, social movements and oral history." --Advance News "Theoretically sharp and well written, Occupied by Memory propels the scholarship on Palestinians and perpetual states of violence in new and promising directions.
A History of Modern Palestine
Very few in the West can honestly claim to have been able to appraise the Israeli-Palestinian conflict from an objective point of view that takes into account nothing but the facts. In all fairness, until quite recently, it has been tricky to find complete information that was not deformed and manipulated by heavy ideological filters. Surprisingly, that same claim can be made for many who live in the heart of the land itself, neighbours to an "enemy" who has a destiny that is entwined, but without an idea of who this "enemy" is and what motivations drive him. Our beliefs and any actions we might take regarding the conflict are influenced by the version of the story that was made available to us, often without our being aware of how simple it is to distort facts, and usually out of good faith, we in the West have accepted almost entirely the veracity of the version that is dominant in our society.
"The Lemon Tree" by Sandy Tolan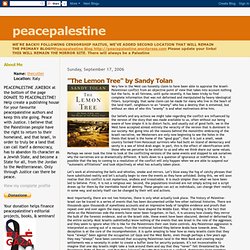 Primer on Palestine, Israel and the Arab-Israeli Conflict
AUB - The Origins and Evolution of the Arab-Israeli Conflict
"Occupation 101" - Essential Viewing
I always struggle to know where to point people who just want a basic background on the Palestinian-Israeli conflict. I have reams and reams of books, websites, articles and such I can point them to, but they're either too complex, too over-simplified, too specialized, too de-personalized, assume too much knowledge, or otherwise don't really do the "101" job of explaining things with the right balance of providing sufficient information while not overwhelming. Well, I think I finally found a good one.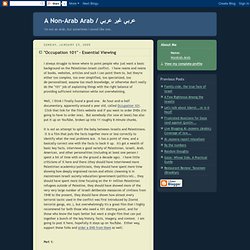 The Zionist Story
Israeli-Palestinian Conflict 101 | Jewish Voice for Peace
Watch this short, historically accurate animated introduction to Israel-Palestine 101: To stay informed, sign up for JVP e-news and action alerts, in the upper right hand corner of your screen. You can also follow us on Facebook or Twitter.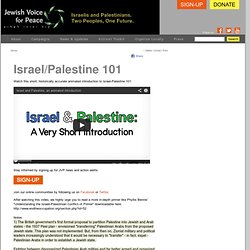 Palestinians around the world are marking the anniversary of the Nakba, the catastrophe that occurred when the state of Israel was established in 1948. The scale of the devastation was overwhelming: four in five Palestinian villages inside the borders of the new state were ethnically cleansed, an act of mass dispossession accompanied by atrocities. Around 95 per cent of new Jewish communities built between 1948-1953 were established on the land of expelled, denationalised Palestinians.
Palestinian Nakba: Forever a memory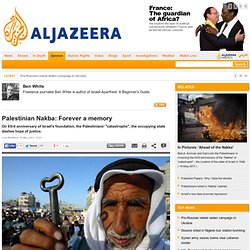 Aziz Abu Sarah
DOCUMENTS COLLECTION
The Partition of Palestine
Comrades and Enemies
In Comrades and Enemies Zachary Lockman explores the mutually formative interactions between the Arab and Jewish working classes, labor movements, and worker-oriented political parties in Palestine just before and during the period of British colonial rule. Unlike most of the historical and sociological literature on Palestine in this period, Comrades and Enemies avoids treating the Arab and Jewish communities as if they developed independently of each other. Instead of focusing on politics, diplomacy, or military history, Lockman draws on detailed archival research in both Arabic and Hebrew, and on interviews with activists, to delve into the country's social, economic, and cultural history, showing how Arab and Jewish societies in Palestine helped to shape each other in significant ways.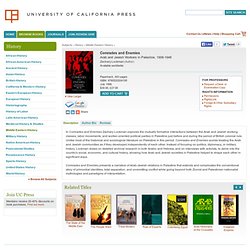 Comrades and Enemies : Zachary Lockman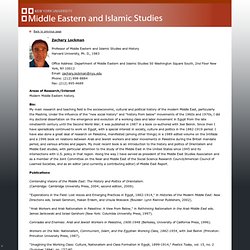 Zachary Lockman Professor of Middle Eastern and Islamic Studies and HistoryHarvard University, Ph. D., 1983 Office Address: Department of Middle Eastern and Islamic Studies 50 Washington Square South, 2nd Floor New York, NY 10012Email: zachary.lockman@nyu.eduPhone: (212) 998-8884Fax: (212) 995-4689 Areas of Research/InterestModern Middle Eastern history. Bio: My main research and teaching field is the socioeconomic, cultural and political history of the modern Middle East, particularly the Mashriq.
MEIS > Faculty > Zachary Lockman
Israel in Lebanon: The Report of the International Commission by Sean MacBride Ithaca, 282 pp, £4.50, March 1984, ISBN 0 903729 96 2Sabra et Chatila: Enquête sur un Massacre by Amnon Kapeliouk Seuil, 117 pp, ISBN 0 00 000097 3Final Conflict: The War in the Lebanon by John Bulloch Century, 238 pp, £9.95, April 1983, ISBN 0 7126 0171 6Lebanon: The Fractured Country by David Gilmour Robertson, 209 pp, £9.95, June 1983, ISBN 0 85520 679 9The Tragedy of Lebanon: Christian Warlords, Israeli Adventures and American Bunglers by Jonathan Randal Chatto, 320 pp, £9.50, October 1983, ISBN 0 7011 2755 4God cried by Tony Clifton and Catherine Leroy Quartet, 141 pp, £15.00, June 1983, ISBN 0 7043 2375 3Beirut: Frontline Story by Salim Nassib, Caroline Tisdall and Chris Steele-Perkins Pluto, 160 pp, £3.95, March 1983, ISBN 0 86104 397 9The Fateful Triangle: Israel, the United States and the Palestinians by Noam Chomsky Pluto, 481 pp, £6.95, October 1983, ISBN 0 86104 741 9
LRB · Edward Said · Permission to narrate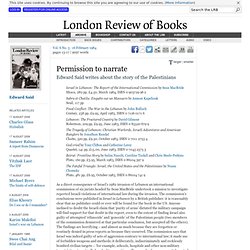 Palestine under the British mandate
Historians of the conflict