Israel / Palestine - Resources
The Jerusalem Fund. "Why the 'Jewish state' demand is a non-starter" By Yousef Munayyer Israeli Prime Minister Benjamin Netanyahu demands Palestinians recognise Israel as 'a Jewish state' and US President Barack Obama, who used this language in his state of the union address, signalled US support for this position.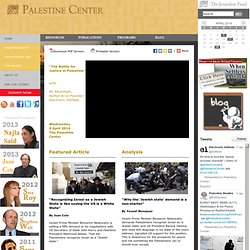 This is disastrous for the prospects for peace and not something the Palestinians can or should ever accept.Read more... More Analysis. Alternative Information Center. Palestine - Israel Journal of Politics, Economics and Culture. Index. Palestinian Center for Human Rights. Your current web browser must be updated to version 7 of Internet Explorer (IE7) to take advantage of all of template's capabilities.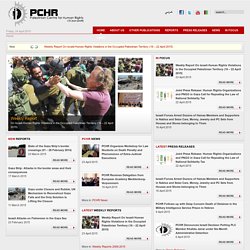 Why should I upgrade to Internet Explorer 7? Microsoft has redesigned Internet Explorer from the ground up, with better security, new capabilities, and a whole new interface. TEDxRamallah. Israel News - Haaretz Israeli News source. +972 Magazine: Independent commentary from Israel & the Palestinian territories.
Thisweekinpalestine. Kieron Monks. Israel / Palestine - academic resources... Popular Struggle Coordination Committee | Popular Struggle Coordination Committee. Intro | arenaofspeculation.org. Access, 2011 (left to right): Israeli ID, West Bank ID, Gaza ID, stateless Palestinian refugee With the continued absence of a credible political process, it has become evermore crucial to view the dominant structures of spatial power in Israel-Palestine as an entrenched reality rather than a passing aberration.
This website was born from the pressing need to expose and confront the long-term spatio-political implications of these structures and, more broadly, to engage in forms of agency with the potential to counter them, and to establish paths towards possible alternatives. The term 'arena of speculation' was coined by Decolonizing Architecture , referring to an intellectual space of critical debate on the spatial futures of Israel-Palestine. Israel/Palestine « settler colonial studies blog. Voltairenet.org reports of a poster campaign that has been up and running in New York subways for the last month.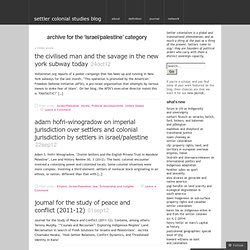 'This operation is promoted by the American Freedom Defense Initiative (AFDI), a pro-Israel organization that attempts by various means to stoke fear of Islam'. On her blog, the AFDI's executive director insists this is 'FANTASTIC!' Richard Falk on the 63th anniversary of the Nakba - Architects and Planners for Justice in Palestine. Israeli Committee Against House Demolitions. Wadi Hilweh Information Center – Silwan, Jerusalem. Russell Tribunal on Palestine. MIFTAH. Social Justice. Nora Lester Murad. The Magnes Zionist.
Shalom Rav | A Blog by Rabbi Brant Rosen. .:: Maan News Agency ::. The Electronic Intifada. Alternative Information Center. Mya Guarnieri » Mya Guarnieri. Commentary — Israeli Occupation Archive. Israel has for decades been able to frame the discussion about the Palestinians.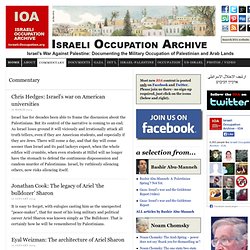 But its control of the narrative is coming to an end. As Israel loses ground it will viciously and irrationally attack all truth tellers, even if they are American students, and especially if they are Jews. There will come a day, and that day will come sooner than Israel and its paid lackeys expect, when the whole edifice will crumble, when even students at Hillel will no longer have the stomach to defend the continuous dispossession and random murder of Palestinians. Israel, by ruthlessly silencing others, now risks silencing itself. It is easy to forget, with eulogies casting him as the unexpected "peace-maker", that for most of his long military and political career Ariel Sharon was known simply as The Bulldozer. Israel's Occupation | Neve Gordon. Palestine Monitor | Exposing life under occupation.
---