Israel / Palestine - Resources
"Israel-Palestine negotiations: The road to nowhere"
The Jerusalem Fund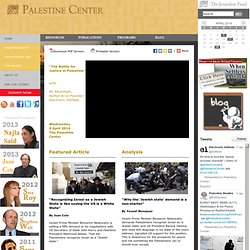 Alternative Information Center
Palestine - Israel Journal of Politics, Economics and Culture
index
Palestinian Center for Human Rights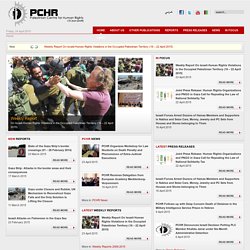 In recognition of his efforts to support human right and the rule of law, Right Livelihood Award Foundation Sourani the 2013Alternative Nobel Prize for this year Weekly Report
TEDxRamallah
thisweekinpalestine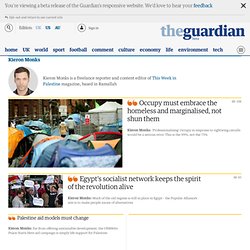 Ashes 2013-14: Australia v England – as it happened Over-by-over report: Will Australia wrap up a 5-0 Ashes series whitewash?
Kieron Monks
Israel / Palestine - academic resources...
The 8th Annual Israeli Apartheid Week 2012 | Israeli Apartheid Week
Popular Struggle Coordination Committee | Popular Struggle Coordination Committee
Intro | arenaofspeculation.org
Access, 2011 (left to right): Israeli ID, West Bank ID, Gaza ID, stateless Palestinian refugee With the continued absence of a credible political process, it has become evermore crucial to view the dominant structures of spatial power in Israel-Palestine as an entrenched reality rather than a passing aberration. This website was born from the pressing need to expose and confront the long-term spatio-political implications of these structures and, more broadly, to engage in forms of agency with the potential to counter them, and to establish paths towards possible alternatives. The term 'arena of speculation' was coined by Decolonizing Architecture , referring to an intellectual space of critical debate on the spatial futures of Israel-Palestine.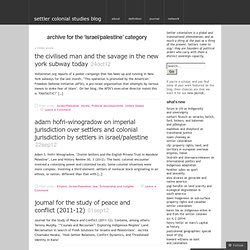 Israel/Palestine « settler colonial studies blog
Voltairenet.org reports of a poster campaign that has been up and running in New York subways for the last month. 'This operation is promoted by the American Freedom Defense Initiative (AFDI), a pro-Israel organization that attempts by various means to stoke fear of Islam'. On her blog, the AFDI's executive director insists this is 'FANTASTIC!'
Richard Falk on the 63th anniversary of the Nakba - Architects and Planners for Justice in Palestine
Israeli Committee Against House Demolitions
Wadi Hilweh Information Center – Silwan, Jerusalem
Russell Tribunal on Palestine
MIFTAH
ZEEK: Articles: Social Justice
Nora Lester Murad
The Magnes Zionist
Shalom Rav | A Blog by Rabbi Brant Rosen
.:: Maan News Agency ::.
Alternative Information Center
Mya Guarnieri » Mya Guarnieri
A political project is purely utopian unless it can indicate a likely agent – a socio-political force able to realise it and whose long-term interests it would serve. In the present article I propose to apply this precept to the project of the 'one-state solution' for resolving the Israeli-Palestinian conflict: the vision of a single democratic (or secular-democratic) state in the whole of so-called 'historical Palestine' – the territory of Palestine as it existed under the British mandate from 1923 to 1948.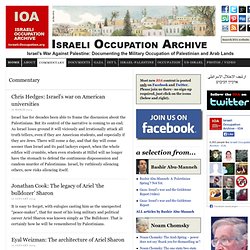 Commentary — Israeli Occupation Archive
Israel's Occupation | Neve Gordon
Palestine Monitor | Exposing life under occupation