Israel / Palestine - Resources
" Where's our humanity for Gaza?
The Jerusalem Fund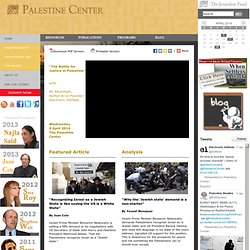 Alternative Information Center
Palestine - Israel Journal of Politics, Economics and Culture
index
Palestinian Center for Human Rights
TEDxRamallah
thisweekinpalestine
Kieron Monks
Israel / Palestine - academic resources...
The 8th Annual Israeli Apartheid Week 2012 | Israeli Apartheid Week
Popular Struggle Coordination Committee | Popular Struggle Coordination Committee
Intro | arenaofspeculation.org
Access, 2011 (left to right): Israeli ID, West Bank ID, Gaza ID, stateless Palestinian refugee With the continued absence of a credible political process, it has become evermore crucial to view the dominant structures of spatial power in Israel-Palestine as an entrenched reality rather than a passing aberration. This website was born from the pressing need to expose and confront the long-term spatio-political implications of these structures and, more broadly, to engage in forms of agency with the potential to counter them, and to establish paths towards possible alternatives. The term 'arena of speculation' was coined by Decolonizing Architecture , referring to an intellectual space of critical debate on the spatial futures of Israel-Palestine.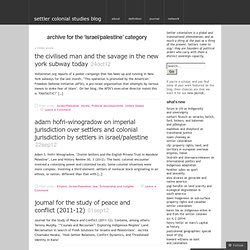 Israel/Palestine « settler colonial studies blog
Voltairenet.org reports of a poster campaign that has been up and running in New York subways for the last month. 'This operation is promoted by the American Freedom Defense Initiative (AFDI), a pro-Israel organization that attempts by various means to stoke fear of Islam'. On her blog, the AFDI's executive director insists this is 'FANTASTIC!'
Richard Falk on the 63th anniversary of the Nakba - Architects and Planners for Justice in Palestine
Israeli Committee Against House Demolitions
Wadi Hilweh Information Center – Silwan, Jerusalem
Russell Tribunal on Palestine
MIFTAH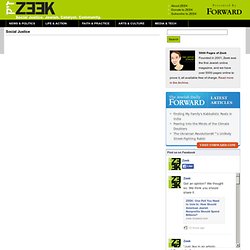 Courtesy of Emily Goodstein "Elissa made me promise that if we found ourselves planning an event in her memory, that it would be focused on the causes she cared about and not the disease that she happened to have."-Emily Goodstein By Emily Pearl Goodstein and Sammie Moshenberg March 26, 2013 "She was more than a colleague and friend — she was our conscience."
ZEEK: Articles: Social Justice
Nora Lester Murad
The Magnes Zionist
Shalom Rav | A Blog by Rabbi Brant Rosen
Realistic Dove
.:: Maan News Agency ::.
Your description goes here Testimony of Israeli police officer from 1976 Land Day 30 March 2013, 16.34 by Haolam Haze Below is a translation by the Alternative Information Center (AIC) of testimony provided by a policeman who participated in Israel's oppression of the 1976 Palestinian Land Day. The now-defunct Hebrew-language weekly news magazine Haolam Haze published this anonymous testimony on 7 April 1976, which is brought here in its entirety. Mennonites vote to divest from Israeli occupation
Alternative Information Center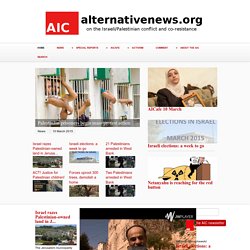 Mya Guarnieri » Mya Guarnieri
Professor Noam Chomsky's 2013 Edward Said Memorial Lecture: Violence and Dignity – Reflections on the Middle East at Friends House in London on 18 March 2013 (text). Moshé Machover remembers his friend and comrade, Matzpen co-founder Akiva (Aki) Orr (19 June 1931 – 7 February 2013). Professor Noam Chomsky, delivering the 2013 Edward Said Memorial Lecture: Violence and Dignity – Reflections on the Middle East at Friends House in London on 18 March 2013 (video). We should never support a war undertaken by our own ruling classes. Often they are undertaken for domestic reasons. Kissinger said of Israel: it has no foreign policy, only domestic policy; and this is actually true of most states – their foreign policies result from internal class contradictions.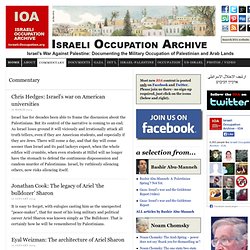 Commentary — Israeli Occupation Archive
Israel's Occupation | Neve Gordon
Palestine Monitor | Exposing life under occupation