Israel / Palestine - Resources
"Israel-Palestine negotiations: The road to nowhere" By Mohammed Ayoob Everybody, including John Kerry, is trying to save Israel from itself. Except for the Israeli establishment, which occasionally speaks with a forked tongue, but in reality pursues a policy that has put to rest all prospects of a two-state solution.
The Jerusalem Fund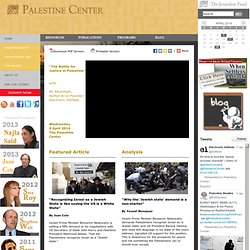 Alternative Information Center
Palestine - Israel Journal of Politics, Economics and Culture
index
Palestinian Center for Human Rights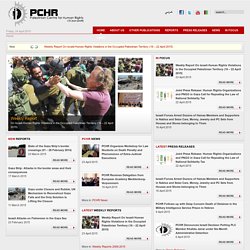 In recognition of his efforts to support human right and the rule of law, Right Livelihood Award Foundation Sourani the 2013Alternative Nobel Prize for this year Weekly Report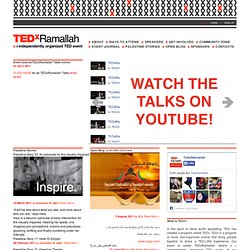 Event Journal TEDxRamallah Talks online! 27 July 2011 CLICK HERE for all TEDxRamallah Talks Read More
TEDxRamallah
Israeli viewers are currently under attack - not only by rockets, but by a legion of serious, gruff, tough, men's-man manly commentators manning the studios and explaining why the war makes sense to any reasonable… man. A text by Idan Landau. "And once again the screen is awash with men, battalions, battalions of men, swarms of men; commander men and commentator men, calming men and threatening men, men with a rich past in positions of command, men with greying temples, men with a rich past in position of command and greying temples, Ashkenazi men and Mizrahi men, men who… Read More... | 9 Comments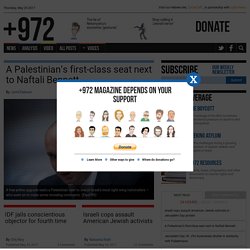 thisweekinpalestine
Kieron Monks
Israel / Palestine - academic resources...
The 8th Annual Israeli Apartheid Week 2012 | Israeli Apartheid Week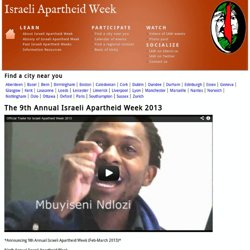 *Announcing 9th Annual Israeli Apartheid Week (Feb-March 2013)* Ninth Annual Israeli Apartheid Week (February - March 2013) We are excited to announce the upcoming 9th annual Israeli Apartheid Week (IAW) starting late February in Europe and moving to various countries through the month of March. Israeli Apartheid Week (IAW) is an annual international series of events (including rallies, lectures, cultural performances, film screenings, multimedia displays and boycott of Israel actions) held in cities and campuses across the globe. Last year's IAW was incredibly successful with over 215 cities participating worldwide. IAW seeks to raise awareness about Israel's apartheid policies towards the Palestinians and to build support for the growing Boycott, Divestment, and Sanctions (BDS) against Israel campaign.
The Popular Struggle Coordination Committee was formed by prominent activists in the popular committees from all over the Occupied Territories and across the Palestinian political spectrum. Popular committees present a unique form of community based organizing and resistance in the tradition of the first Palestinian Intifada. These diverse, non-partisan committees lead community resistance to Israeli occupation in various forms, such as marches, strikes, demonstrations, direct actions and legal campaigns, as well as supporting boycott, divestment and sanctions.
Popular Struggle Coordination Committee | Popular Struggle Coordination Committee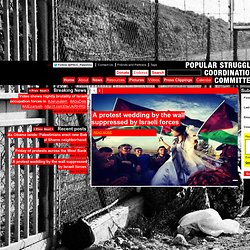 Intro | arenaofspeculation.org
Access, 2011 (left to right): Israeli ID, West Bank ID, Gaza ID, stateless Palestinian refugee With the continued absence of a credible political process, it has become evermore crucial to view the dominant structures of spatial power in Israel-Palestine as an entrenched reality rather than a passing aberration. This website was born from the pressing need to expose and confront the long-term spatio-political implications of these structures and, more broadly, to engage in forms of agency with the potential to counter them, and to establish paths towards possible alternatives. The term 'arena of speculation' was coined by Decolonizing Architecture , referring to an intellectual space of critical debate on the spatial futures of Israel-Palestine.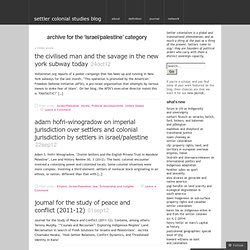 Israel/Palestine « settler colonial studies blog
Voltairenet.org reports of a poster campaign that has been up and running in New York subways for the last month. 'This operation is promoted by the American Freedom Defense Initiative (AFDI), a pro-Israel organization that attempts by various means to stoke fear of Islam'. On her blog, the AFDI's executive director insists this is 'FANTASTIC!'
Richard Falk on the 63th anniversary of the Nakba - Architects and Planners for Justice in Palestine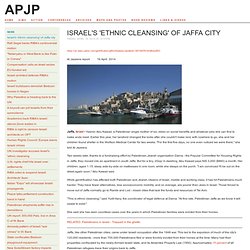 http://www.israeli-occupation.org/2014-01-12/eyal-weizman-the-architecture-of-ariel-sharon/ By Eyal Weizman, Al Jazeera – 11 Jan 2014www.aljazeera.com/indepth/opinion/2014/01/architecture-ariel-sharon-2014111141710308855.html Sharon leaves behind a legacy of construction and destruction that has shaped today's Israel and Palestine
Israeli Committee Against House Demolitions
Wadi Hilweh Information Center – Silwan, Jerusalem
Russell Tribunal on Palestine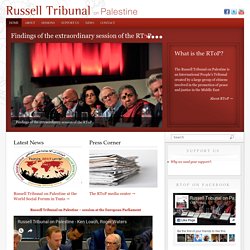 "May this Tribunal prevent "… …declared Lord Bertrand Russell to define the spirit and the objective of the International War Crimes Tribunal constituted in 1966 to investigate crimes committed in Vietnam and judge them according to international law. Initiated by Lord Russell, Nobel Prize of literature in 1950, and supported by eminent intellectuals such as Jean-Paul Sartre, who chaired the Tribunal, Lelio Basso, Guenther Anders, James Baldwin, Simone de Beauvoir, Lazaro Cardenas, Stokely Carmichael, Isaac Deutscher, Gisèle Halimi, Laurent Schwartz…, this Tribunal was named the Russell Tribunal. The Russell Tribunal has no legal status but acts as a court of the people, a Tribunal of conscience, faced with injustices and violations of international law, that are not dealt with by existing international jurisdictions, or that are recognised but continue with complete impunity due to the lack of political will of the international community.
MIFTAH
ZEEK: Articles: Social Justice
This article first appeared on Mondoweiss. Tia, a Palestinian toddler in Qalandia refugee camp, looks doll-like, with a yellow bow in her hair. She only just celebrated her first birthday, but already Israel has intervened in nearly every aspect of her life. In a sense Israel even instigated her birth. Four years ago, according to her father, Mohammed Abdel Rahman, an Israeli military judge offered him a secret deal. He told Mohammed to get married within 19 days or he would serve his five-year suspended sentence in prison.
Nora Lester Murad
To the reader: At a time when the United States is pondering a strike against Syria, ostensibly to warn President Assad against further use of chemical weapons, it may seem odd to translate a piece that was written in October 1950 about the Palestinian refugees. But it is not odd, for two reasons: first, the problem of the refugees will be with us well after the current crises in Syria and Egypt have been resolved. Second, and more importantly, "Rabbi Benjamin," one of the pen names of the orthodox Jewish, Zionist, publicist , editor, and literary critic, Yehoshua Radler-Feldman (1880-1957), not only discusses the specific issue of the Palestinian refugees, but tells us how to go about addressing any issue of this sort. Of course, he will be dismissed as a moral naif and visionary.
The Magnes Zionist
Tonight is the eve of Tu B'shvat, the Jewish festival that celebrates the "New Year of the Trees." According to the Talmud, Tu B'shvat marks the dividing point for the tithing of the fruit from trees for the year to come. Throughout the centuries, this festival has been announced by the blossoming of the white almond blossoms that proliferate throughout the central and northern parts of the land of Israel. As a celebration of the natural world and the tentative beginnings of spring, Tu B'shvat has been celebrated in different ways during different eras of Jewish history and through a variety of Jewish cultural contexts around the world. But with the rise of the Zionist movement and the establishment of the state of Israel, Tu B'shvat has become, for many Jews, almost exclusively associated with the Jewish National Fund's fund raising efforts to plant pine forests throughout modern-day Israel.
Shalom Rav | A Blog by Rabbi Brant Rosen
.:: Maan News Agency ::.
Mya Guarnieri » Mya Guarnieri
A political project is purely utopian unless it can indicate a likely agent – a socio-political force able to realise it and whose long-term interests it would serve. In the present article I propose to apply this precept to the project of the 'one-state solution' for resolving the Israeli-Palestinian conflict: the vision of a single democratic (or secular-democratic) state in the whole of so-called 'historical Palestine' – the territory of Palestine as it existed under the British mandate from 1923 to 1948.
Commentary — Israeli Occupation Archive
Israel's Occupation | Neve Gordon
Palestine Monitor | Exposing life under occupation