Alan Derschowitz
Dershowitz attacked from right for supporting two-state solution. "The faux liberal apologists are being attacked from the right," says my friend Ilene Cohen, in passing this along.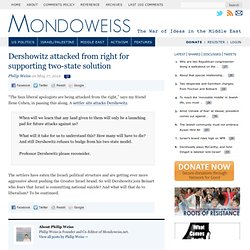 A settler site attacks Dershowitz. When will we learn that any land given to them will only be a launching pad for future attacks against us? What will it take for us to understand this? How many will have to die? And still Dershowitz refuses to budge from his two state model.Professor Dershowitz please reconsider. Spinoza and the Heresy Hunter from Harvard. Theater J, which operates out of the DC Jewish Community Center, is currently producing David Ives' play, New Jerusalem: The Interrogation of Baruch de Spinoza.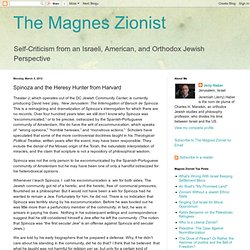 This is a reimagining and dramatization of Spinoza's interrogation for which there are no records. Over four hundred years later, we still don't know why Spinoza was "excommunicated," or to be precise, ostracized by the Spanish-Portuguese community of Amsterdam. Alan Dershowitz. Dershowitz justifies war on Iran (and Iraq?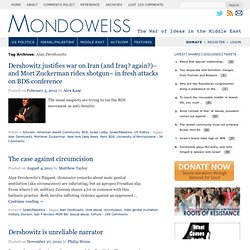 Again?) – and Mort Zuckerman rides shotgun– in fresh attacks on BDS conference The usual suspects are trying to tar the BDS movement as anti-Semitic. Posted in Activism, American Jewish Community, BDS, Israel Lobby, Israel/Palestine, US Politics Tagged Alan Dershowitz, Mortimer Zuckerman, New York Daily News, Penn BDS, University of Pennsylvania The case against circumcision. The Case for Israel - A New Landmark Documentary with Alan Dershowitz. Ben Smith, Alan Dershowitz' Continuing 'Jewish War' Against M.J. Rosenberg. Would you buy a used idea from this man?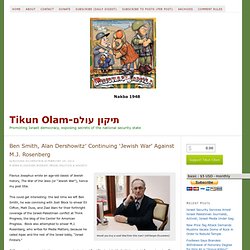 (AP/Sergei Chuzavkov) Flavius Josephus wrote an age-old classic of Jewish history, The War of the Jews (or "Jewish War"), hence my post title.