AIPAC
Real News: Israel and the American Elections | Occupy AIPAC! Muzzlewatch - AIPAC. This is a guest post by Souciant Magazine and Inter Press Service writer Mitchell Plitnick, formerly with Jewish Voice for Peace and B'Tselem: It's a little hard to imagine.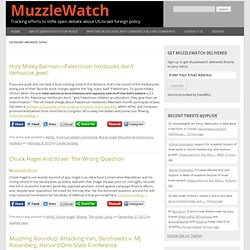 The self-proclaimed "most influential foreign policy lobbying organization on Capitol Hill," an admittedly deserved sobriquet, is apparently afraid of what little old me might say about their conference. It's hard to interpret what has happened in any other way, after my approved media credentials for AIPAC's annual policy conference were rescinded without explanation just a few days before the event.
Al Jazeera: What role does AIPAC play in US elections? | Occupy AIPAC! The American-Israeli Public Affairs Committee (AIPAC), the most powerful pro-Israel lobby in the US, is holding its biggest annual conference yet with around 13,000 delegates in Washington.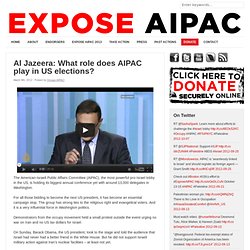 For all those bidding to become the next US president, it has become an essential campaign stop. The group has strong ties to the religious right and evangelical voters. And it is a very influential force in Washington politics. Demonstrators from the occupy movement held a small protest outside the event urging no war on Iran and no US tax dollars for Israel. Obama's Aipac speech – read the full text | World news. Thank you.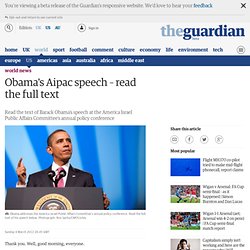 Well, good morning, everyone. Rosy, thank you for your kind words. I have never seen Rosy on the basketball court. I'll bet it would be a treat. Rosy, you've been a dear friend of mine for a long time and a tireless advocate for the unbreakable bonds between Israel and the United States. Does AIPAC want war? Washington, DC - For all it has done to promote confrontation between the United States and Iran, the American Israel Public Affairs Committee has worked to avoid the public perception that AIPAC is openly promoting war.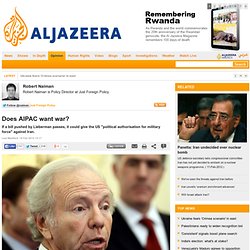 In AIPAC's public documents, the emphasis has always been on tougher sanctions. (If you make sanctions "tough" enough - an effective embargo - that is an act of war, but it is still at one remove from saying that the US should start bombing.) But a new Senate effort to move the goalposts of US policy to declare it "unacceptable" for Iran to develop a nuclear weapons capability - not a nuclear weapon, but the technical capacity to create one - gives AIPAC the opportunity to make a choice which all can observe. If the Lieberman resolution becomes an ask for AIPAC lobbyists at the March AIPAC policy conference, then the world will know: AIPAC is lobbying Congress for war with Iran. MJ Rosenberg: AIPAC's "War With Iran" Bill Passes House Committee. Wasting no time after its success in getting the administration to oppose Palestinian statehood at the United Nations, and still celebrating the UNESCO funding cut-off, AIPAC has returned to its #1 priority: pushing for war with Iran.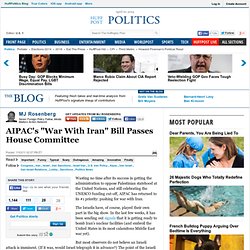 The Israelis have, of course, played their own part in the big show. In the last few weeks, it has been sending out signals that it is getting ready to bomb Iran's nuclear facilities (and embroil the United States in its most calamitous Middle East war yet). But most observers do not believe an Israeli attack is imminent. (If it was, would Israel telegraph it in advance?) The Israel Lobby Finds a New Face: Black College Students. When Vincent Evans arrived as a bright-eyed first-year at Florida A&M, the country's largest historically black university, he knew he wanted to get involved in politics.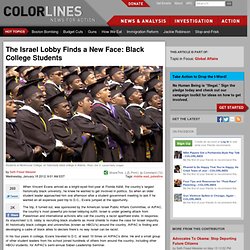 So when an older student leader approached him one afternoon after a student government meeting to ask if he wanted an all expenses paid trip to D.C., Evans jumped at the opportunity. The trip, it turned out, was sponsored by the American Israel Public Affairs Committee, or AIPAC, the country's most powerful pro-Israel lobbying outfit. AIPAC - The American Israel Public Affairs Committee. Occupy AIPAC! |  Articles on AIPAC. The Deadliest Israel Lobby Conspiracy Theories 15 April 2013 | Grant Smith, AntiWar.Com Barbara Boxer, AIPAC seek to codify Israel's right to discriminate against Americans 13 April 2013 | Glenn Greenwald, The Guardian U.S. visa waiver bill stymied over Arab Americans entering Israel 13 April 2013 | Ha'aretz AIPAC president (tries to) defend Israel's rejection of WMD-free zone 8 April 2013 | Dan Fischer, Mondoweiss AIPAC's legislative agenda dividing members of Congress 5 April 2013 | Mike Coogan, The Hill AIPAC takes on the latest threat to Israel — sequestration 27 February 2013 | Adam Horowitz, Mondoweiss.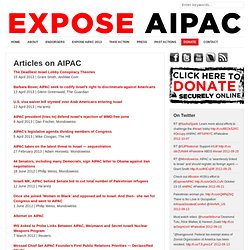 Occupy AIPAC! | Home. AIPAC's Hold. The Congressional reaction to Hezbollah's attack on Israel and Israel's bombing of Lebanon provide the latest example of the lobby's grip on US foreign policy.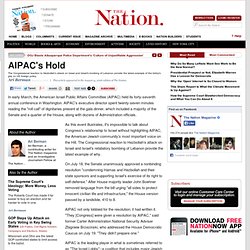 In early March, the American Israel Public Affairs Committee (AIPAC) held its forty-seventh annual conference in Washington. AIPAC's executive director spent twenty-seven minutes reading the "roll call" of dignitaries present at the gala dinner, which included a majority of the Senate and a quarter of the House, along with dozens of Administration officials. About the Author. AIPAC: The unrivalled lobby. Not surprisingly, my recent piece on an ugly 1988 experience with the American Israel Public Affairs Committee (AIPAC), the Israeli government, and late New York Times newspaper columnist William Safire elicited some controversy.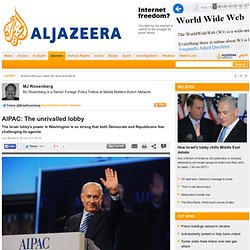 I knew it would. There aren't that many first-person accounts of encounters with the lobby (for obvious reasons) so my recollections of how it went down on Capitol Hill fill a vacuum. Hopefully, there will be more such accounts as those of us who dealt with the lobby in the 1980s move into a position (career-wise or financially) where we feel free to talk and write about it without any fear of retribution. Obama gives up, AIPAC wins. On the surface it appears that president Obama has given up on the Israeli-Palestinian peace process and, frankly, given the evidence, it is difficult imagining that there is something different beneath the surface.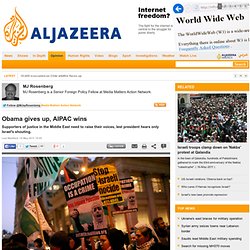 To wit: Special Envoy George Mitchell resigned, clearly angry at the lack of support his peace efforts received from the White House - and his resignation letter was about as curt and cold as any in recent memory. The announcement of his resignation followed reports that the president's Thursday speech on the Middle East will, amazingly, say virtually nothing about the Israeli-Palestinian conflict. A day after Mitchell's resignation came news that the president had decided that he will speak at this month's AIPAC conference, the traditional setting for pandering to the Israeli government and, more significantly, to Israel-centred political donors. Confessions of an AIPAC Veteran.
---