1 state / 2 states?
After Zionism | Saqi Books
After 9/11 more private contractors took over security responsibilities on military bases as troops headed overseas. Recent veterans weigh in on the impact of that shift. The most recent catastrophe at Fort Hood has Congress asking questions: how can we prevent this from happening again? Along with talk about treating and screening for service members with mental health issues, the focus has been on the security procedures at military bases and how it might be improved. As CNN reported April 6th, lawmakers are examining how the military secure its installations, and whether current controls are sufficient.
Bean Counting States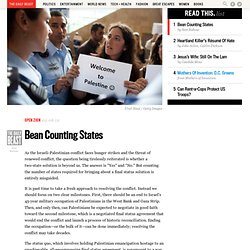 For Syrians displaced by their country's war, homeless in their own land, life inside refugee camps is a desperate existence. The refugee camp in the Turkish city of Kilis has been called "a five-star hotel." Residents have access to electricity, playgrounds, and schools. They receive money for food, and satellite dishes adorn many of the housing units. Crime is low, and gratitude is high. Indeed, for the approximately 14,000 people living there, the Turkish government has built—in the words of the New York Times—the "perfect refugee camp."
No Easy Answers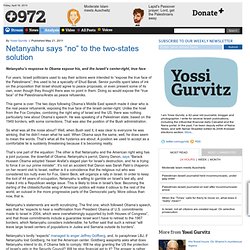 Netanyahu says "no" to the two-states solution
Netanyahu's response to Obama expose his, and the Israeli's center-right, true face For years, Israeli politicians used to say their actions were intended to "expose the true face of the Palestinians"; this used to be a specialty of Ehud Barak. Senior pundits spent lakes of ink on the proposition that Israel should agree to peace proposals, or even present some of its own, even though they thought there was no point in them: Doing so would expose the "true face" of the Palestinians/Arabs as peace refuseniks. This game is over. The two days following Obama's Middle East speech made it clear who is the real peace refusnenik, exposing the true face of the Israeli center-right.
Netanyahu and the one-state solution
Prime Minister Benjamin Netanyahu will address US legislators on Tuesday. He will, no doubt, tell members of Congress that he supports a two-state solution, but his support will be predicated on four negative principles: no to Israel's full withdrawal to the 1967 borders; no to the division of Jerusalem; no to the right of return for Palestinian refugees; and no to a Palestinian military presence in the new state. The problem with Netanyahu's approach is not so much that it is informed by a rejectionist worldview. The problem is not even Netanyahu's distorted conception of Palestine's future sovereignty, which Meron Benvenisti aptly described as "scattered, lacking any cohesive physical infrastructure, with no direct connection to the outside world, and limited to the height of its residential buildings and the depth of its graves. The airspace and the water resources will remain under Israeli control..."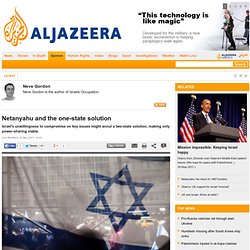 At the UN, the funeral of the two-state solution
We are all going to be invited to the funeral of the two-state solution if and when the UN General Assembly announces the acceptance of Palestine as a member state. The support of the vast majority of the organization's members would complete a cycle that began in 1967 and which granted the ill-advised two-state solution the backing of every powerful and less powerful actor on the international and regional stages. Even inside Israel, the support engulfed eventually the right as well as the left and center of Zionist politics. And yet despite the previous and future support, everybody inside and outside Palestine seems to concede that the occupation will continue and that even in the best of all scenarios, there will be a greater and racist Israel next to a fragmented and useless bantustan. The charade will end in September or October — when the Palestinian Authority plans to submit its request for UN membership as a full member — in one of two ways.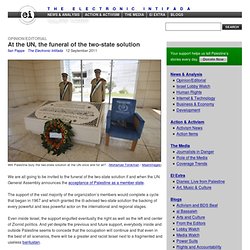 Israel must understand it cannot be like America
Lots of smart people have been focusing on the Israeli elections and trying to make sense of their immediate implications for the peace process. I can't improve on the analyses provided by Glenn Greenwald, Yossi Alpher, Bernard Avishai, or Uri Avnery, who explain why there is little reason to be optimistic and many reasons to be worried. I want to focus on a different issue, which is likely to be more important in the long run. Why the United States needs to press for a "two-state" solution NOW
For the last ten plus years, advocates of a two-state solution in Israel/Palestine have been warning that the "window of opportunity" for a two-state solution is closing fast. Here's Jordan's King Abdullah II using the image in a 2005 speech: Israelis and Palestinians must take advantage of a "small window of opportunity" for peacemaking, he warned.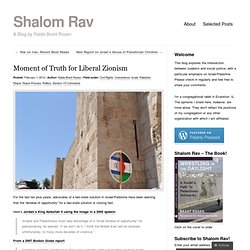 Moment of Truth for Liberal Zionism | Shalom Rav
Zionism - perspectives...
Two Peoples...One Land - Elazar
FREE Two-Day Shipping is available to Amazon Prime members. To join, select "Yes, I want FREE Two-Day Shipping with Amazon Prime" above the Add to Cart button and confirm your Amazon Prime free trial sign-up during checkout. Amazon Prime members enjoy: Unlimited Free Two-Day Shipping Instant streaming of over 40,000 movies and TV episodes A Kindle book to borrow for free each month - with no due dates Important: Your credit card will NOT be charged when you start your free trial or if you cancel during the trial period.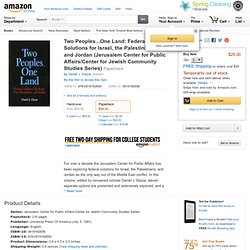 Exile and Return | Lesch, Ann M. and Ian S. Lustick, Editors
368 pages | 6 1/8 x 9 1/4 Cloth 2005 | ISBN 978-0-8122-3874-7 | $55.00s | £36.00 | Add to cartPaper 2008 | ISBN 978-0-8122-2052-0 | $26.50s | £17.50 | Add to cartView table of contents and excerpt "A rich resource both for scholars of migration and for anyone interested in the 'predicaments of Palestinians and Jews' because of the way it self-consciously draws parallels between the two peoples' destinies and relation to the same land."—Israel Studies Forum Exile and Return: Predicaments of Palestinians and Jews is a bold attempt to understand constructively and build upon the terrible irony of two peoples, each with a searing memory of displacement and exile, struggling for a return to a land each remembers, each claims, and from which each has sought to exclude the other.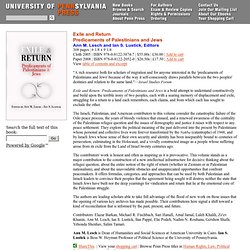 United we stand
Now it's your turn
Why I'm Presenting at Harvard's One-State Conference | Shalom Rav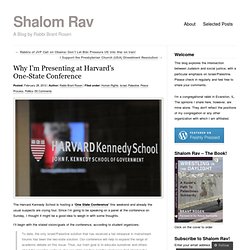 The Harvard Kennedy School is hosting a "One State Conference" this weekend and already the usual suspects are crying foul. Since I'm going to be speaking on a panel at the conference on Sunday, I thought it might be a good idea to weigh in with some thoughts. I'll begin with the stated vision/goals of the conference, according to student organizers: To date, the only Israel/Palestine solution that has received a fair rehearsal in mainstream forums has been the two-state solution.
Something you won't see on American television: Al Jazeera ran a long piece on the peace talks (linked here at Pulse.). "Empire" host Marwan Bishara is incisive; he speaks of the "Zionist lobby" and the emergence of a state in Kosovo with far less rigmarole than the endless peace process. His guests, on barstools in a rooftop interview in view of the White House, are Nabil Shaath of the P.A., former negotiator Rob Malley, and John Mearsheimer. Mearsheimer is unbound.
Mearsheimer: There will be no two-state solution, only a greater Israel, and Palestinians will need the int'l community in the coming fight against apartheid
Palestinians in line for a Qalandiya checkpoint during Ramadan, 2011. (Photo: Reuters) I attended the One State Conference at Harvard University on March 3-4, 2012, and was encouraged to continue working to bring peace and prosperity to all the people who live between the Mediterranean Sea and Jordan River. Nevertheless, I left the conference unsettled by several issues. Regime Change
Reflections After the Harvard One State Conference
John J. Mearsheimer This is the transcript of the Hisham B. Sharabi Memorial Lecture delivered by John J. Mearsheimer at the The Palestine Center today.
The Future of Palestine: Righteous Jews vs. the New Afrikaners
This weekend, the Harvard University community will host its conference, "One-State Conference: Israel/Palestine and the One-State Solution". The conference promises to be an invigorating discussion on the likelihood of the two-state solution, the benefits of the one-state solution, and the challenges to achieving either. In light of that discussion, I thought it useful to share the legal dimensions that demonstrate Israel's discriminatory system both within its putative borders and the Occupied Palestinian Territory (OPT) as a singular Apartheid regime.
Singular Legal Regime Necessitates One-State Solution
Debating the end of the 2-state solution...