Turkey
Dreams of Kurdistan - By Yigal Schleifer. From the outside looking in, the conflict between the Turkish state and the Kurds seems stuck in a kind of gruesome holding pattern. Articles written months and years apart are virtually indistinguishable from one another: "Three Turkish Soldiers Reported Killed In PKK Clash In Southeast" reads a headline from May 17, 2012 -- but it could just as easily have been from two decades ago. But, beneath the headlines, the defining narrative of this long-running conflict -- which has claimed tens of thousands lives since the late 1980s -- may finally be changing for the better. Turkey's Democratic Dilemma.
Snapshot The United States is counting on Turkey to help oust the Syrian regime and bring about a pluralistic government.
But Ankara, whose Sunni leadership sees Syria's conflict in sectarian terms, is not on board. Journalists and activists rally for press freedom in Ankara, March 19, 2011 (Umit Bektas / Courtesy Reuters) During a town hall meeting organized as part of Barack Obama's 2009 visit to Istanbul, a Turkish student expressed his disappointment with the president's inability to implement substantial changes to U.S. foreign policy. "Moving the ship of state is a slow process," Obama explained. "Turkey's New Course" by Abdullah Gul. Exit from comment view mode.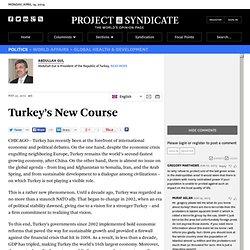 Click to hide this space CHICAGO – Turkey has recently been at the forefront of international economic and political debates. On the one hand, despite the economic crisis engulfing neighboring Europe, Turkey remains the world's second-fastest growing economy, after China. The New Road to Ankara | The Majalla. Will the Arab Spring remake Turkey's Foreign Policy?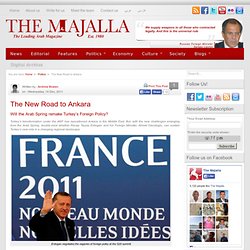 Turkey's transformation under the AKP has repositioned Ankara in the Middle East. But, with the new challenges emerging from the Arab Spring, doubts exist whether Recep Tayyip Erdogan and his Foreign Minister, Ahmet Davutoglu, can sustain Turkey's new role in a changing regional landscape. Erdogan negotiates the vagaries of foreign policy at the G20 summit Recep Erdogan has succeeded in re-energizing Turkey's role in the world. Behind Bars in the Deep State - By Justin Vela. For many Turkish citizens, the evolution of their democracy is best discussed in whispers.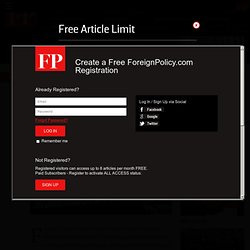 Turkey has come far in recent years, but these days they prefer not to speak too loudly about where it is headed. In the past two years, thousands of citizens who have voiced criticism of the government have been detained, usually led away by police in predawn raids on their homes. On Jan. 5, one of the country's most high-profile detainees, investigative journalist Ahmet Sik, testified in court for the first time to defend himself against charges of propagandizing for a shadowy pro-military conspiracy called Ergenekon, which allegedly plotted to overthrow the government of Prime Minister Recep Tayyip Erdogan. A New Kind of Armenian-Turkish Reconciliation. In October 2011, the newly renovated Sourp Giragos Armenian Apostolic Church reopened in Turkey's southeastern province of Diyarbakir.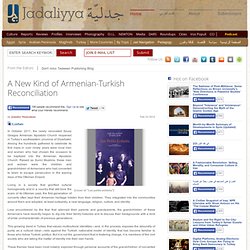 Among the hundreds gathered to celebrate its first mass in over ninety years were local men and women who had chosen the occasion to be baptized into the Armenian Apostolic Church. Raised as Sunni Muslims, these men and women were the children and grandchildren of Armenians who had converted to Islam to escape persecution in the waning days of the Ottoman Empire. "Turkey's Nation of Faiths" by Bülent Arınç. Exit from comment view mode.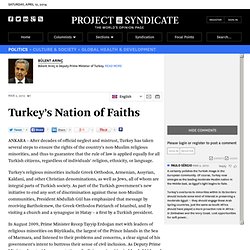 Click to hide this space ANKARA – After decades of official neglect and mistrust, Turkey has taken several steps to ensure the rights of the country's non-Muslim religious minorities, and thus to guarantee that the rule of law is applied equally for all Turkish citizens, regardless of individuals' religion, ethnicity, or language. Turkey's Balancing Act - Mohammed Ayoob. Exit from comment view mode.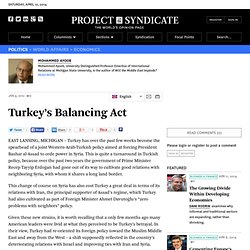 Click to hide this space EAST LANSING, MICHIGAN – Turkey has over the past few weeks become the spearhead of a joint Western-Arab-Turkish policy aimed at forcing President Bashar al-Assad to cede power in Syria. This is quite a turnaround in Turkish policy, because over the past two years the government of Prime Minister Recep Tayyip Erdoğan had gone out of its way to cultivate good relations with neighboring Syria, with whom it shares a long land border. This change of course on Syria has also cost Turkey a great deal in terms of its relations with Iran, the principal supporter of Assad's regime, which Turkey had also cultivated as part of Foreign Minister Ahmet Davutoğlu's "zero problems with neighbors" policy. Given these new strains, it is worth recalling that a only few months ago many American leaders were livid at what they perceived to be Turkey's betrayal.
Turkey's Test - Anne-Marie Slaughter. Exit from comment view mode.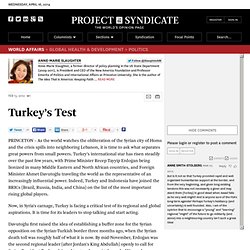 Click to hide this space PRINCETON – As the world watches the obliteration of the Syrian city of Homs and the crisis spills into neighboring Lebanon, it is time to ask what separates great powers from small powers. Turkey's international star has risen steadily over the past few years, with Prime Minister Recep Tayyip Erdoğan being lionized in many Middle Eastern and North African countries, and Foreign Minister Ahmet Davutoğlu traveling the world as the representative of an increasingly influential power. A Judicial Coup | The Majalla. The case of Hakan Fidan has shed new light on domestic politics in Turkey The slow-burn reform efforts of the past seven years in Turkey have culminated in an astonishing confrontaion between the police and intelligence services.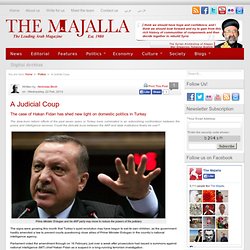 Could the delicate truce between the AKP and state institutions finally be over? Prime Minister Erdogan and his AKP party may move to reduce the powers of the judiciary The signs were growing this month that Turkey's quiet revolution may have begun to eat its own children, as the government hastily amended a law to prevent courts questioning close allies of Prime Minister Erdogan in the country's national intelligence agency. Parliament voted the amendment through on 16 February, just over a week after prosecutors had issued a summons against national intelligence (MIT) chief Hakan Fidan as a suspect in a long-running terrorism investigation. The Brothel Next Door - by Anna Louie Sussman. Under the shade of a tree at an Istanbul cafe, Suzan, a voluptuous woman in her 50s with dyed blond hair and a warm, generous smile, describes how she went from teenage bride to full-time sex worker.
Over several cups of Nescafé during the span of a humid summer afternoon, and backed by the brilliant blue of the Sea of Marmara, Suzan tells her story. As she talks, her cell phone rings nearly every 15 minutes. Customers, she explains. It's a syncopation of male desire, hungry for her attention. Turkey's Biggest Export. The many problems of Fethullah Gulen Turkey is no stranger to conspiracy and the rise of the Fethullah Gulen Movement has recently prompted a few eyebrows to be raised. Previously admired inside and outside Turkey for its liberal reputation, the Movement is battling skepticism and suspicions that all is not as it seems. Journalists and human right activists protest in front of the courthouse in Istanbul during the trial of two prominent Turkish journalists Ahmet Sik and Nedim Sener on November 22, 2011.
"Either appear as you are," the thirteenth century Sufi mystic Mevlana Jalaluddin Rumi once famously said, "or be as you appear." Turkey's Foreign Policy Towards the Middle East: An Interview with Asli Bali (Part 1) This is Part 1 of a two-part interview in which Asli Bali discusses Turkey's foreign policy interests and obejectives with regards to the Middle East.
In Part 1, Asli tackels the question of whether Turkey's foreign policy positions vis-a-vis the Middle East have changed with respect to what is otherwise described as a "western orientation. " She also explores whether whatever changes have occured can be traced directly to the AKP's rise to power within Turkish domestic policy, or rather form part of a larger strategic calculation on the part of Turkey's political elites. The interview was conducted on 30 November 2011 by phone. It was transcribed by Ziad Abu-Rish. Edited Transcripts (Audio File Below) Bitter Frenemies. Last month, Saudi Arabia rolled out the red carpet for Turkish Prime Minister Recep Tayyip Erdogan. The visit was yet another example of the degree to which relations between the two countries have improved in recent years. Historically, the two nations have not been friendly, with economic relations only developing in the 1970s.
Turkey's Foreign Policy Towards the Middle East: An Interview with Asli Bali (Part 2) This is Part 2 of a two-part interview in which Asli Bali discusses Turkey's foreign policy interests and objectives with regards to the Middle East. In this second part of the interview, Asli discusses Turkey's foreign policy in the face of the Arab uprisings, with particular reference to Egypt, Libya, and Syria.
The interview was conducted on 11 February 2012. The Iran-Turkey Showdown. Turkey Vs. Iran. The Turkish-Iranian Alliance That Wasn't. Baby-Steps for Turkey and China. "Turkey's Lonely Neighborhood Watch" by Soli Ozel. Erdoğan's Decade. Erdogan Bashes Turkish Media For Questioning Jet Affair in Syria. The Turkish Paradox.
---