IRELAND
National Archives of Ireland
Ireland Newspaper Abstracts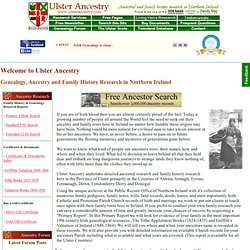 To learn more, please come into the Ulster Ancestry site, and take a look around. You can search the free pages of old Irish genealogical records or leave a message on our ancestry forum to assist in your own ancestral research, even send a free post card from Ireland. At the Research Services page you can request a Free Assessment of the family information you already have. We will advise you as to what for you is the best way forward for your ancestral research. You will be under no obligation and there is no charge for this service. We invite you to take with us, the first step back down the road today.
Census of Ireland 1901/1911 The household returns and ancillary records for the censuses of Ireland of 1901 and 1911, which are in the custody of the National Archives of Ireland, represent an extremely valuable part of the Irish national heritage. Read more about their digitisation. All thirty-two counties for 1901 and 1911, searchable by all information categories, are now available on this site. Corrections and improvements will be ongoing, and we are very grateful to all users who have submitted corrections to us.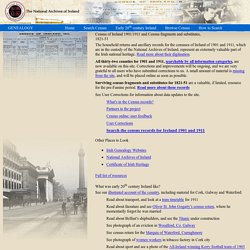 Irish Genealogy Search for Ireland
For a detailed list of the records that are currently searchable on this website please check the sources list for each individual County Genealogy Centre, or click here for an interactive map of the County Genealogy Centres online.. The Irish Family History Foundation and its member centres have compiled this database of Irish genealogical records for the island of Ireland as part of their commitment to broadening access to genealogical and historical data. Please note that the work of computerizing and updating the records is ongoing. All the content in this online research system is provided "AS IS", and without any warranty of any kind. Please see our Terms and Conditions for more information. Note: These genealogy databases are the work of many hands.