.....(-(-_(-_-)_-)-)..... IRC
The IRC Command Cosmos, an advanced guide to IRC commands. Ed. note: This guide is intended for advanced users, others should first check out our many introductory help files.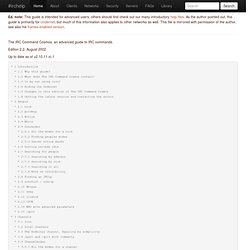 As the author pointed out, this guide is primarily for Undernet, but much of this information also applies to other networks as well. This file is mirrored with permission of the author, see also his frames-enabled version. The IRC Command Cosmos, an advanced guide to IRC commands. Edition 2.2, August 2002 Up to date as of u2.10.11.rc.1. IRC glossary. Tutorials - mIRC Scripting. The mIRC Scripting Language, abbreviated as mSL, is an event-driven, procedural scripting language embedded inside the mIRC client. mSL's main feature is its seamless ability to interact with other IRC clients on IRC in order to perform certain tasks.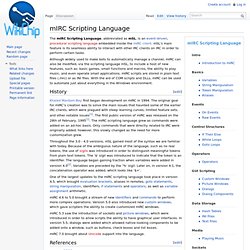 Although widely used to make bots to automatically manage a channel, mIRC can also be modified, via the scripting language mSL, to include a host of new features, such as: basic games, small functions and macros, the ability to play music, and even operate small applications. mIRC scripts are stored in plain text files (.mrc) or as INI files. With the aid of COM scripts and DLLs, mIRC can be used to automate just about everything in the Windows environment.
Search IRC, the most advanced IRC search engine.
---