Ipod Touch
iPen: Hacking with the iDevice | Nicholas M. Petty. Downgrade iOS 4.0.2 to iOS 4.0.1 / 4.0 iPhone 4, 3GS, iPod touch [How to Guide. Advertisements Many of you asked for it and so here is the detailed guide on how to downgrade your iPhone 4, 3GS, 3G and iPod touch 2G / 3G running iOS 4.0.2 to iOS 4.0.1 / 4.0 / 3.1.3 / 3.1.2.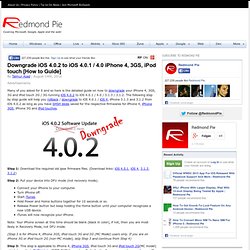 The following step by step guide will help you rollback / downgrade to iOS 4.0.1 / iOS 4, iPhone 3.1.3 and 3.1.2 from iOS 4.0.2 as long as you have SHSH blobs saved for the respective firmwares for iPhone 4, iPhone 3GS, iPhone 3G and iPod touches. Step 1: Download the required old ipsw firmware files. Free Wi-Fi for iPhone, iPod touch, and iPad on the iTunes App Store. Description Now serving over 2,500,000 users!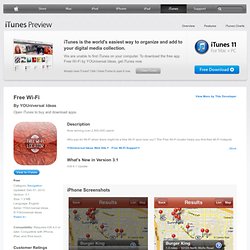 Why pay for Wi-Fi when there might be a free Wi-Fi spot near you? Jailbreak iOS 4.0.2 with Redsn0w [How to Guide. Advertisements Ok guys I just tested it on an old iPhone 3G lying around and can confirm that this works!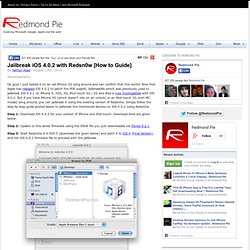 Now that Apple has released iOS 4.0.2 to patch the PDF exploit, JailbreakMe which was previously used to jailbreak iOS 4.0.1 on iPhone 4, 3GS, 3G, iPod touch 3G / 2G and iPad is now incompatible with iOS 4.0.2. Home · Cydia. Use Your Handwriting for iPhone, iPod touch, and iPad on the iTunes App Store. Description As seen on Discovery Channel ("Saves the handwriting skills that are an important part of our education"), Mashable ("If touchscreen QWERTY drives you nuts") and other major media.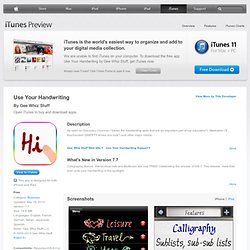 Use Your Handwriting® (UYH®) lets you finger write quick notes, lists and messages on your iPhone or iPad. Its unique handwriting engine produces some of the smoothest, most fulfilling drawing strokes ever experienced. Your handwriting will flow beautifully and come out looking elegant with natural variations in darkness and thickness. The beauty of UYH is accompanied by a powerful set of features: create sublists, quick alarms, sync your data with one press of a button, visualize it online and much more.
How to use Banshee to manage your iPod in Ubuntu. This tutorial will guide you in installing, setting up and using Banshee to manage your iPod in Ubuntu.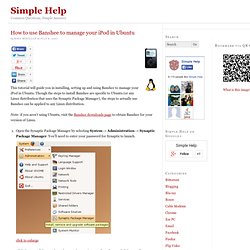 Though the steps to install Banshee are specific to Ubuntu (or any Linux distribution that uses the Synaptic Package Manager), the steps to actually use Banshee can be applied to any Linux distribution. Note: if you aren't using Ubuntu, visit the Banshee downloads page to obtain Banshee for your version of Linux. DJ Mixer 3 for iPhone, iPod touch, and iPad on the iTunes App Store. Description The original and most popular music mixing App for iOS is back with great new look and features!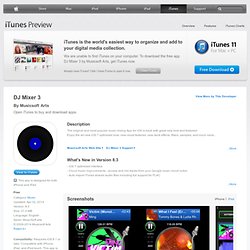 Enjoy the all-new iOS 7 optimized look, new cloud features, new deck effects, filters, samples, and much more... This is a FREE version of DJ Mixer that allows you try out all the features with few of your tracks and tracks from the cloud. To experience the full power of DJ Mixer, unlock the premium features using in-app-purchases. Exclusive premium features from Waves Audio - the world's leading audio plug-ins company:• The best-sounding sweepable HP/LP resonant filters/FX on iOS• A professional grade 3-band EQ. Sync your iPhone Music Libary With Rhythmbox in Ubuntu Karmic (No Jailbreaking Required) In Mac and Windows, you can easily sync your iPhone/iPod Touch with iTunes, but in Linux, there is no easy way to sync your iDevice's music library with any of the media player.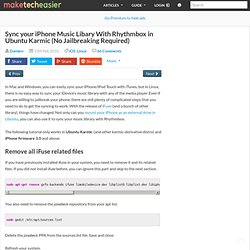 Even if you are willing to jailbreak your phone, there are still plenty of complicated steps that you need to do to get the syncing to work. With the release of iFuse (and a bunch of other library), things have changed. Not only can you mount your iPhone as an external drive in Ubuntu, you can also use it to sync your music library with Rhythmbox. The following tutorial only works in Ubuntu Karmic (and other karmic-derivative distro) and iPhone firmware 3.0 and above. Remove all iFuse related files. Using an iPhone or iPod Touch with Ubuntu and Kubuntu. This page will help you connect your Apple iPod, iPhone or iPad devices to Ubuntu.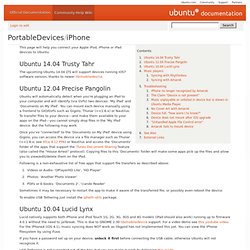 Ubuntu 14.04 Trusty Tahr The upcoming Ubuntu 14.04 LTS will support devices running iOS7 software version, thanks to newer libimobiledevice. Ubuntu 12.04 Precise Pangolin Ubuntu will automatically detect when you're plugging an iPad to your computer and will identify (via GVfs) two devices: 'My iPad' and 'Documents on My iPad'. You can mount each device manually using a frontend to GIO/GVfs such as Gigolo, Thunar (>=1.6.x) or Nautilus. USB Disk for iPhone and iPod touch on the iTunes App Store. Description USB Disk lets you store, view and manage documents on your iPhone and iPod.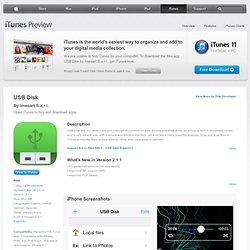 It has an amazing built in document viewer and is very easy to use, with a simple and intuitive interface, yet it contains many powerful features. Drag and drop files in iTunes to transfer them to your iPhone / iPod, then view them anywhere! TUAW - "USB Disk is [...] a nicely designed one. "Lifehacker - "The Best. iPodVideo.
#title iPod Video in Ubuntu The new 5th generation iPods, or iPod Videos, are fully supported under Ubuntu, but it takes a bit of tweaking.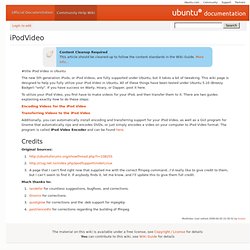 This wiki page is designed to help you fully utilize your iPod Video in Ubuntu. All of these things have been tested under Ubuntu 5.10 (Breezy Badger) "only". If you have success on Warty, Hoary, or Dapper, post it here. To utilize your iPod Video, you first have to make videos for your iPod, and then transfer them to it.
Atomic Web Browser - Browse FullScreen w/ Desktop Tabs & Ad Block for iPhone, iPod touch, and iPad on the iTunes App Store. Description Atomic Web Browser is the most advanced and customizable fullscreen web browser to date. Experience desktop features including Adblock, Tabs, MultiTouch Gestures, User Agent Switcher, Passcode Lock, Facebook/Twitter integration, Save Page, Downloads, and much more. Press Coverage:✪"Best alternate browser"― Macworld✪"Atomic Web: A Better iPad Browser" ― PCWorld✪"The Best Web Browser For iPhone" ― Lifehacker✪"It has the best user interface, the best feature set, and the best speed of the browsers tested.
" - Appadvice ● Highlights ● ✔ FULL SCREEN MODE:Use the entire screen to display a webpage. iRemoteDesktop Free for iPhone, iPod touch, and iPad on the iTunes App Store. Description Specifically designed for both iPad and iPhone!! Optimized to use the new iPad and iPhone 4/4s HD retina screen!
---