Mhealth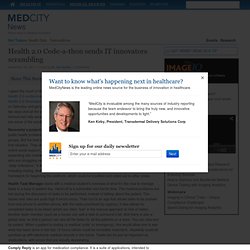 Health 2.0 Code-a-thon sends IT innovators scrambling
I spent the much of the weekend at a special event preceding this year's Health 2.0 conference in San Francisco that started last night. This was the Health 2.0 Developer Challenge Code-a-thon. I made a short presentation on Saturday and got asked to be a judge on Sunday. The event runs for two days and all the coders there are running on fumes and have caffeine tremors but rally amazingly to come up with great code and solutions. Here are some of the solutions presented.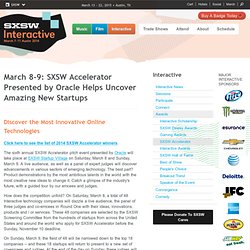 Accelerator
The sixth annual SXSW Accelerator pitch event will take place at SXSW Startup Village on Saturday, March 8 and Sunday, March 9. A live audience, as well as a panel of expert judges will discover advancements in various sectors of emerging technology. The best part? Product demonstrations by the most ambitious talents in the world with the most creative new ideas to change it. Catch a glimpse of the industry's future, with a guided tour by our emcees and judges. How does the competition unfold?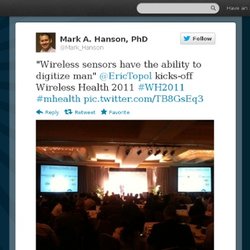 Mark A. Hanson, PhD: "Wireless sensors have the
Language: English Bahasa Indonesia Bahasa Melayu Dansk Deutsch Español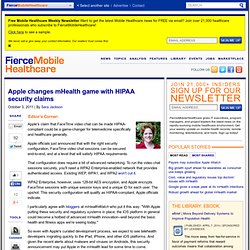 Apple changes mHealth game with HIPAA security claims
Apple's claim that FaceTime video chat can be made HIPAA-compliant could be a game-changer for telemedicine specifically and healthcare generally. Apple officials just announced that with the right security configuration, FaceTime video chat sessions can be secured end-to-end, and at a level that will satisfy HIPAA requirements. That configuration does require a bit of advanced networking. To run the video chat sessions securely, you'll need a WPA2 Enterprise-enabled network that provides authenticated access. Existing WEP, WPA1, and WPA2 won't cut it. Sign up for our FREE newsletter for more news like this sent to your inbox!
Marketing Medical Devices: EndoGoddess App At Apple Store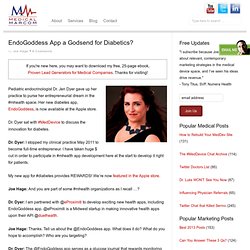 Pediatric endocrinologist Dr. Jen Dyer gave up her practice to purse her entrepreneurial dream in the #mhealth space. Her new diabetes app, EndoGoddess, is now available at the Apple store. Dr. Dyer sat with #MedDevice to discuss the innovation for diabetes. Dr.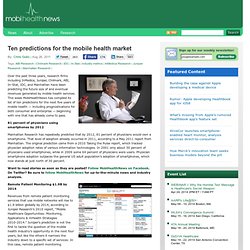 Tags: ABI Research | Chilmark Research | IDC | In-Stat | industry metrics | InMedica Research | Juniper Research | Manhattan Research | Over the past three years, research firms including InMedica, Juniper, Chilmark, ABI, In-Stat, IDC, and Manhattan have been predicting the future size of and eventual revenues generated by mobile health services. This week MobiHealthNews has compiled its list of ten predictions for the next five years of mobile health — including prognostications for both consumer and enterprise — beginning with one that has already come to pass. 81 percent of physicians using smartphones by 2012
Ten predictions for the mobile health market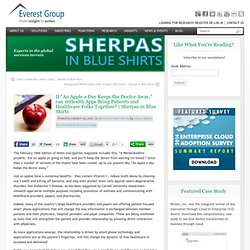 The February 1866 edition of Notes and Queries magazine includes this: "A Pembrokeshire proverb; Eat an apple on going to bed, and you'll keep the doctor from earning his bread." Since then a number of variants of the rhyme have been coined, up to our present-day "An apple a day keeps the doctor away." Just as apples have a numerous benefits – they contain Vitamin C, reduce tooth decay by cleaning one's teeth and killing off bacteria, and may even protect brain cells against neuro-degenerative disorders like Alzheimer's Disease, as has been suggested by Cornell University researchers – mHealth apps serve multiple purposes including promotion of wellness and communicating with healthcare providers, payers, and pharmacists.
If "An Apple a Day Keeps the Doctor Away," can mHealth Apps Bring Patients and Healthcare Folks Together?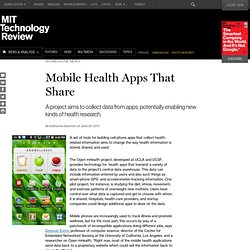 A set of tools for building cell-phone apps that collect health-related information aims to change the way health information is stored, shared, and used. The Open mHealth project, developed at UCLA and UCSF, provides technology for health apps that transmit a variety of data to the project's central data warehouse. This data can include information entered by users and also such things as smart-phone GPS- and accelerometer-tracking information. One pilot project, for instance, is studying the diet, stress, movement, and exercise patterns of overweight new mothers. Users have control over what data is captured and get to choose with whom it is shared.
Mobile Health Apps That Share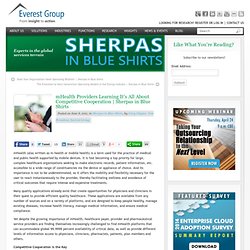 mHealth (also written as m-health or mobile health) is a term used for the practice of medical and public health supported by mobile devices. It is fast becoming a top priority for large, complex healthcare organizations seeking to make electronic records, patient information, etc. accessible to a wide range of constituencies via the device or appliance of choice. And its importance is not to be underestimated, as it offers the mobility and flexibility necessary for the user to react instantaneously to the provider, thereby facilitating wellness and avoidance of critical outcomes that require intense and expensive treatments. Many quality applications already exist that create opportunities for physicians and clinicians in their quest to provide efficient quality healthcare.
mHealth Providers Learning It's All About Competitive Cooperation
Personal health record's software development kit makes it easier to develop healthcare apps for Windows Phone 7, iPhone, and Android. (click image for larger view) Slideshow: 12 Innovative Mobile Healthcare Apps Microsoft has added mobile connectivity to its HealthVault personal health record platform, making it easier to develop health apps for its Windows Phone 7 smartphone and increasing competition in the mobile healthcare space. The company has built client libraries for constructing standalone HealthVault applications across all of the most popular phone platforms.
Microsoft Unlocks Mobile Access To HealthVault -- InformationWeek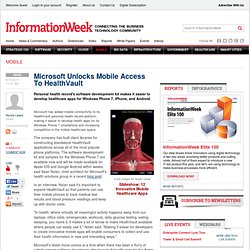 Mobile Health Apps That Share
Will health apps save payors money?
Some of the largest health insurers are increasing their mobile healthcare presence with patient-focused smartphone applications, reports AmedNews, with apps for physicians soon to follow. The mobile offerings provide a strong customer service tool, strengthen the physician/patient relationship, and save costs, according to insurers. Among the companies with currently available mobile offerings are Humana, UnitedHealthCare, and Blue Cross Blue Shield.
6 Questions: Alan Portela, AirStrip
As an ongoing feature for our audience, Mobile Healthcare Today presents a series of short-form Q&As with executives, developers and other influential figures in the mobile healthcare sector, called 6 Questions. Intended to provide a broad overview of emerging trends and technology in the field, 6 Questions presents an exclusive, concise view of the thinking of key thinkers and innovators. Today's 6 Questions is with Alan Portela, the CEO of AirStrip Technologies. Also a director for Diversinet and CliniComp International, Portela has more than 25 years experience as an information technology strategist and executive. He is the founder of Hybrid Clinical Transformation LLC, which provides consulting services to healthcare companies, and is a lecturer at the University of California Irvine's Paul Merage School of Business.
FDA clears Withings iPhone blood pressure cuff
Withings announced this week that they've received FDA clearance for their iOS-compatible blood pressure monitor, allowing for its immediate availability in the US for a $129.99 retail price. The release marks the first time an FDA-approved BP cuff includes direct connectivity with an iOS device. First announced at CES this year, the monitor runs on three AAA batteries and works in conjuction with an iPhone, iPad or iPod Touch.
Orange Juice – SKD's blog on Intersection of Design, Business and Culture » Creating a Consumer Movement in Wireless Health
An Interview with WLSA VP of Partner Development, Paul Sonnier One of the biggest opportunities for accelerating the adoption of Wireless Health is the creation of a consumer movement. This is one thing that struck me during this year's WLSA Convergence Summit.
#mhealth Innovation and Reimbursement - it will come #hcdc Come and discuss at healthca.mp/dc on 6/8/11 - More pre-blogspot than pre-posterous
Cambridge researchers release report on how mobile phones are transforming healthcare
>Many would argue the greatest promise of mobile health lies in the developing world – areas where low-cost, portable diagnostic and treatment tools could impact millions of people. Researchers at the University of Cambridge recently released a comprehensive study of mobile health applications in a nation where the confluence of poverty, geography, and rapid economic growth have created an environment where mobile health should thrive – China. Having received unprecedented access from Mobile China, the largest mobile communications provider in the world, their findings are compiled in a 100+ page report on the promise of mobile health technology. As the lead author, Professor Ian Leslie, stated in an interview with Research News (a University of Cambridge publication),
Beware of healthcare content FARMS like OrganizedWisdom.com
Evidence-based Medicine gives way to Evidence-based Health but what we need is Evidence-based Choices via #mHealth - More pre-blogspot than pre-posterous
Texting their way to better health
#mcitizen MobileHealth #omhealth why it matters ( http://portal.sliderocket.com/AQGIE/mobilecitizen-mobilerx ) - More pre-blogspot than pre-posterous
mobilecitizen-mobilerx
Open #mhealth consortium the opening session - More pre-blogspot than pre-posterous
Open #mHealth Partnership Discussion. Where do we go from here? - More pre-blogspot than pre-posterous
Open #mHealth meeting - Washington DC #omhe followed by #mCitizen summit on Saturday - More pre-blogspot than pre-posterous
Health 2.0 Starts with Food
Studies: SMS effective for smoking cessation
HealthCamp San Diego
Quantified Self Conference 2011
US Wireless Quick Facts
The doors to mobile app development just got blown wide open | Purple Raincloud