iPads in Education
Tons of information on ways to incorporate technology into the classroom-- particularly iPads.
Apps teachers use to tame the classroom and teach their students. It's the start of a new school year, which means you've probably got a stack of new books on your desk, a drawer full of new pencils and an iPad that desperately needs some new apps.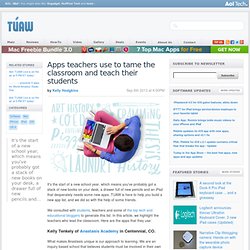 TUAW is here to help you build a new app list, and we did so with the help of some friends. We consulted with students, teachers and some of the top tech and educational bloggers to generate this list. 12 Advanced iPad Tips All Educators Should Learn -- THE Journal. As the number of apps you have installed on your iPad grows, it will become more difficult to quickly find a desired app when you or your students need it.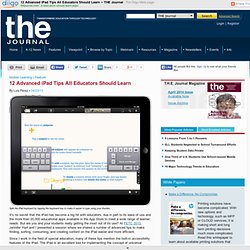 Fortunately, the built-in Spotlight search feature can help. To use Spotlight, click the Home button (or swipe to the right) while you are on your home screen. As you enter the name of an app in the search field at the top of the screen, a list of suggestions will appear below. iPad As.... 60 Educational iPad Apps for Teachers. First let me just thank all of you who have taken the time to confirm their email subscriptions after the obligatory migration I did to aWeber.
As I said in yesterday's post, I am no longer using Feedburner as the email delivery for this blog, I migrated to aWeber for fear of any sudden shut down of Feedburner particularly after the news of Google Reader's closure. So please if you have not yet confirmed your email subscription or if you want to subscribe anew use the widget "subscribe for updates " on the right hand sidebar to do so. I also appreciate all the emails and feedback I got from you and some of these emails have really made my day. I do feel so lucky to be a member of this awesome community of teachers and educators and without your support and encouragement, Educational Technology and Mobile Learning would not be reaching thousands of teachers from all around the world. iPads in Education - Apple's Configurator Overview.
A week ago I spent 5 hours at one of our local schools playing with Apple's new tool for managing iPads - Apple Configurator.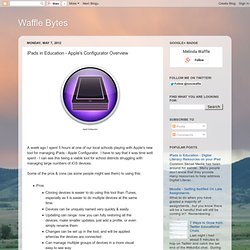 I have to say that it was time well spent - I can see this being a viable tool for school districts struggling with managing large numbers of iOS devices. Some of the pros & cons (as some people might see them) to using this: Teaching like it's 2999.
iPads for Engagement
Using Technology to Reach Unreachable Students. What's hot for innovative educators around the globe. When it comes to education, it seems no matter where in the world you are from, the same innovative practices bring us together.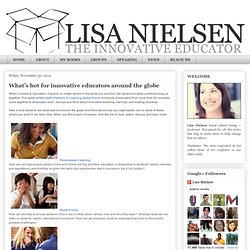 This week at Microsoft's Partners in Learning Global Forum hundreds of educators from more than 80 countries came together to showcase, learn, discuss and think about innovative teaching, learning, and leading practices. Take a look below to see what was hot around the globe and think about how you might tackle one or some of these where you work in the New Year. San Diego News, Local, California and National News | UTSanDiego.com.
Apps in Education. Writers Workshop. Teaching writers workshop is a beautiful and amazing thing because it allows our own creativity to flow out on to paper for our student's to see.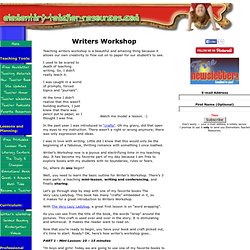 Watch me model a lesson. :) I used to be scared to death of teaching writing. So, I didn't really teach it. Education. iPads in the Classroom. iPad Academy - Learn How to Use the iPad | Tutorials, Tips & Training. 14 Must-Know iPad Tips & Tricks. Whether you're new to the iPad or a longtime user, here are some great tips to help you get the most out of the device.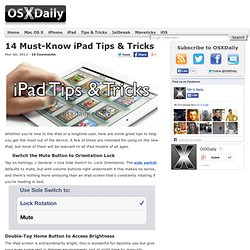 A few of these are intended for using on the new iPad, but most of them will be relevant to all iPad models of all ages. Switch the Mute Button to Orientation Lock Tap on Settings > General > Use Side Switch to: Lock Orientation. The side switch defaults to mute, but with volume buttons right underneath it this makes no sense, and there's nothing more annoying than an iPad screen that's constantly rotating if you're reading in bed. 50 really useful iPad 2 tips and tricks. An absolute gem of an article by John Brandon and Graham Barlow from MacLife on 30th March over at TechRadar.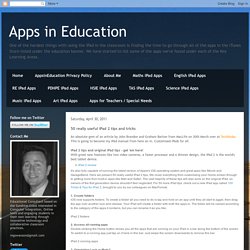 This is going to become my iPad manual from here on in. Customised iPads for all. Video. In this video, you will learn how to add and edit text objects in a SMART amp workspace.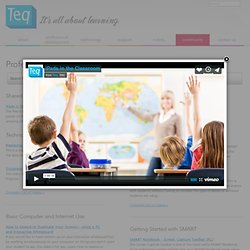 Viewers will also learn how to format text, using the workspace text editor, and clone formatted text to save time when creating workspace content. In this video, you will learn how to insert a SMART Notebook file into a SMART amp workspace. This feature allows teachers to easily share lessons with students, without having to consider the type of device or software students are using. Teaching Appz – a guide to great educational apps for teachers.
Teaching Appz is a great new website to help teachers to find apps for iPads, iPods and other mobile devices (including Android, Playbook and web) that can be used in the classroom.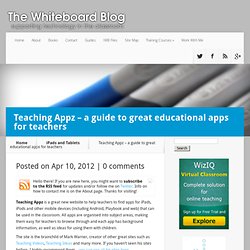 All apps are organised into subject areas, making them easy for teachers to browse through and each app has background information, as well as ideas for using them with children. The site is the brainchild of Mark Warner, creator of other great sites such as Teaching Videos, Teaching Ideas and many more. EdApps.ca. Apps in Education. 7 Apps That Will Help You Use Your iPad For Writing Projects. While each of us has our own particular needs, I'm sure one or more of these apps will serve your needs. So get ready to set up a folder on your tablet and download a useful collection of resources. Evernote At the top of the list, the popular Evernote app (iTunes Store Link) and web syncing service is an essential tool for writing on the iPad.
You can throw in all kinds of text based files, as well as photos and audio notes, into Evernote which will automatically sync all your notes to your iPad, as well as your Mac or PC. iPads in Education - Exploring the use of iPads and mobile devices in education. iPod Touch & iPad Resources. 10 Useful iPad Resources for Educators. Home » Education I thought I would share with you some our most popular iPad resources for educators, all of which I learned about inside the Teacher Learning Community!
Effective Mobile Learning: 50+ Quick Tips and Resources "In this e-book find several tips, resources, and links for integrating mobile devices into the curriculum. " -ShellTerrell20 Free iPad Apps Educators Can't Live Without! 8 Free Resources on The Use of iPad in Education. I know that most of you have got a tablet device of some sort but if it happens that you have an iPad then this post will relate to you more.
Below is a set of resources dedicated exclusively to the educational uses of the iPad. Emerging Ed Tech has done a great job in providing this list. Check them out. Free Apps for Educators. Ipads in class. Blooms and iPad Applications.
I just got tweeted a nice diagram showing iPad applications against different levels of Bloom's revised taxonomy. Its a good and well considered diagram and I like it. Some applications there that I haven't seen yet and I will have to look up. iPads in the Classroom. iPad As....
iPad Curriculum. Education - iPad makes the perfect learning companion. 58 Interesting Ways* to use an iPad in the Classroom.ppt. Online Bomb Countdown. Elementary School iPad Apps. Lisa Johnson. Technology. 100 iPad Apps Perfect For Middle School. 65+ iPad Apps Perfect For Elementary School | Education Technology and Teacher Tools – Edudemic. iPaddiction. iPads in Education - Apple's Configurator Overview. The Must-Have App Review Rubric.
---