iPad
How to convert PDF files to ePub files to read on your iPad with. This tutorial will guide you through the process of converting PDF files so that they can be read in iBooks, the iPad application.
Update: you can now read PDF files directly in iBooks, without having to convert them to .epub or any other format. See this tutorial for a quick overview of how to add PDF files to iBooks to read on your iPad, iPhone or iPod Touch. The Complete List of iPad Tips, Tricks, and Tutorials - How-To G.
The Apple iPad is an amazing tablet, and to help you get the most out of it, we've put together a comprehensive list of every tip, trick, and tutorial for you.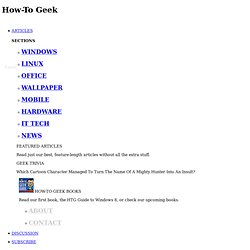 Read on for more. Note: This article was originally published earlier this year, but we've updated it with a real lot more content since then, so we're republishing it for you. We'll be keeping this page updated as we find more great articles, so you should bookmark this page for future reference. How to Maximize Your iPad's Battery Life. PressReader: Ultimate newspaper app for iPads? | iPad Atlas - CN. What is the future of newspapers?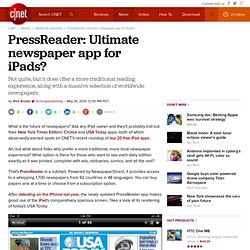 Ask any iPad owner and they'll probably trot out their New York Times Editors' Choice and USA Today apps--both of which deservedly earned spots on CNET's recent roundup of top 20 free iPad apps . Ah, but what about folks who prefer a more traditional, more local newspaper experience? What option is there for those who want to see each daily edition exactly as it was printed, complete with ads, obituaries, comics, and all the rest? That's PressReader in a nutshell. Powered by NewspaperDirect, it provides access to a whopping 1,700 newspapers from 92 countries in 48 languages. Epicurious - Top 20 free iPad apps (photos) PressReader on the iPad: Amazing! | Shanghaied Weblog. Today I checked out the new PressReader app on the iPad, and I was totally sold on it!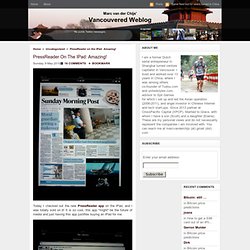 It is so cool, this app *might* be the future of media and just having this app justifies buying an iPad for me. Downloading on the iPad goes very fast PressReader is a website with an app that lets you read 1500 newspapers and magazines worldwide on your computer, your iPhone or your iPad. You pay USD 0.99 per newspaper, or you can have a 1-month subscription for USD 9.99 that allows you to download 31 newspapers (you can download whatever your want, so you're not stuck with a subscription to just one newspaper, you can download a different newspaper every day if you'd like or download several ones on one day), or a USD 29.99 one-month unlimited download.
How the iPad Might Bring Us Back to Our Print Roots | Fast Compa. I'm going to admit that I'm excited about the iPad.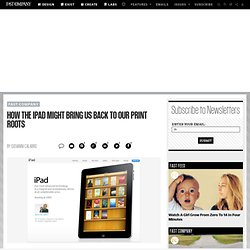 And from the buzz it seems I might be alone on this one. I'm seeing comments that range from, "That's it? " to "This is an iPhone with a larger screen. " Adding to the thoughtful sentiments are calls for the heads of AT&T executives for their sub par network service. Will Magazine Design Flourish or Fizzle on the iPad? | Fast Comp. Last week a parody of Dwell magazine made the viral rounds.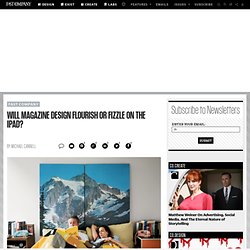 Unhappy Hipsters consists of photos drawn from the magazine, each showing cool young homeowners looking forlorn in their expensive interiors. Tagline: "It's lonely in the modern world." Sena Cases - Designer Leather Cases : iPad Leather Cases for App.
---