iPad what's change and doesn't change?
Open Thread: What Features Should iPad's Competitors Have?
Last week, we asked if you thought the iPad was a flop, and many of you told us exactly why. In that comments thread, you joined us in collective head-scratching and fist-shaking over the price point and the lack of certain key features. It's clear that many of us won't be flocking to the nearest Apple store to pick up one of these gadgets. But there may be alternatives. In the event that a competitor releases a tablet device, what features would you want it to have? Give us your wish list in the comments; hopefully, manufactures are listening.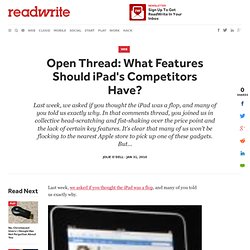 Open Thread: Is the iPad a Flop?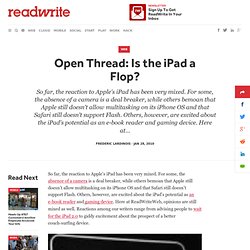 So far, the reaction to Apple's iPad has been very mixed. For some, the absence of a camera is a deal breaker, while others bemoan that Apple still doesn't allow multitasking on its iPhone OS and that Safari still doesn't support Flash. Others, however, are excited about the iPad's potential as an e-book reader and gaming device. Here at ReadWriteWeb, opinions are still mixed as well.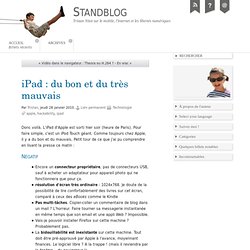 Donc voilà. L'iPad d'Apple est sorti hier soir (heure de Paris).
iPad : du bon et du très mauvais
Developers, not Apple, will make or break the iPad
The iPad's fate isn't in the hands of Apple. Jobs & Co. has done their part and made the device.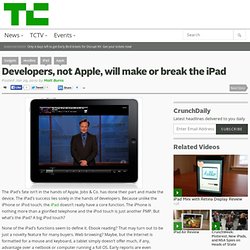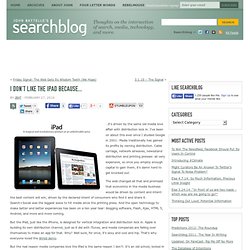 …it's driven by the same old media love affair with distribution lock in.
I Don't Like The iPad Because...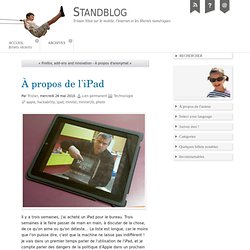 Il y a trois semaines, j'ai acheté un iPad pour le bureau.
À propos de l'iPad
Article : iPad : Tristan Nitot s'explique en détails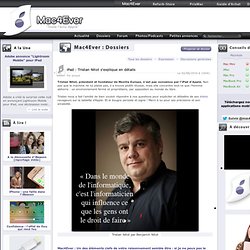 Tristan Nitot, président et fondateur de Mozilla Europe, n'est pas convaincu par l'iPad d'Apple. Non pas que la machine ne lui plaise pas, il a trouve plutôt réussie, mais elle concentre tout ce que l'homme abhorre : un environnement fermé et propriétaire, par opposition au monde du libre. Tristan nous a fait l'amitié de bien vouloir répondre à nos questions pour expliciter et débattre de ses billets ravageurs sur la tablette d'Apple.
iPad: ce qu'en pense la soucoupe » Article » owni.fr, digital jo
Les médias ont très vite vu dans l'iPad un moyen miraculeux pour sortir du marasme dans lequel ils sont enferrés. C'est pourtant bien loin d'être le cas et beaucoup de travail reste à fournir.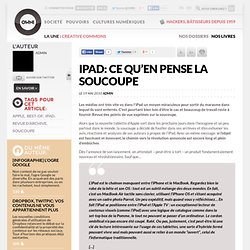 This is a guest post by Daniel Tenner, CTO and co-founder of Woobius, a web-based document sharing tool for architects, engineers and designers. Woobius is his second start-up. Daniel spent four years consulting at Accenture with large investment banks.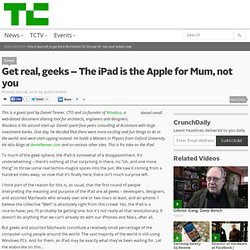 Get real, geeks – The iPad is the Apple for Mum, not you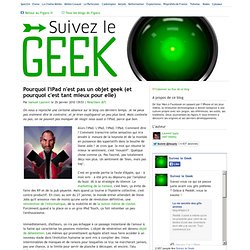 Pourquoi l'iPad n'est pas un objet geek (et pourquoi c'est tant
Immédiatement, d'ailleurs, on n'a pas échappé à ce passage instantané de l'amour à la haine qui caractérise les passions violentes.
iPad: pas un ordinateur mais tant mieux
Steve Jobs ne s'intéresse pas uniquement aux geeks fondus de gadgets : il vise maintenant aussi le marché des personnes réticentes aux nouvelles technologies, trop souvent délaissé. Une théorie voudrait nous faire croire que, pour s'assurer le succès d'un nouveau produit technologique, il faut d'abord s'adresser aux early adopters. Ce terme, traduit en français par "premiers adopteurs", désigne toute la population qui veut absolument posséder le dernier gadget technologique dès son lancement.
Nouvelle stratégie d'Apple: ne pas s'adresser aux early adopters ? » Article » OWNI, Digital Journalism
Hier, vendredi 28 mai, soit deux mois après les États-Unis, Apple a lancé officiellement la commercialisation en France de l'iPad.
Pourquoi je n'achèterai pas un iPad
I just downloaded the Wired iPad application, and like most iPad applications (and most magazines for that matter), I found myself bored with it within the first 20 minutes.
Is This Really The Future of Magazines or Why Didn't They Just U
The iPad needs its HyperCard
(Note: With the iPad scheduled to arrive this week, we reached out to a number of folks across a variety of industries to get their take on the device and the changes it may usher in.
J'ai déjà un iPad ! | J'affiche...!
At Last, the Open-Source iPhone-Killer | Gadget Lab
iPad Usability: First Findings From User Testing (Jakob Nielsen'
WIRED on iPad: Just like a Paper Tiger…
What the iPad is Missing (No, it's not a Camera)
A Popular Misconception
"Les utilisateurs d'iPad ont des réflexes d'internautes, pas de