iPad what's change and doesn't change?
Open Thread: What Features Should iPad's Competitors Have? Last week, we asked if you thought the iPad was a flop, and many of you told us exactly why.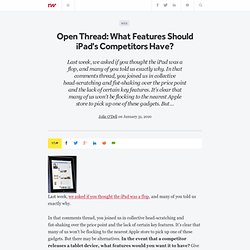 In that comments thread, you joined us in collective head-scratching and fist-shaking over the price point and the lack of certain key features. It's clear that many of us won't be flocking to the nearest Apple store to pick up one of these gadgets. Open Thread: Is the iPad a Flop? So far, the reaction to Apple's iPad has been very mixed.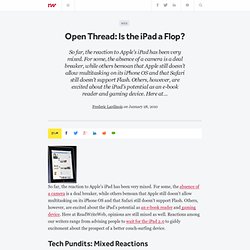 For some, the absence of a camera is a deal breaker, while others bemoan that Apple still doesn't allow multitasking on its iPhone OS and that Safari still doesn't support Flash. Others, however, are excited about the iPad's potential as an e-book reader and gaming device. Here at ReadWriteWeb, opinions are still mixed as well. iPad : du bon et du très mauvais. Donc voilà.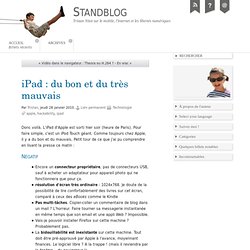 L'iPad d'Apple est sorti hier soir (heure de Paris). Pour faire simple, c'est un iPod Touch géant. Comme toujours chez Apple, il y a du bon et du mauvais. Petit tour de ce que j'ai pu comprendre en lisant la presse ce matin : Négatif. Developers, not Apple, will make or break the iPad. The iPad's fate isn't in the hands of Apple.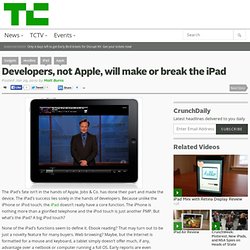 Jobs & Co. has done their part and made the device. The iPad's success lies solely in the hands of developers. Because unlike the iPhone or iPod touch, the iPad doesn't really have a core function. The iPhone is nothing more than a glorified telephone and the iPod touch is just another PMP. But what's the iPad? I Don't Like The iPad Because... …it's driven by the same old media love affair with distribution lock in.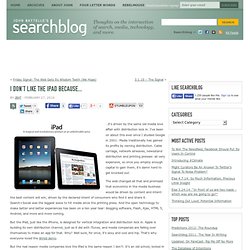 I've been on about this ever since I studied Google in 2001: Media traditionally has gained its profits by owning distribution. Cable carriage, network airwaves, newsstand distribution and printing presses: all very expensive, so once you employ enough capital to gain them, it's damn hard to get knocked out. The web changed all that and promised that economics in the media business would be driven by content and intent: the best content will win, driven by the declared intent of consumers who find it and share it.
Search+Social was the biggest wave to hit media since the printing press. À propos de l'iPad. Il y a trois semaines, j'ai acheté un iPad pour le bureau.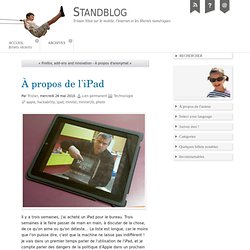 Trois semaines à le faire passer de main en main, à discuter de la chose, de ce qu'on aime ou qu'on déteste... La liste est longue, car le moins que l'on puisse dire, c'est que la machine ne laisse pas indifférent ! Je vais dans un premier temps parler de l'utilisation de l'iPad, et je compte parler des dangers de la politique d'Apple dans un prochain billet, qui risque fort d'être moins flatteur.
La première impression de l'iPad est positive pour à peu près tout le monde. Article : iPad : Tristan Nitot s'explique en détails. Tristan Nitot, président et fondateur de Mozilla Europe, n'est pas convaincu par l'iPad d'Apple.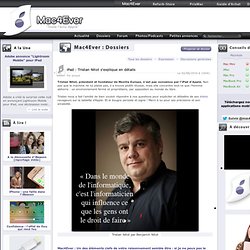 Non pas que la machine ne lui plaise pas, il a trouve plutôt réussie, mais elle concentre tout ce que l'homme abhorre : un environnement fermé et propriétaire, par opposition au monde du libre. Tristan nous a fait l'amitié de bien vouloir répondre à nos questions pour expliciter et débattre de ses billets ravageurs sur la tablette d'Apple. iPad: ce qu'en pense la soucoupe » Article » owni.fr, digital jo. Les médias ont très vite vu dans l'iPad un moyen miraculeux pour sortir du marasme dans lequel ils sont enferrés.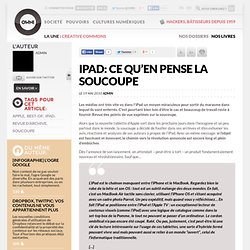 C'est pourtant bien loin d'être le cas et beaucoup de travail reste à fournir. Revue des points de vue exprimés sur la soucoupe. Alors que la nouvelle tablette d'Apple sort dans les prochains jours dans l'hexagone et un peu partout dans le monde, la soucoupe a décidé de fouiller dans ses archives et d'en exhumer les avis, réactions et analyses de ses auteurs à propos de l'iPad. Avec un même message: si l'objet est fascinant et innovant, le chemin vers la révolution annoncée est encore long et plein d'embûches. Dès l'annonce de son lancement, on attendait – peut-être à tort – un produit fondamentalement nouveau et révolutionnaire. Get real, geeks – The iPad is the Apple for Mum, not you. This is a guest post by Daniel Tenner, CTO and co-founder of Woobius, a web-based document sharing tool for architects, engineers and designers.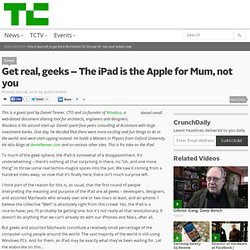 Woobius is his second start-up. Daniel spent four years consulting at Accenture with large investment banks. Pourquoi l'iPad n'est pas un objet geek (et pourquoi c'est tant. Immédiatement, d'ailleurs, on n'a pas échappé à ce passage instantané de l'amour à la haine qui caractérise les passions violentes.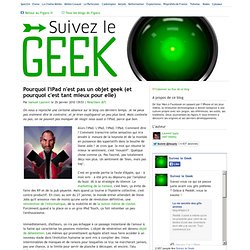 L'objet de vénération est devenu objet de détestation. Les mêmes qui promettaient qu'Apple allait nous faire accéder à un nouveau stade dans l'évolution humaine se sont mis à compiler des listes interminables de manques et de raisons pour lesquelles ce truc ne marcherait jamais, pas une chance, à la limite pour servir de planche à découper, et encore, l'alu abîmerait le fil des couteaux, etc. On trouve d'ailleurs, c'est rigolo les mêmes images d'iPad-bashing que celles déjà utilisées pour l'iPhone : Le pire, c'est qu'après avoir constaté que j'étais déçu, je me suis dit la même chose.
Nouvelle stratégie d'Apple: ne pas s'adresser aux early adopters ? » Article » OWNI, Digital Journalism. Steve Jobs ne s'intéresse pas uniquement aux geeks fondus de gadgets : il vise maintenant aussi le marché des personnes réticentes aux nouvelles technologies, trop souvent délaissé. Une théorie voudrait nous faire croire que, pour s'assurer le succès d'un nouveau produit technologique, il faut d'abord s'adresser aux early adopters. Ce terme, traduit en français par "premiers adopteurs", désigne toute la population qui veut absolument posséder le dernier gadget technologique dès son lancement.
Pourquoi je n'achèterai pas un iPad. Hier, vendredi 28 mai, soit deux mois après les États-Unis, Apple a lancé officiellement la commercialisation en France de l'iPad. L'occasion pour nous de traduire cet article de Cory Doctorow dont le titre ne souffre d'aucune ambiguïté. L'ami Cory est l'un de nos plus brillants défenseurs des libertés numériques, et il n'est guère étonnant de le voir ici monter au créneau pour y manifester sa grande perplexité, arguments percutants et convaincants à l'appui. Avec notre billet iPad'libertés pour les utilisateurs de la Free Software Foundation, cela nous fait deux bonnes raisons d'expliquer aux adorateurs du Veau d'or[1]
Is This Really The Future of Magazines or Why Didn't They Just U. I just downloaded the Wired iPad application, and like most iPad applications (and most magazines for that matter), I found myself bored with it within the first 20 minutes. I'm sure the content is engaging, I'm sure the articles are worth reading – but I am stumped as to why I would chose this over the physical magazine itself, or their website for that matter. In fact, for reasons I'll get into below, I'm starting to believe that the physical magazine's "interface" is vastly superior to it's iPad cousin.
However, what strikes me most about the Wired app is how amazingly similar it is to a multimedia CD-ROM from the 1990′s. The iPad needs its HyperCard. (Note: With the iPad scheduled to arrive this week, we reached out to a number of folks across a variety of industries to get their take on the device and the changes it may usher in. We'll be featuring these pieces over the next few weeks. — Mac) Dale Dougherty, editor and publisher of MAKE: When I think about opportunities around the iPad, I recall the CD-ROM market of the late 1980s.
J'ai déjà un iPad ! | J'affiche...! At Last, the Open-Source iPhone-Killer | Gadget Lab. iPad Usability: First Findings From User Testing (Jakob Nielsen' Designing for iPad: Reality Check. WIRED on iPad: Just like a Paper Tiger… What the iPad is Missing (No, it's not a Camera) A Popular Misconception. "Les utilisateurs d'iPad ont des réflexes d'internautes, pas de. Beautiful UI styling with CSS3 text-shadow, box-shadow, and bord.
---