Ipad stats
iPads Used For Play, Not Work: Citigroup Survey - Peter Kafka - Media. So, yes.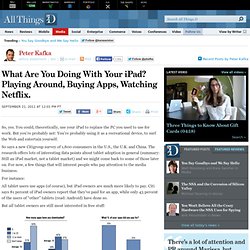 You could, theoretically, use your iPad to replace the PC you used to use for work. But you're probably not: You're probably using it as a recreational device, to surf the Web and entertain yourself. So says a new Citigroup survey of 1,800 consumers in the U.S., the U.K. and China. The research offers lots of interesting data points about tablet adoption in general (summary: Still an iPad market, not a tablet market) and we might come back to some of those later on. For now, a few things that will interest people who pay attention to the media business. A Look at iPad Users: Apple Still Trouncing Android - Digits. Connected Devices: How We Use Tablets in the U.S. App Annie — Your App Nanny | App Tracking & Analytics Made Easy.
iPad 3 could make Apple the world's top PC vendor next year | Apple. Apple is likely to outshine Hewlett-Packard as the world's top PC maker before the second half of next year, says research firm Canalys, but it'll need some help from the iPad 3.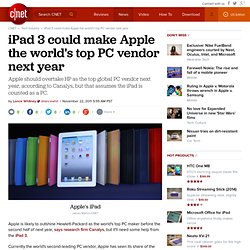 Currently the world's second-leading PC vendor, Apple has seen its share of the market jump to 15 percent from 9 percent over just the past year. That growth is largely due to heavy demand for the iPad, which Canalys considers a personal computer. Apple cult mocked by Samsung in Galaxy S II ad | Technically Incorrect. "I could never get a Samsung," says a self-consciously cool-looking, whiny dude, seated on the sidewalk.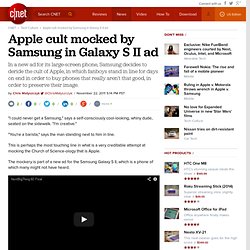 "I'm creative. " "You're a barista," says the man standing next to him in line. This is perhaps the most touching line in what is a very creditable attempt at mocking the Church of Science-ology that is Apple. The mockery is part of a new ad for the Samsung Galaxy S II, which is a phone of which many might not have heard. The people standing in line in various cities--outside places that look remarkably like Apple stores--are Apple's dedicated followers.
---