Apps for education
Rover - The FREE education browser for your iPad! How to import & edit video on an iPad. How to import video to iPad without using iTunesTransfer video from iPhone to iPad using Airdrop or DropboxEdit movies on iPad using iMovie and share using Movie Theatre The iPad makes it easy to edit home movies.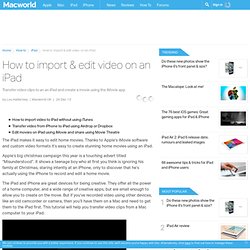 Thanks to Apple's iMovie software and custom video formats it's easy to create stunning home movies using an iPad. Apple's big christmas campaign this year is a touching advert titled "Misunderstood". It shows a teenage boy who at first you think is ignoring his family at Christmas, staring intently at an iPhone, only to discover that he's actually using the iPhone to record and edit a home movie. 10 Tips For A Smarter iPad-Based Classroom. 10 Tips For A Smarter iPad-Based Classroom by Heather Wolpert-Gawron, author of Writing Behind Every Door: Teaching Common Core Writing in the Subject Areas When I first raised my hand to pilot my middle school's first 1:1 classroom, I knew it was going to be bumpy.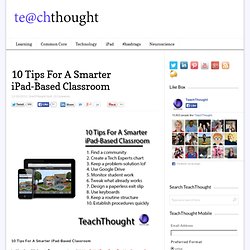 After all, I am a practitioner of content, not a tech guru. But the way I see it, I work to not only help guide students to unveil the subject matter (consume), I also work to be up on the most current ways to communicate that content (create). Five Good Options for Creating Mind Maps on Your iPad. I'm a big fan of mind mapping as a method for organizing thoughts, connecting concepts, and visualizing the big picture of concept.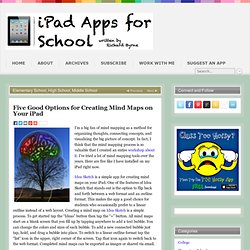 In fact, I think that the mind mapping process is so valuable that I created an entire workshop about it. I've tried a lot of mind mapping tools over the years. Here are five like I have installed on my iPad right now. Idea Sketch is a simple app for creating mind maps on your iPad. A New Place To Find Educational iPad Apps. The 55 Best Free Education Apps For iPad. Finding apps isn't difficult.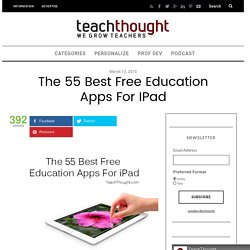 Finding education apps is only a bit more challenging. Finding free education apps is also possible. Finding free education apps worth downloading is a different story entirely. The following is our list for the 55 best apps for learning we can find. Some are formal learning–math drilling and phonics, for example–while others are RSS readers, social media platforms, and the like. iPad Apps / 6 Useful Apps to Create Short Movie.
Coolappsforschools - home. 6 iPad Apps That Help You Create Interactive Study Guides. With the end of the semester drawing near, so are the plans of preparing students for final exams and standardized tests.
Check out these six iPad apps to create fun, engaging, interactive study guides for your students. 1. ScreenChomp - Create a list of equations for students to solve. TinyTap, Moments Into Games - Create free educational games & books for kids. Description On TinyTap you can easily create your own educational games and play thousands of games created by teachers, authors and kids worldwide.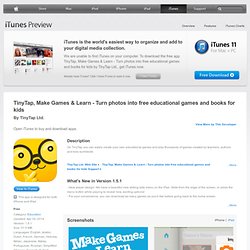 To create your own personalized games, all you need to do is add photos or images, record questions, trace the answers and you're ready to play! ***Winner of Verizon Powerful Answers in Education Award*** Contents contributed and discussions participated by International School of Central Switzerland - iPad for Education. 20 Amazing iPad Apps for Educators | TeachHUB. How 'Big Three' Publishers Are Approaching iPad Textbooks -- THE Journal. iPad Apps. iPad Apps. iPad Apps. Apps in Education. A List of Great Google Apps for your iPad. So you are looking fog Google best apps for iOS ?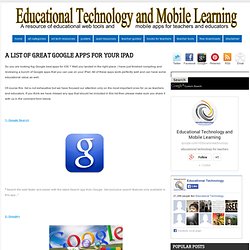 Well you landed in the right place. I have just finished compiling and reviewing a bunch of Google apps that you can use on your iPad. All of these apps work perfectly well and can have some educational value as well. The 200 Best Special Education Apps. Added by Jeff Dunn on 2012-02-02 If you're a special education teacher or are simply looking for an innovative way to reach a student… this is for you.
Many apps out there are useful in the classroom but they're not always easy to find in the clogged-up app store. Audioboo. Description Welcome to the new Audioboo - the app that helps you share your voice with the world. • Record up to 3 minutes for free • Post your clips easily to the web, Twitter, Facebook and more • Send audio DMs to friends • Listen to great content from the BBC, Fox, The Guardian, Universal Music, Premier League, Channel 4, KiddNation, and hundreds more partners from around the world • Download and store your favourite clips and playlists to play offline WANT MORE?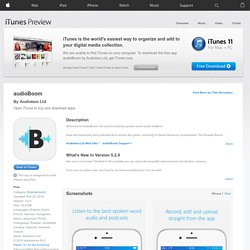 Skitch for iPhone 3GS, iPhone 4, iPhone 4S, iPhone 5, iPod touch (3rd generation), iPod touch (4th generation), iPod touch (5th generation) and iPad on the iTunes App Store. Description See something that sparks an idea?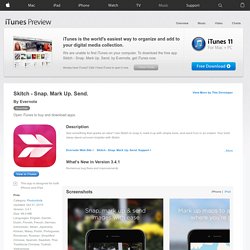 Use Skitch to snap it, mark it up with simple tools, and send it on in an instant. Your bold ideas stand out even brighter with Skitch. Nearpod. iPads in Schools. Www.tcea.org/documents/PD/Free Must-Have Apps for Teachers.pdf. Katie Christo (katiechristo) on Pinterest.
Great Apps. If you have an app you use in your classroom, please add it to comments at the bottom. I'll update as soon as possible. If you're the developer of a great educational app, please contact me. Apps for Maths in Primary Education. With the Geometry Pad you can create fundamental geometric shapes, explore and change their properties and calculate metrics of the shapes. The shapes are displayed on a scrollable and zoomable workbook with a rectangular coordinate system. Splash Math is a fun and innovative way to practice math. With 13 chapters covering over 185 math skills and an endless supply of problems, it is by far the most comprehensive math workbook in the app store.
SPLASH MATH APPS SERIES: 1st Grade, 2nd Grade, 3rd Grade, 4th Grade Math App. With more than 100,000 copies in print, the "Math Dictionary for Kids" is the #1 homework helper for kids. iPad As.... ISTE12 Resources - iPads in Education. iPad/iPod Resources. 10 Must Have iPad Apps for Students and Teachers. Everyone knows that to succeed in education you need all the help you can get, and what better way to find that help than through the electronic device of the decade, Apple's iPad.
For those of you living in a cave, the iPad is a small tablet computer, 9.56 inches x 7.47 inches x 0.5 inches, which is poised to be the device that changes it all. And, while the reviews of the iPad have been mixed so far, there is no doubt that it has the potential to become one of the greatest assets to education that there has been since Gutenberg's invention of the printing press. (Video) How iPad Helped Kindergarten Tell Their Story w/ iMovie. On Monday past, I emcee'd a Film Festival for students in Junior and Senior High.
The festival was a huge hit thanks to my amazing team of colleagues and dozens of talented teens. But my proudest moment of the evening was one video in particular – created by a kindergarten class. TCEA-Recommended iPad Apps. Free Mobile Apps to Create Photo Collage on iPad. Sample Lessons - iPad in Education. iPad Apps / YouTube Launches 'Capture' App to Easily Film and Share Videos. 39 Sites For Using iPads in the Classroom. Teaching Appz | A directory of educational apps that can be used in the classroom. iPad Apps / Edmodo Features: File Sharing Update for iPad, iPhone and iPod Touch | Edmodo – Safe Social Networking for Schools. 10 Apps for Learners Who Struggle with Reading and/or Writing.
50 Must-Have Educational Apps. iAppsForTeachers | iPad Apps / 45 Outstanding iPad Apps for Science Learning.
---