Color
Sequoia's Doug Leone: We Are 'Thrilled' To Be Investors In Color, 'Stay Tuned' For The Pivot. It's no secret that there's been a major amount of controversy surrounding Color, the photo sharing app that launched earlier this year with $41 million in funding from Sequoia Capital, Bain Capital, and Silicon Valley Bank (Sequoia apparently put $25 million in).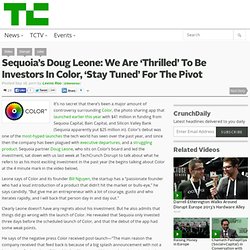 Color's debut was one of the most-hyped launches the tech world has seen over the past year, and since then the company has been plagued with executive departures, and a struggling product. Sequoia partner Doug Leone, who sits on Color's board and led the investment, sat down with us last week at TechCrunch Disrupt to talk about what he refers to as his most exciting investment in the past year (he begins talking about Color at the 4 minute mark in the video below). Leone says of Color and its founder Bill Nguyen, the startup has a "passionate founder who had a loud introduction of a product that didn't hit the market or bulls-eye," he says candidly. Color Me Badd. Come inside, take off your coat I'll make you feel at home Now let's pour a glass of wine 'Cause now we're all alone.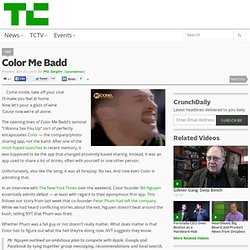 The opening lines of Color Me Badd's seminal "I Wanna Sex You Up" sort of perfectly encapsulates Color — the company/photo-sharing app, not the band. After one of the most-hyped launches in recent memory, it was supposed to be the app that changed proximity-based sharing. Instead, it was an app used to share a lot of drinks, often with yourself or one other person. Unfortunately, also like the song, it was all foreplay. No sex. Why Color May Be The Next Twitter. Love it or loath it, the smartphone app Color is one of the most innovative Web products to have launched this year.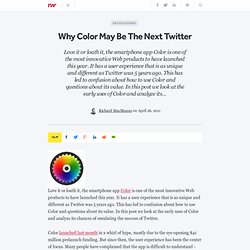 It has a user experience that is as unique and different as Twitter was 5 years ago. This has led to confusion about how to use Color and questions about its value. In this post we look at the early uses of Color and analyze its chances of emulating the success of Twitter. Color launched last month in a whirl of hype, mostly due to the eye-opening $41 million prelaunch funding. But since then, the user experience has been the center of focus. Fox, Color App Partner for 'Water for Elephants' Premiere (Exclusive) 20th Century Fox has teamed up with the makers of mobile app Color for Sunday's premiere of Reese Witherspoon and Robert Pattinson's film Water for Elephants.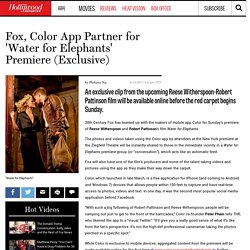 The photos and videos taken using the Color app by attendees at the New York premiere at the Ziegfeld Theatre will be instantly shared to those in the immediate vicinity in a Water for Elephants premiere group (or "conversation"), which acts like an automatic feed. Fox will also have one of the film's producers and some of the talent taking videos and pictures using the app as they make their way down the carpet. Color, which launched in late March, is a free application for iPhone (and coming to Android and Windows 7) devices that allows people within 150 feet to capture and have real-time access to photos, videos and text.
The funding and failures of Color, Silicon Valley's $41 million startup (wrapup of the week of hype and hate) As you know I didn't like Color's launch a week ago.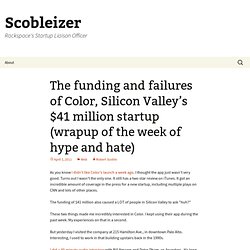 I thought the app just wasn't very good. Turns out I wasn't the only one. It still has a two-star review on iTunes. It got an incredible amount of coverage in the press for a new startup, including multiple plays on CNN and lots of other places. Why Color?s bad first experience will always ?color? this company in app stores ? Scobleizer. Like with the earlier Path, first experiences matter and are mattering more every day.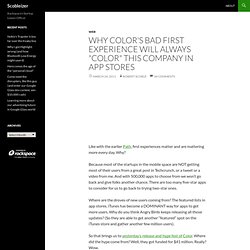 Why? Because most of the startups in the mobile space are NOT getting most of their users from a great post in Techcrunch, or a tweet or a video from me. And with 500,000 apps to choose from we won't go back and give folks another chance. COLOR: Here's What No One Understands About The Huge $41 Million Round. L011: Color.com Stuns Valley with Implied Social Network -- and a $41M Raise - Launch - Color [ ] -=-=-=-=-=-=-=-=- LAUNCHERS: CEO Bill Nguyen is a brilliant serial entrepreneur who sold his most recent company, Lala, to Apple for $40M in 2009.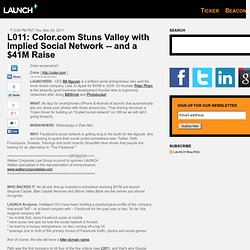 Co-founder Peter Pham is the absurdly good business-development founder who is supremely networked after doing BillShrink and Photobucket. WHAT: An App for smartphones (iPhone & Android at launch) that automatically lets you share your photos with those around you. That sharing becomes a Trojan horse for building an "implied social network" (or ISN as we will call it going forward). Color to Get Major Update, Fix 'Loneliness' Problem. Color, the dynamic photo-sharing app that made a splash with its launch yesterday, is already hard at work on the next version of its app.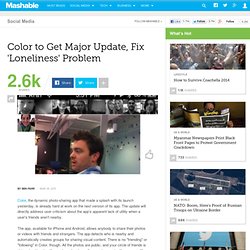 The update will directly address user criticism about the app's apparent lack of utility when a user's friends aren't nearby. The app, available for iPhone and Android, allows anybody to share their photos or videos with friends and strangers. The app detects who is nearby and automatically creates groups for sharing visual content. Sequoia Capital: "Once or twice a decade a... Color Me Fascinated: A Photo Social Network for the Here and Now | Epicenter  From street level in Palo Alto, California, the headquarters of Bill Nguyen's new startup appears to be an abandoned storefront: A sign on the door instructs you go to elsewhere, and the windows are covered with brown butcher paper.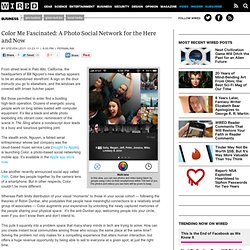 But those permitted to enter find a bustling high-tech operation. Dozens of energetic young people work on long tables loaded with computer equipment. It's like a black and white photo exploding into vibrant color, reminiscent of the scene in The Sting where a nondescript door leads to a busy and luxurious gambling joint. New Color app promotes mobile voyeurism. New app's mobile voyeurism New photo app called Color launches this weekThe app bills itself as location-based Twitter for photosStrangers who are nearby can see photos users post to the app (CNN) -- The makers of a new and much-anticipated smartphone app called Color are operating on this principle: "We're all inherently voyeuristic," said Peter Pham, president and co-founder of the Palo Alto, California start-up.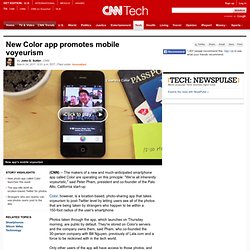 Color, however, is a location-based, photo-sharing app that takes voyeurism to post-Twitter level by letting users see all of the photos that are being taken by strangers who happen to be within a 150-foot radius of the user's smartphone. Photos taken through the app, which launches on Thursday morning, are public by default. They're stored on Color's servers and the company owns them, said Pham, who co-founded the 30-person company with Bill Nguyen, previously of Lala.com and a force to be reckoned with in the tech world. Color: A $41m Bet On A Radical Social Mobile App. Posted by Tom Foremski - March 24, 2011 Last week I was in Palo Alto, drenched by torrential rains but happy to catchup with serial entrepreneur Bill Nguyen and hear about his remarkable new startup Color, which today launched its iPhone and Android based mobile app.
Color has raised $41 million from a stellar group of investors. This is a huge amount of capital for a seed/Series A round and it shows how much confidence there is in Mr Nguyen and his team. But this is no ordinary startup. Color Looks To Reinvent Social Interaction With Its Mobile Photo App (And $41 Million In Funding) $41 million. From Sequoia Capital, Bain Capital, and Silicon Valley Bank. Pre-launch. The Implicit Social Graph. John Battelle wrote a gushing post about Color and what it means for mobile/social/local/realtime, augmented reality, and more.
There are most certainly some big ideas in the Color app. I've never put a mobile photo app on my phone but I put Color on it last night. I don't have any of my family on Color yet, but I hope to get them all on it today (I'm on spring break with my family and some of our kids' friends). Then we'll see what all the buzz is about. Why hot new photo sharing app Color got its launch strategy wrong. New photo sharing app Color launched in a blaze of hype a few hours ago, but that launch was far from ideal for the product itself and may well have harmed its long-term chances. Why? Let's take a look. Color, available now for iPhone and Android, allows you to share photos only with the people in your immediate surroundings. Built around the idea of shared experiences, you could be at a concert and take a photo of the band. Hacker News comments. Title doesn't do it justice. The photo-sharing part isn't what's novel. They seem to be building a social graph automatically weighted on physical proximity+frequency, using smartphone sensors (the most important one of which happens to be a camera).
That's cool, and potentially game-changing. What's the Point of Color? — NewsGrange. Marshall Kirkpatrick: 2 weeks ago, @color was an... MG Siegler: After much testing, I've d... My first use. Cuil Goes Down, And We Hear It?s Down For Good. Joseph Cohen: Find it amusing that peopl... Chris dixon: agree, don't bet against s... Patrice Lamothe: Puzzled by some reactions...
Scoble's take. Is Color's Team Worth $41M, Even if Its Idea Isn't?: Tech News and Analysis « Color CEO: The Tech Justifies the $41 Million. COLOR.XXX PITCH DECK!! Best app store review ever - mike's posterous.
---