iPad as AT
iPads as Assistive Technology: 30+ AAC Apps to Help Children. Bookmark and Share 2inShare Posted on 15 December 2010 Tags: apps, children, education, learning, teaching About the Author Dr.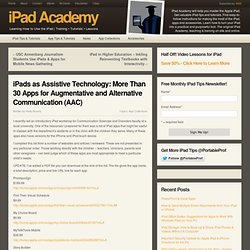 BlogHer. iPad Assistive Technology/Disability Round-Up. There have been a lot of articles on a lot of websites about accessibility and the iPad since the specifications were first released.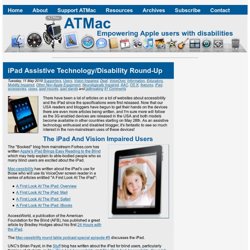 Now that our USA readers and bloggers have begun to get their hands on the devices there are even more articles being written, and I'm sure more will follow as the 3G enabled devices are released in the USA and both models become available in other countries starting on May 28th. As an assistive technology enthusiast and disabled blogger, it's fantastic to see so much interest in the non-mainstream uses of these devices! The iPad And Vision Impaired Users The "Booked" blog from mainstream Forbes.com has written Apple's iPad Brings Easy Reading to the Blind which may help explain to able-bodied people who so many blind users are excited about the iPad. SETT Framework. Concerning the STUDENT What does the Student need to do?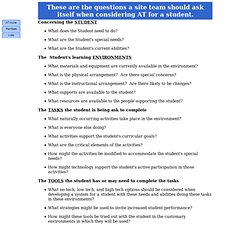 What are the Student's special needs? What are the Student's current abilities? The Student's learning ENVIRONMENTS. iPhone/iPad Apps for AAC. Home Support Frequently Asked Questions (FAQ's) Looking for the Apps for AAC list by Jane Farrall?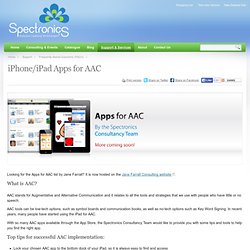 It is now hosted on the Jane Farrall Consulting website What is AAC? AAC stands for Augmentative and Alternative Communication and it relates to all the tools and strategies that we use with people who have little or no speech. Using Speech to Text Apps on your iPad. There are a number of apps that are available that let you record your voice in order to convert it to text.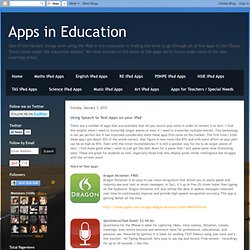 I find this helpful when I need to transcribe longer pieces or even if I need to transcribe multiple entries. This technology is not yet perfect but it has improved considerably since these apps first came on the market. The first time I tried these app I got about 30% of the words correct, that figure is now more like 85% and with some effort on your part can be as high as 95%. Even with the minor inconsistencies it is still a quicker way for me to do larger pieces of text. I find these good when I want to just get the text down for a piece that I will spend some time formatting later.
---