App Collections/Reviews
App resources - iPad Apps.
Special education search. By age. Literacy. ATLA's Assistive Technology Blog. Lillie's Pad - Your Special Needs Resource for the iPad and iPhone - Blog. iPhone, iPad and iPod touch Apps for (Special) Education. Apps for Homeschooling - App Reviews, App News, and the Best Apps for Your Homeschool. Fun Educational Apps: Best Apps for Kids Reviews iPad / iPhone / iPod.
Kathy Casey's iPad Resources Collection on Pearltrees. I have posted about Pearltrees before, it is an app that allow you to collect, curate, make connections and then share sites, blogs, articles or websites around similar ideas or concepts.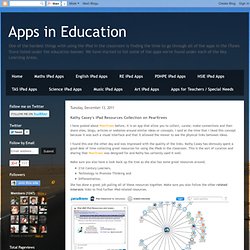 I said at the time that I liked this concept because it was such a visual interface and that it allowed the viewer to see the physical links between ideas. I found this one the other day and was impressed with the quality of the links. Kathy Casey has obviously spent a good deal of time collecting great resources for using the iPads in the classroom. This is the sort of curation and sharing that Pearltrees was designed for and Kathy has certainly used it well. Make sure you also have a look back up the tree as she also has some great resources around; The Special Needs iPad & App Series. Click on the image to view full graphic (source: Mashable.com) In only one year the Apple iPad has revolutionized the tech industry. 15 Million iPads have been sold and estimates are that within the next 3 years over 115 million tablets will be shipped.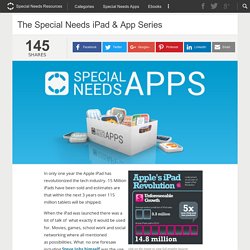 When the iPad was launched there was a lot of talk of what exactly it would be used for. Movies, games, school work and social networking where all mentioned as possibilities. What no one foresaw including Steve Jobs himself was the use of the iPad for special education. One year later dozens if not hundreds of applications have been created that enhance the quality of life for individuals with all types of disabilities.
iPad Apps. Witchemina – Interactive Children's Story – iPad App Review. By Cristi | July 20, 2011 | No comment yet Black Dog Books has once again hit the App Store and this time they have ventured away from the Violet series and introduced a new interactive children's storybook app called Witchemina .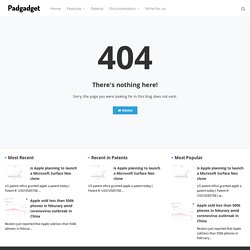 Written and illustrated by Allison Keeme, Witchemina is the story of a "sweet and gentle little witch" who thinks and acts much differently than traditional witches. Witchemina lives in a dark and mucky swamp together with her sisters and while they spend their time casting spells and boiling brews, she enjoys much different interests like drawing portraits of friends, casting good spells and baking chocolate chip cookies.
Technology in (SPL) Education. There's A Special App For That. iResources. Eric Sailers Speech-Language Pathologist iResources.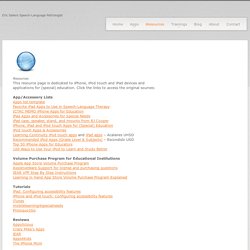 Jeremy Brown's App Recommendations for Students with Autism. Apps & Autism. Apps & Autism some info about...
Autism and the iPod Touch, iPhone & iPad. iPad, iPhone, iPod, Android Apps for Speech Therapists. Apps in Education. "The Good, the Bad, and the Ugly": A Fantastic AAC App Spreadsheet. Apps for kids with special needs. Language Arts Apps. Language Arts apps can cover a wide range of topics.
They can be ebooks, dictionaries, document and text editors, and other apps. Ebooks can contain video files or animation to help tell a story. Some ebooks are self readers, and other will read the story to you. There are several variations between self reader and read to you story. Apps For The Blind And Visually Impaired: iPad/iPhone Apps AppList. Middle School – Reading Comprehension Apps for special needs children by Nancy Barth. iPad Apps & Resources for People With Autism. iPod Touch & iPad Resources. iPads for Education | Education Apps | AppStart for iPad. Special Education Apps | Best iPad Apps for Kids | Educational iPad Apps - A4CWSN.com. Special Needs Apps for Kids | Special Education Apps | Therapy Apps. Evaluation Rubric for Educational Apps.
Harry Walker is the principal of Sandy Plains Elementary School in Baltimore County, Maryland.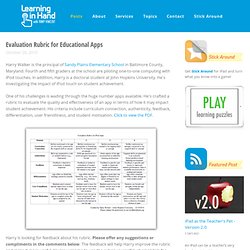 Fourth and fifth graders at the school are piloting one-to-one computing with iPod touches. In addition, Harry is a doctoral student at John Hopkins University. He's investigating the impact of iPod touch on student achievement. OT's with Apps | Review of apps for Occupational Therapists. Technology in (SPL) Education. Complete Guide to educational and special needs apps, complete list at One Place for Special Needs.
Complete guide to educational and special needs apps The most detailed app guide for special needs families, speech therapists, occupational therapists, social workers and teachers!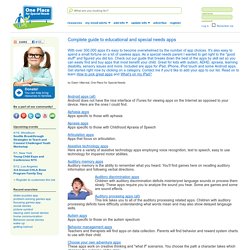 Our guide breaks down apps by skill set so you can easily find and buy apps that most benefit your child. Great for kids with autism spectrum disorder, ADHD, apraxia, learning disability, sensory issues and more. APPitic - 1,300+ EDUapps. Teachers with Apps - Because Not All Apps are Created Equal. Special Education Apps. Hottest Apps used by 
Apple Distinguished Educators.
---