Launching application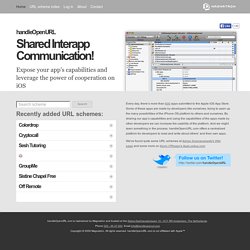 Every day, there's more than 600 apps submitted to the Apple iOS App Store. Some of these apps are made by developers like ourselves, trying to open up the many possibilities of the iPhone OS platform to others and ourselves. By sharing our app's capabilities and using the capabilities of the apps made by other developers we can increase the usability of the platform. And we might learn something in the process. handleOpenURL.com offers a centralized platform for developers to read and write about others' and their own apps.
Home - handleOpenURL:
Specially crafted web sites can launch iPhone and iPod Touch apps without the Safari browser asking the user for permission when certain URL protocol handlers (URL schemes) are called. For instance, according to security researcher Nitesh Dhanjani, a web site can use the iFrame <iframe src="skype://14085555555?call"></iframe> to launch a Skype app and automatically call a number – provided that the user has saved Skype access data. Criminals would also be able to play around with a number of other applications.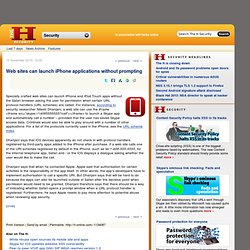 Web sites can launch iPhone applications without prompting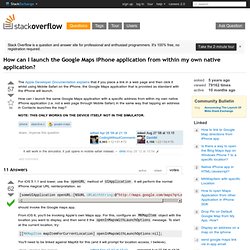 objective c - How can I launch the Google Maps iPhone application from within my own native application
For iOS 5.1.1 and lower, use the openURL method of UIApplication. It will perform the normal iPhone magical URL reinterpretation. so [someUIApplication openURL:[NSURL URLWithString:@"http://maps.google.com/maps?q=London"]] should invoke the Google maps app.