Cross-platform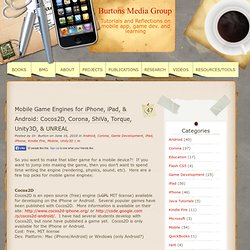 So you want to make that killer game for a mobile device?! If you want to jump into making the game, then you don't want to spend time writing the engine (rendering, physics, sound, etc). Here are a few top picks for mobile game engines: Cocos2D Cocos2D is an open source (free) engine ( LGPL MIT license) available for developing on the iPhone or Android. Several popular games have been published with Cocos2D. More information is available on their site: http://www.cocos2d-iphone.org/ or http://code.google.com/p/cocos2d-android/ .
Mobile Game Engines for iPhone, iPad, & Android: Cocos2D, Corona, ShiVa, Torque, & Unity3D | Burtons Media Group
HTML5 Is An Oncoming Train, But Native App Development Is An Oncoming Rocket Ship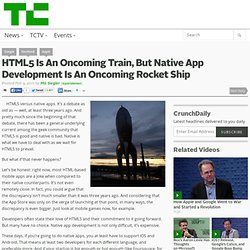 HTML5 versus native apps. It's a debate as old as — well, at least three years ago. And pretty much since the beginning of that debate, there has been a general underlying current among the geek community that HTML5 is good and native is bad.
Tutorial: Implementing a native extension for iPhone & Android
Create Cross-Platform Native Mobile Apps in Flex with ELIPS Studio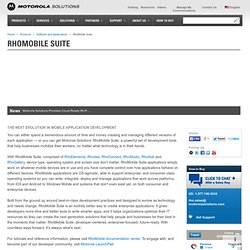 You can either spend a lot of time and money creating and managing different versions of each application — or you can get Motorola Solutions' RhoMobile Suite, the HTML5 application development platform built to meet the needs of the next generation of business mobility. With RhoMobile Suite, comprised of RhoConnect , RhoStudio and RhoElements , device type, operating system and screen size doesn't matter. RhoMobile applications simply work on whatever mobile devices are in use in your business — including the enterprise-class devices you buy and those your users bring from home. RhoMobile applications are OS-agnostic, able to support enterprise- and consumer-class operating systems including Windows® Embedded Handheld, Windows® CE, Windows® Phone 7 Series, Apple® iOS, Android® and BlackBerry®. You have complete control over how applications behave on different devices.
Apple va tolérer les compilateurs Flash
Adobe révise son compilateur Flash pour iPhone « silicon.fr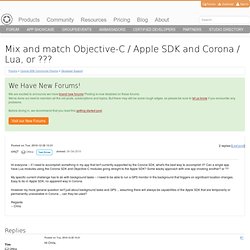 Mix and match Objective-C / Apple SDK and Corona / Lua, or ??? |
Hi everyone -- if I need to accomplish something in my app that isn't currently supported by the Corona SDK, what's the best way to accomplish it? Can a single app have Lua modules using the Corona SDK and Objective-C modules going straight to the Apple SDK? Some wacky approach with one app invoking another? or ?? My specific current challenge has to do with background tasks -- I need to be able to run a GPS monitor in the background that triggers on significant location changes. Easy to do in Apple SDK, no apparent way in Corona.
Un BarCamp, comme organisé par barcamp.org, est une réunion technique autour d'un thème spécifique. Le jeudi 16 septembre 2010, Quang-Hai PHAN et Sylvain MAUCOURT, de la société Deveryware , ont organisé une session sur le thème « Cross Platform Mobile App Development ». L'objectif est de faire se rencontrer des acteurs du développement mobile pour discuter de la possibilité de factoriser les développements malgré la diversité des plateformes mobiles. Vous comprendrez que Android n'était donc pas le centre des débats mais un de composants.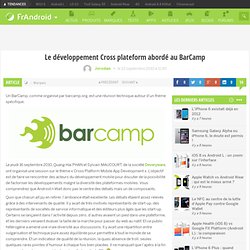 Le développement Cross plateform abordé au BarCamp « FrAndroid Communauté Android
En conclusion, pas de solution miracles. by alain Jan 10
The Android NDK is a toolset that lets you embed components that make use of native code in your Android applications. Android applications run in the Dalvik virtual machine. The NDK allows you to implement parts of your applications using native-code languages such as C and C++.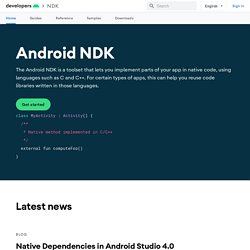 What is the NDK?