Iowa Jan 03
Establishment GOP Insider Admitted to Plan to Subvert Iowa Caucus In Order to Prevent Ron Pauls Win : Iowa vote fraud official - Denver Conspiracy. It's official, or is it?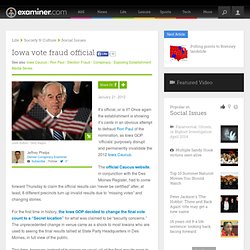 Once again the establishment is showing it's cards in an obvious attempt to defraud Ron Paul of the nomination, as Iowa GOP 'officials' purposely disrupt and permanently invalidate the 2012 Iowa Caucus. The official Caucus website, in conjunction with the Des Moines Register, had to come forward Thursday to claim the official results can "never be certified" after, at least, 8 different precincts turn up invalid results due to "missing votes" and changing stories. For the first time in history, the Iowa GOP decided to change the final vote count to a "Secret location" for what was claimed to be "security concerns."
Iowa GOP to Count Votes at Secret Location - In what may be a response to Occupy. 7 of the 8 Missing Iowa Precincts Voted Against Romney in 2008 - Impeach Obama Campaign | Impeach Obama Campaign. » Tonight's Iowa Vote Count To Take Place At Secret Location Alex Jones. Concerns about subversion grow after Republican strategist says GOP establishment will not allow Ron Paul to win Paul Joseph Watson Infowars.com Tuesday, January 3, 2012 Tonight's final vote tally for the Iowa caucuses will take place at a secret undisclosed location, an announcement that has stoked fears of vote fraud amongst Ron Paul supporters, concerns that were heightened following a Republican insider's claim that the GOP establishment will not allow Paul to win.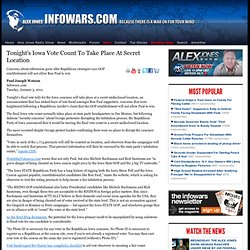 Rick Santorum wins Iowa caucuses. By Nate, on January 4th, 2012 See Update Below Former Massachusetts Governor Mitt Romney barely beat our former Pennsylvania Senator Rick Santorum for the top spot in Iowa on Tuesday.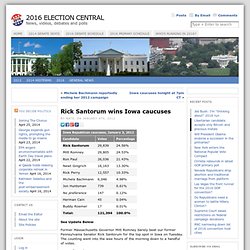 The counting went into the wee hours of the morning down to a handful of votes. Report from the Des Moines Register: Rivals Mitt Romney and Rick Santorum waged a down-to-the-wire battle for the Iowa Republican caucuses Tuesday, but shortly after 1:30 a.m. today, Romney was declared the victor by eight votes.Romney won 30,015 votes, compared with 30,007 for Santorum, out of 122,255 cast.Each of the men won 25 percent of the vote and proclaimed victory.Ron Paul was third, followed by Newt Gingrich, Rick Perry, Michele Bachmann and Jon Huntsman.Romney's campaign strategists had carefully staged expectations to persuade the public and media that the former Massachusetts governor could emerge strongly from Iowa with a close second- or third-place finish.
Squeaker of a victory in hand, Romney looks to NH. DES MOINES, Iowa (AP) — A squeaker of an Iowa victory in hand, Mitt Romney headed Wednesday into the New Hampshire primary — in his own political backyard — insisting that staying power sets him apart from runners-up Rick Santorum and Ron Paul and the rest of the GOP presidential field.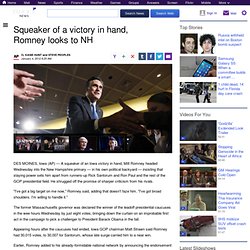 He shrugged off the promise of sharper criticism from his rivals. "I've got a big target on me now," Romney said, adding that doesn't faze him. "I've got broad shoulders. Michele Bachmann Drops Out of Presidential Race. Jan 4, 2012 10:58am Chris Carlson/AP Photo Rep.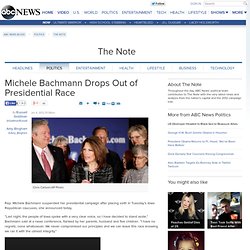 Michele Bachmann suspended her presidential campaign after placing sixth in Tuesday's Iowa Republican caucuses, she announced today. "Last night, the people of Iowa spoke with a very clear voice, so I have decided to stand aside," Bachmann said at a news conference, flanked by her parents, husband and five children. "I have no regrets, none whatsoever.
Santorum wins Iowa, officially. » Media Cover-up: Ron Paul's Standing Not Discussed in Iowa Vote Reshuffle Alex Jones. Kurt Nimmo Infowars.com January 19, 2012 Republican officials in Iowa today said that there was no clear winner in the caucus held there on January 3.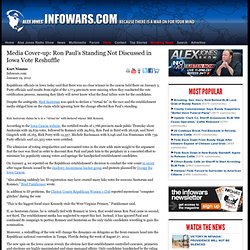 Party officials said results from eight of the 1,774 precincts were missing when they conducted the vote certification process, meaning they likely will never know what the final tallies were for the candidates. Despite the ambiguity, Rick Santorum was quick to declare a "virtual tie" in the race and the establishment media obliged him on the claim while ignoring how the change effected Ron Paul's standing. Video - Breaking News Videos. Pistorius trial cross-examination ends1:11Jewish center shooting suspect identified1:12Day care hit-and-run suspect in custody1:11Girl unwraps soldier dad for birthday0:49What is Bitcoin?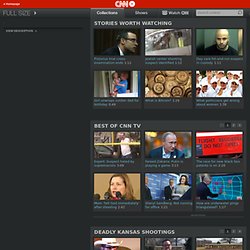 1:29What politicians get wrong about women1:38 Expert: Suspect hated by supremacists3:09Fareed Zakaria: Putin is playing a game3:13The race for new black box patents is on2:20Mom 'felt God immediately' after shooting2:42Sheryl Sandberg: Not running for office1:21How are underwater pings triangulated? 1:27Sources: Malaysia plane dropped altitude Hear police radio call after stabbing Students stabbed at Pennsylvania school Zakaria: Russia's trying to create chaos Piecing together a plane accident puzzle Nancy Grace: Regret doesn't excuse deed. Paul on third-place finish: 'Nothing to be ashamed of' Meet the Mainstream Press. By Greg Hunter's USAWatchdog.com Nothing is more emblematic of the mainstream media (MSM) than NBC's "Meet the Press."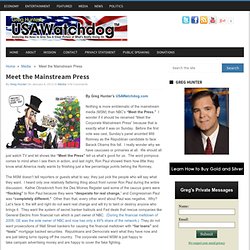 I wonder if it should be renamed "Meet the Corporate Mainstream Press" because that is exactly what it was on Sunday. Can someone explain the Iowa caucuses? : explainlikeimfive. Why Iowa Shouldn't Vote First Anymore. A week before Iowa's January 3 caucuses, the outcome of the Republican contest is hard to predict: Ron Paul, Newt Gingrich and Mitt Romney all stand a chance at winning.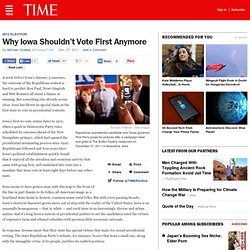 But something else already seems clear: Iowa has blown its special claim as the first state to vote in presidential contests. Iowa's first-to-vote-status dates to 1972, when a quirk in Democratic Party rules scheduled its caucuses ahead of the New Hampshire primary, which had opened the presidential nominating process since 1920. Republicans followed suit four years later. Iowa's political establishment quickly found that it enjoyed all the attention and economic activity that came with going first, and enshrined into state law a mandate that Iowa vote at least eight days before any other state. Last day: 23 Iowa campaign stops combined. DES MOINES, Iowa (AP) - The White House their goal, Republican presidential hopefuls raced across Iowa on Monday in a final, full day of frenzied appeals for support in precinct caucuses that open the 2012 campaign.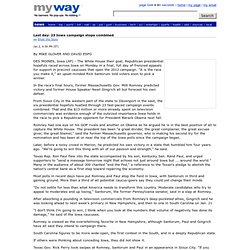 "It is the race you make it," an upset-minded Rick Santorum told voters soon to pick a winner. In the race's final hours, former Massachusetts Gov. Mitt Romney predicted victory and former House Speaker Newt Gingrich all but forecast his own defeat. From Sioux City in the western part of the state to Davenport in the east, the six presidential hopefuls hustled through 23 fast-paced campaign events combined. That and the $13 million or more already spent on television commercials was evidence enough of the outsized importance Iowa holds in the race to pick a Republican opponent for President Barack Obama next fall. Media Cite Unnamed Critic To Dismiss Iowa As 'Too White,' 'Too Rural' As Iowa voters head to their caucuses tonight, some in the media are asking if Iowa is "too white, too evangelical, too rural" to accurately represent the political views of the country as a whole.
That's how NBC correspondent Andrea Mitchell phrased it while interviewing Republican strategist Mike Murphy. Now, Mitchell wasn't making that charge herself, of course. She was merely citing unnamed "critics" who hold that view, she said. As was the New York Times' A.G. The GOP field: The week ahead - James Hohmann. Rick Santorum has campaigned harder than anyone in Iowa this year. So it's not surprising that he's the first Republican back on the Iowa trail after Christmas — with a pheasant hunt and press conference in Adel Monday. After that event, though, most of the GOP 2012 field begins the final sprint toward the Jan. 3 caucuses, with no more debates to shift the narrative and all the ad time already bought up.
---