Iowa Jan 03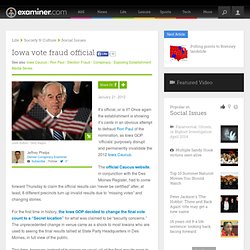 Iowa vote fraud official - Denver Conspiracy
It's official, or is it? Once again the establishment is showing it's cards in an obvious attempt to defraud Ron Paul of the nomination, as Iowa GOP 'officials' purposely disrupt and permanently invalidate the 2012 Iowa Caucus . The official Caucus website , in conjunction with the Des Moines Register, had to come forward Thursday to claim the official results can "never be certified" after, at least, 8 different precincts turn up invalid results due to "missing votes" and changing stories. For the first time in history, the Iowa GOP decided to change the final vote count to a "Secret location" for what was claimed to be "security concerns."
Iowa GOP to Count Votes at Secret Location - In what may be a response to Occupy
(Newser) – Someone get Dick Cheney on the line, because the Iowa Republican Party needs an "undisclosed location" in which to count the impending caucus votes, sources tell Politico .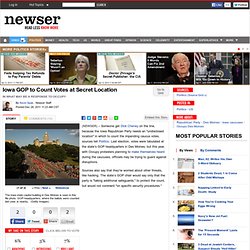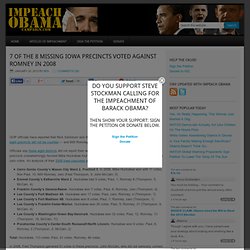 GOP officials have reported that Rick Santorum won the Iowa caucuses by 34 votes. However, votes in eight precincts will not be counted — and Mitt Romney lost seven of the eight precincts in 2008.
7 of the 8 Missing Iowa Precincts Voted Against Romney in 2008 - Impeach Obama Campaign | Impeach Obama Campaign
Concerns about subversion grow after Republican strategist says GOP establishment will not allow Ron Paul to win Paul Joseph Watson Infowars.com Tuesday, January 3, 2012 Tonight's final vote tally for the Iowa caucuses will take place at a secret undisclosed location, an announcement that has stoked fears of vote fraud amongst Ron Paul supporters, concerns that were heightened following a Republican insider's claim that the GOP establishment will not allow Paul to win.
» Tonight's Iowa Vote Count To Take Place At Secret Location Alex Jones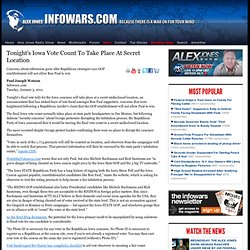 By Nate, on January 4th, 2012
Rick Santorum wins Iowa caucuses
Squeaker of a victory in hand, Romney looks to NH
DES MOINES, Iowa (AP) — A squeaker of an Iowa victory in hand, Mitt Romney headed Wednesday into the New Hampshire primary — in his own political backyard — insisting that staying power sets him apart from runners-up Rick Santorum and Ron Paul and the rest of the GOP presidential field.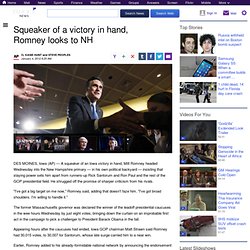 Jan 4, 2012 10:58am Chris Carlson/AP Photo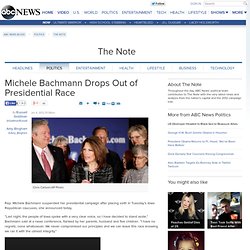 Michele Bachmann Drops Out of Presidential Race
News from The Associated Press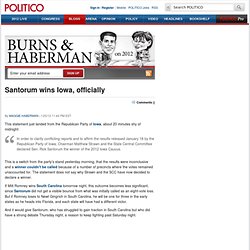 This statement just landed from the Republican Party of Iowa , about 20 minutes shy of midnight: In order to clarify conflicting reports and to affirm the results released January 18 by the Republican Party of Iowa, Chairman Matthew Strawn and the State Central Committee declared Sen.
Santorum wins Iowa, officially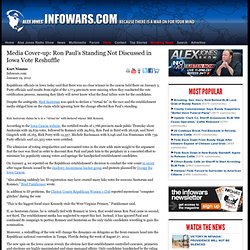 Kurt Nimmo Infowars.com January 19, 2012
» Media Cover-up: Ron Paul's Standing Not Discussed in Iowa Vote Reshuffle Alex Jones
Iowa GOP won't declare a winner of state caucuses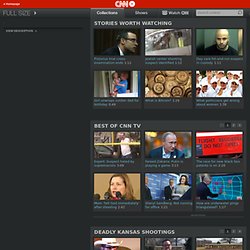 Set edition preference
Ron Paul , speaking to supporters just now after finishing third in Iowa tonight , said there's "nothing to be ashamed of" and urged his supporters to be ready for the next contests on the calendar.
Paul on third-place finish: 'Nothing to be ashamed of'
By Greg Hunter's USAWatchdog.com Nothing is more emblematic of the mainstream media (MSM) than NBC's "Meet the Press." I wonder if it should be renamed "Meet the Corporate Mainstream Press" because that is exactly what it was on Sunday.
Meet the Mainstream Press
Can someone explain the Iowa caucuses? : explainlikeimfive
<img src="http://timeswampland.files.wordpress.com/2011/12/iowa.jpg?
Why Iowa Shouldn't Vote First Anymore
DES MOINES, Iowa (AP) - The White House their goal, Republican presidential hopefuls raced across Iowa on Monday in a final, full day of frenzied appeals for support in precinct caucuses that open the 2012 campaign. "It is the race you make it," an upset-minded Rick Santorum told voters soon to pick a winner.
Last day: 23 Iowa campaign stops combined
Media Cite Unnamed Critic To Dismiss Iowa As 'Too White,' 'Too Rural'
As Iowa voters head to their caucuses tonight, some in the media are asking if Iowa is "too white, too evangelical, too rural" to accurately represent the political views of the country as a whole.
News from The Associated Press
The GOP field: The week ahead - James Hohmann