Design
Visual version control for designers. Designing for the Retina display. iOS Photoshop Actions & Workflows. Codrops. A proof-of-concept effect recreation of the animation seen in a prototype app by Marcus Eckert.
The idea is to flip a grid item in 3D, expand it to fullscreen and reveal some associated content. We've created two demos with a vertical and a horizontal rotation. read more Some inspiration and ideas for item transitions considering different scenarios and use cases, including a small component, a full-width image header and a product image with a transparent background. State transitions are done using CSS Animations. read more. iOS Inspires Me | Design showcase of the best looking iPhone/iPad app icons, app interfaces, app websites & resources.
iPhone 4 GUI PSD (Retina Display) Thanks for you patience on this one.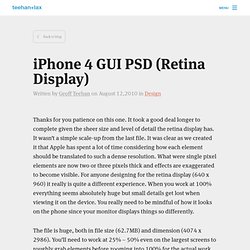 It took a good deal longer to complete given the sheer size and level of detail the retina display has. It wasn't a simple scale-up from the last file. It was clear as we created it that Apple has spent a lot of time considering how each element should be translated to such a dense resolution. What were single pixel elements are now two or three pixels thick and effects are exaggerated to become visible. App Icon Template. How To Design A Gorgeous Big UI Button In Photoshop. In this tutorial we're going to be creating a gorgeous and modern user interface button suitable for the web or a mobile interface design.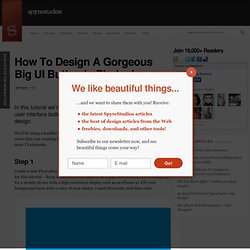 We'll be using a handful of Photoshop techniques that are bound to come in handy for more than just creating buttons; in fact, the techniques we'll be using are often used in most UI elements. Step 1. 50 tips for designing brilliant iOS apps. 1 A touchscreen interface might be flexible and intuitive, but it's not perfect.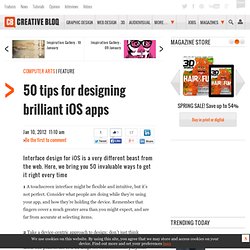 Consider what people are doing while they're using your app, and how they're holding the device. Remember that fingers cover a much greater area than you might expect, and are far from accurate at selecting items. 2 Take a device-centric approach to design: don't just think about the size of the screen, but also where and when it will be used. The peak hours of iPad usage for entertainment purposes might be 8-11pm, before bed, whereas an iPhone might be used standing in the bus queue or in a coffee shop.
Designing Icons - 35 tutorials. Every person who is using internet must watch the icons, because icons are the part and parcel of every site and we can say that icons also make some extra attraction in your site.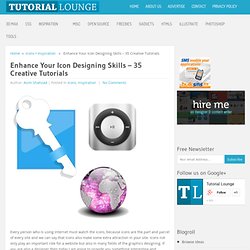 Icons not only play an important role for a website but also in many fields of the graphics designing. If you are also a designer then today I am going to provide you something interesting and valuable, so now for your icon designing isn't a big deal you can easily improve your designing skills, below you can see the 35 creative and useful tutorials for all the people who want to have icon designing skills at their finger tips. USB Hard Drive Device Icon – Photoshop Tutorial USB Hard Drive Device Design. Weirdsgn. iOS Fonts. 45 iPad iOS Interface Showcase - Inspiration. Apple released the new ipad few weeks ago and within a week, it reached 3 million sales!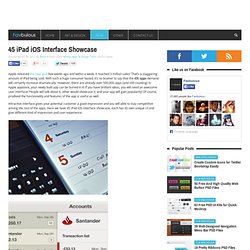 That's a staggering amount of iPad being sold. With such a huge consumer based, it's no brainer to say that the iOS apps demand will certainly increase dramatically. However, there are already over 500,000 apps (and still counting) in Apple appstore, your newly built app can be buried in it!
---