Design
Visual version control for designers
png 1 0 17 18 Feb 2013 05:49 18 Feb 2013 05:37 rsthdn 17 jpg 1 0 7 15 Feb 2013 03:33 15 Feb 2013 01:49 sandhus 7 jpg 1 0 4 15 Feb 2013 03:33 15 Feb 2013 01:49 sandhus 4 jpg 1 0 8 15 Feb 2013 03:33 15 Feb 2013 01:49 sandhus 8 psd 1 5 57 24 Feb 2013 05:35 14 Feb 2013 11:23 gavinanthony 5 57 png 1 1 33 17 Feb 2013 10:05 14 Feb 2013 05:12 sxtxixtxcxh 1 33 psd 1 0 13 14 Feb 2013 05:15 14 Feb 2013 05:12 sxtxixtxcxh 13 psd 1 1 42 15 Feb 2013 10:08 14 Feb 2013 05:12 sxtxixtxcxh 1 42 psd 1 1 38 2 weeks ago 14 Feb 2013 05:02 sxtxixtxcxh 1 38 psd 24 0 128 13 Feb 2013 11:34 14 Apr 2012 01:12 andresra 128 24 psd 1 0 67 13 Feb 2013 10:29 13 Feb 2013 10:21 rsthdn 67 ai 1 1 69 24 Feb 2013 05:36 13 Feb 2013 03:35 jacopen 1 69 jpg 1 1 37 12 Feb 2013 01:58 12 Feb 2013 01:49 shanghaijohnny 1 37 psd 1 3 62 14 Feb 2013 05:28 10 Feb 2013 07:57 pcosentino 1 3 62
iOS Photoshop Actions & Workflows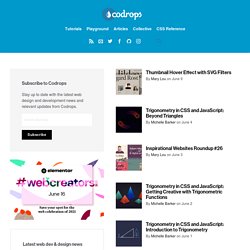 A really well designed user interface is one that goes unnoticed by the user, whereas a poorly designed user interface forces the user to pay attention to it instead of the content. Users come to ... read more If you have searched images on Google recently, you might have noticed the interesting expanding preview for a larger image when you click on a thumbnail. It's a reall... read more Today I'd like to share my process for creating a flexible JavaScript UI plugin I've dubbed HexaFlip. Lately I've taken to building simple experimental UI plugins t... read more
iOS Inspires Me | Design showcase of the best looking iPhone/iPad app icons, app interfaces, app websites & resources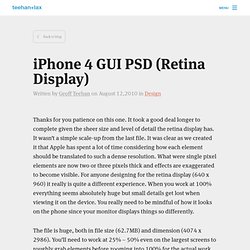 Thanks for you patience on this one.
How To Design A Gorgeous Big UI Button In Photoshop
In this tutorial we're going to be creating a gorgeous and modern user interface button suitable for the web or a mobile interface design. We'll be using a handful of Photoshop techniques that are bound to come in handy for more than just creating buttons; in fact, the techniques we'll be using are often used in most UI elements. Step 1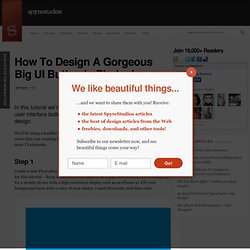 50 tips for designing brilliant iOS apps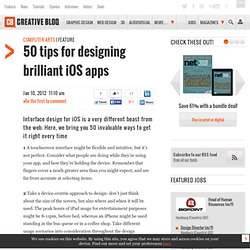 1 A touchscreen interface might be flexible and intuitive, but it's not perfect.
Designing Icons - 35 tutorials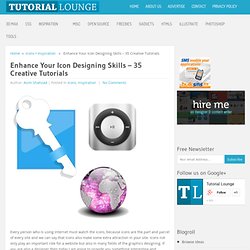 Asim Shahzad Posted on 11.
weirdsgn
Apple released the new ipad few weeks ago and within a week, it reached 3 million sales!
45 iPad iOS Interface Showcase - Inspiration