iOS, Cocoa, Obj-C and C++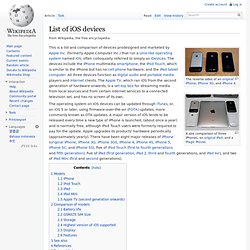 This is a list and comparison of devices prodesigned and marketed by Apple Inc. (formerly Apple Computer Inc.) that run a Unix-like operating system named iOS, often colloquially referred to simply as iDevices.
List of iOS devices
Making custom templates for Xcode 4 – March 2011 | Red Glasses
UPDATED 2012: Apple broke it all AGAIN (again).
Objective-C Objective-C is the primary language used to write Mac software. If you're comfortable with basic object-oriented concepts and the C language, Objective-C will make a lot of sense. If you don't know C, you should read the C Tutorial first. This tutorial is written and illustrated by Scott Stevenson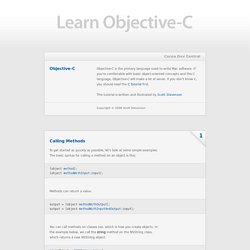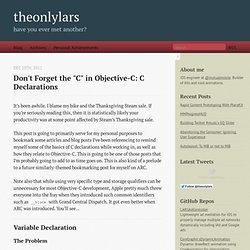 It's been awhile. I blame my bike and the Thanksgiving Steam sale.
Don't Forget the "C" in Objective-C: C Declarations - hello. i'm @theonlylars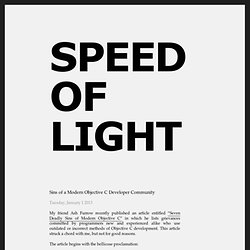 My friend Ash Furrow recently published an article entitled "Seven Deadly Sins of Modern Objective C" in which he lists grievances committed by programmers new and experienced alike who use outdated or incorrect methods of Objective C development. This article struck a chord with me, but not for good reasons. The article begins with the bellicose proclamation:
Sins of a Modern Objective C Developer Community - Speed of Light by Jason Brennan
I often find myself editing the build settings of my Xcode projects because of external libraries or weird compiler flags for Objective-C++. It's always frustrating when starting a new project to hunt down and reapply these settings. Even though the build settings interface improved in Xcode 4 (my opinion), it's still not fun to use – especially when you just need to edit a few fields.
Share Build Settings between Projects in Xcode 4
LLDB Data Formatters
Type formats work by showing a different kind of display for the value of a variable.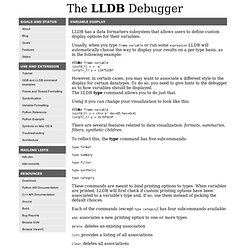 iOS Dev Weekly - Free weekly iOS development newsletter
February 7, 2012 1 You can find so many blog-posts related to "how to build Universal static library iOS", but most of them are quite weird… Tutorial level: Medium (must be familiar with the creation of static libraries or frameworks using Xcode) Those blog-posts suggest to create two targets.
How to build 'Universal' Static Libraries for iOS » PixiApps
If you're new here, you may want to subscribe to my RSS feed or follow me on Twitter. Thanks for visiting!
Beginning OpenGL ES 2.0 with GLKit Part 1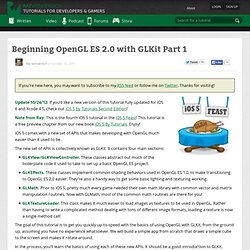 Développement iPhone / iPad / Mac : formations & forums, PommeDev - Accueil
Aller au contenu <div class='message error'><strong>Javascript désactivé détecté</strong><p>Vous avez actuellement le javascript qui est désactivé. Plusieurs fonctionnalités peuvent ne pas marcher.