iOS, Cocoa, Obj-C and C++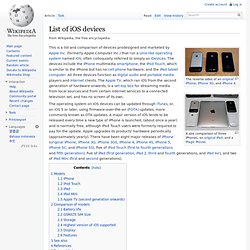 This is a list and comparison of devices designed and marketed by Apple Inc. (formerly.
List of iOS devices
Making custom templates for Xcode 4 – March 2011 | Red Glasses
UPDATED 2012: Apple broke it all AGAIN (again).
Objective-C Objective-C is the primary language used to write Mac software. If you're comfortable with basic object-oriented concepts and the C language, Objective-C will make a lot of sense. If you don't know C, you should read the C Tutorial first. This tutorial is written and illustrated by Scott Stevenson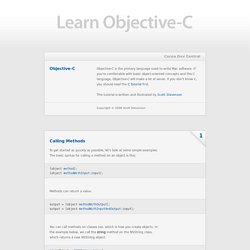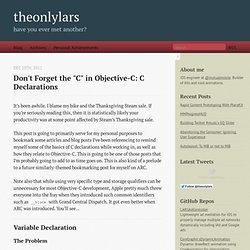 It's been awhile. I blame my bike and the Thanksgiving Steam sale.
Don't Forget the "C" in Objective-C: C Declarations - hello. i'm @theonlylars
Sins of a Modern Objective C Developer Community - Speed of Light by Jason Brennan
I often find myself editing the build settings of my Xcode projects because of external libraries or weird compiler flags for Objective-C++. It's always frustrating when starting a new project to hunt down and reapply these settings. Even though the build settings interface improved in Xcode 4 (my opinion), it's still not fun to use – especially when you just need to edit a few fields.
Share Build Settings between Projects in Xcode 4
LLDB Data Formatters
Type formats work by showing a different kind of display for the value of a variable.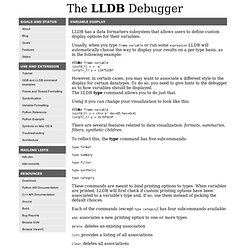 Big Nerd Ranch Weblog
iOS Dev Weekly - Free weekly iOS development newsletter CocoaDev is a wiki site for and by the Mac OS X developer community.
CocoaDev
February 7, 2012 1 You can find so many blog-posts related to "how to build Universal static library iOS", but most of them are quite weird… Tutorial level: Medium (must be familiar with the creation of static libraries or frameworks using Xcode) Those blog-posts suggest to create two targets.
How to build 'Universal' Static Libraries for iOS » PixiApps
If you're new here, you may want to subscribe to my RSS feed or follow me on Twitter . Thanks for visiting!
Beginning OpenGL ES 2.0 with GLKit Part 1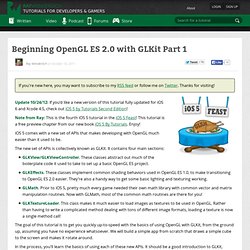 Développement iPhone / iPad / Mac : formations & forums, PommeDev - Accueil