Internet of things
One network, A billion dreams - SigFox - Cisco Firefox
How to Mine Gold from the Internet of Things
The Internet of Things (IoT) has been an idea at the edge of market disruption for some time now, and a lot of companies are jumping into the game. Google acquired Nest to elbow its way into the smart home market. Samsung is pumping out smart watches at breakneck speed to stake its claim on the wearable tech market. Companies are jockeying to take advantage of technologies like iBeacon in the retail space, and a new NFC payment system seems to pop up in tech news each week.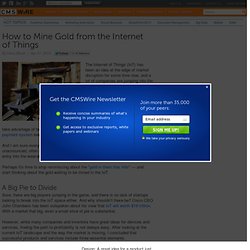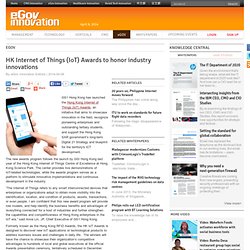 HK Internet of Things (IoT) Awards to honor industry innovations
The new awards program follows the launch by GSI Hong Kong last year of the Hong Kong Internet of Things Centre of Excellence at Hong Kong Science Park. The center provides live demonstrations of IoT-related technologies, while the awards program serves as a platform to stimulate innovative implementations and continuous development in the industry. "The Internet of Things refers to any smart interconnected devices that enterprises or organizations adopt to obtain more visibility into the identification, location, and condition of products, assets, transactions, or even people. I am confident that this new award program will provide role models, and help identify the business benefits and advantages of 'everything connected' for a host of industries and further strengthen the capabilities and competitiveness of Hong Kong enterprises in the IoT era," said Anna Lin, JP, Chief Executive of GS1 Hong Kong.
The Internet of Things (IoT) involves a lot of technologies that provide it with immense potential. This also forces manufacturers to be creative and innovative, because that is one of the ways for them to make sure their application, product, or service succeeds. With all that potential and creativity in play, perhaps it is not surprising that every now and then you will come across an application that is simply weird.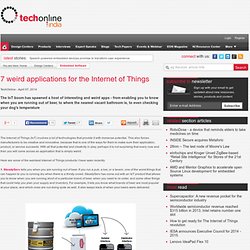 7 weird applications for the Internet of Things - TechOnline India - Embedded Software & Systems Industry News
Previous Internet of Things Enables $3.88 Trillion in Potential Value to Manufacturers Next
Internet of Things Enables $3.88 Trillion in Potential Value to Manufacturers - IEN.eu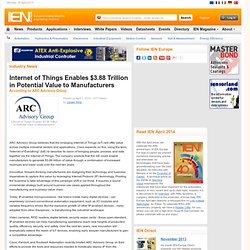 IoT: Experts to Follow on Twitter
OckCorp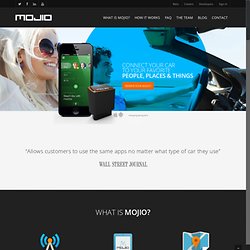 Narayan Sainaney Co-Founder, CTO and Board Member Narayan Sainaney is a technology entrepreneur and business strategist with over 15 years of expertise.
Mojio - Cisco Firefox
WigWag - Cisco Firefox
OpenSensors.IO - Cisco Firefox
Home page - Cisco Firefox
SAN DIEGO – September 06, 2013 – Qualcomm Incorporated (NASDAQ: QCOM) today announced that its subsidiary, Qualcomm Atheros, Inc., launched a new chip family as part of its portfolio of low-power Wi-Fi solutions designed to connect a multitude of devices that comprise the Internet of Everything. The QCA4002 and QCA4004 networking platforms include the IP stack and full networking services on the chip to enable customers to add Wi-Fi to virtually any product with minimal development effort or cost. The platforms feature an on-chip processor and memory, which are designed to eliminate the need for a system controller that adds to product cost, complexity and power consumption. Using the QCA4004, customers can now write their own applications on the Qualcomm Atheros platform instead of simply using it for Wi-Fi connectivity.
News and Events - Cisco Firefox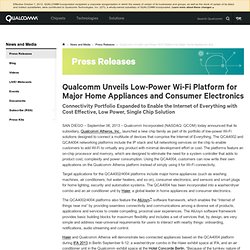 Internet of Things Technology - Cisco Firefox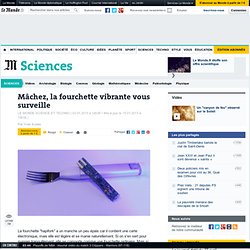 LE MONDE SCIENCE ET TECHNO | • Mis à jour le | Par Yves Eudes La fourchette "hapifork" a un manche un peu épais car il contient une carte électronique, mais elle est légère et se manie naturellement. Si on s'en sert pour manger tranquillement, elle se comporte comme une fourchette ordinaire. Mais si on avale son repas trop vite - moins de dix secondes entre chaque bouchée -, elle se met à vibrer, comme un téléphone mobile. Ainsi rappelé à l'ordre, l'utilisateur fait une pause, et reprend son repas plus lentement.
Mâchez, la fourchette vibrante vous surveille
Z-Wave is the international wireless standard for home automation. Z-Cloud is a central controller for Z-Wave based home automation networks and allows to setup, manage and control Z-Wave devices. Note! Z-Cloud uses old version of Z-Way software which is not maintained anymore. New registrations are not allowed anymore. Old users will be able to use Z-Cloud till July 2014.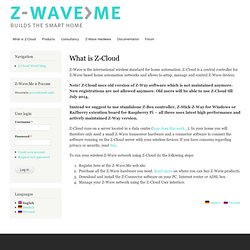 What is Z-Cloud | Z-Wave home automation solutions
Smart Home Control - Rule creator
Easy online tool that allows complete customization of Zipato system Installing smart security and remote control system will allow customers to remotely arm/disarm their system and turn on/off their lights and appliances. Some systems also have schedulers and timers to allow customers some form of automation. Only Zipato rule creator allows customers to use full potential of their connected device. Inspired by MIT project "Scratch", we developed graphical tool for easy and fun automation programing online. Using Zipato Rule Creator customers can easily create or change any automation process in their home without any previous programing or automation experience.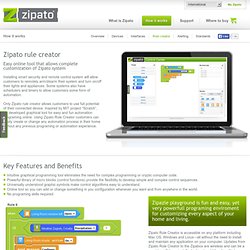 Home Automation Systems Store
Embedded Automation, Inc. - Front Page
The Smart Citizen Project Welcome! The Smart Citizen Project is a collaborative, international effort to deploy a distributed network of citizen-collected data, with the goal of monitoring the environment around us. Hover around each image to find out more!
Industries | Smart Citizen Kit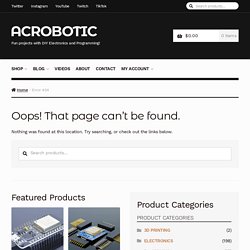 MicroGen Systems, Inc. (MicroGen) – a U.S. Cleantech company – is the global leader in designing and manufacturing nanotechnology/MicroElectroMechanical Systems (NEMS/MEMS) micro-power and micro-sensor products for wireless sensor and mobile electronics applications. Founded in 2007, MicroGen is privately held with corporate headquarters and development facilities in the Ithaca and Rochester, NY areas, and volume manufacturing in Itzehoe, Germany.
MicroGen | Energizing the Wireless World
IoT Works
ProSyst is a software vendor, offering the middleware for the Internet of Things. Our roots are in the field of Java, OSGi and embedded software. In general, the company is entirely focused on open standards technology and open and neutral software platforms for service providers and device manufacturers to deploy apps and services. ProSyst provides the most advanced cloud-based open standards based middleware for managing connected products and implementing innovative M2M applications. We take the cost and complexity out of connecting and remotely servicing the products of the world's leading device manufacturers and service providers. Service providers, product manufacturers and consumer channel partners across the globe use our solutions to foster deeper consumer relationships, differentiate their products, achieve business objectives and drive increased value over the lifetime of the consumer.
Company - Your Partner for Open Standards based Middleware since 1997
JustShareIt - Borrow your neighbor's ride or rent out yours
Rentything | The easiest way to make money sharing the things you own and save money borrowing the things you don't
internetofthings2.jpg (JPEG Image, 2000 × 1500 pixels) - Scaled (54%) - Cisco Firefox
www.nickhunn.com/wp-content/uploads/downloads/2013/03/to-ubiquity-and-beyond.pdf
Each tiny Beacon has a built-in Bluetooth® 4.0 chip, also called a BLE (Bluetooth® low energy). The beacon can run for up to 2 years on a single included battery. The hardware is covered with the soft silicone case housing which also has sticky back side, allowing it to be easily attached to any flat surface like wood, concrete, or glass. When installed, the Beacons begin transmit 2.4 GHz Bluetooth® signals, similar to those of your home WiFi. The signals communicate with smartphones that are as close as four inches away, or as far as 200 feet away.
Beacons — real world context for your apps
Home of the ION Air Pro - One of the lightest HD action cameras on the market
Technicolor presents QEO
Welcome | Sensor PlatformsSensor Platforms | Deriving the Where and Why of Motion
Xanboo
NewAer
Get Started with Ayla
Weightless SIG for M2M and Internet of Things IOT
Neul - the Internet of Everything
Weightless technology - small is dutiful
Puppet Inc. | making your world smarter
Securing the Internet of Things - Embedded SSH, Embedded SSL, Embedded IPSEC and OpenSSH/OpenSSL Alternatives, FIPS Validated Crypto, FIPS Validation, FIPS 140-2 Validated, FIPS 140-2 Validation, FIPS Approved, FIPS certified, FIPS certification, FIPS 140
Announces LynxOS 7.0 with new Security Features to Protect Embedded Connected Devices
lumn: You wait ages, then two bandwagons come at once
Labs' Central Nervous System for the Earth project aims to build a planetwide sensing network: HP Labs Feature Article (November 2009)
Box Top | Broadband for Everyone
Quantified Self Forums