Internet of things
One network, A billion dreams - SigFox - Cisco Firefox
OckCorp
Mojio - Cisco Firefox
WigWag - Cisco Firefox
OpenSensors.IO - Cisco Firefox
Home page - Cisco Firefox
SAN DIEGO – September 06, 2013 – Qualcomm Incorporated (NASDAQ: QCOM) today announced that its subsidiary, Qualcomm Atheros, Inc., launched a new chip family as part of its portfolio of low-power Wi-Fi solutions designed to connect a multitude of devices that comprise the Internet of Everything.
News and Events - Cisco Firefox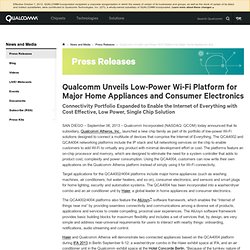 Internet of Things Technology - Cisco Firefox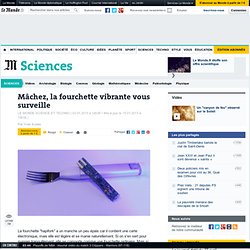 LE MONDE SCIENCE ET TECHNO | • Mis à jour le | Par Yves Eudes La fourchette "hapifork" a un manche un peu épais car il contient une carte électronique, mais elle est légère et se manie naturellement. Si on s'en sert pour manger tranquillement, elle se comporte comme une fourchette ordinaire. Mais si on avale son repas trop vite - moins de dix secondes entre chaque bouchée -, elle se met à vibrer, comme un téléphone mobile. Ainsi rappelé à l'ordre, l'utilisateur fait une pause, et reprend son repas plus lentement.
Mâchez, la fourchette vibrante vous surveille
What is Z-Cloud | Z-Wave home automation solutions
Smart Home Control - Rule creator
Easy online tool that allows complete customization of Zipato system Installing smart security and remote control system will allow customers to remotely arm/disarm their system and turn on/off their lights and appliances.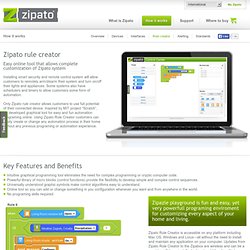 Home Automation Systems Store
Embedded Automation, Inc. - Front Page
The Smart Citizen Project
Industries | Smart Citizen Kit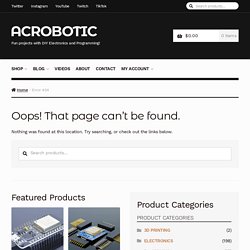 MicroGen | Energizing the Wireless World
IoT Works
ProSyst is a software vendor, offering the middleware for the Internet of Things. Our roots are in the field of Java, OSGi and embedded software.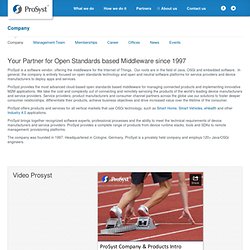 Company - Your Partner for Open Standards based Middleware since 1997
JustShareIt - Borrow your neighbor's ride or rent out yours
Rentything | The easiest way to make money sharing the things you own and save money borrowing the things you don't
internetofthings2.jpg (JPEG Image, 2000 × 1500 pixels) - Scaled (54%) - Cisco Firefox
www.nickhunn.com/wp-content/uploads/downloads/2013/03/to-ubiquity-and-beyond.pdf
Each tiny Beacon has a built-in Bluetooth® 4.0 chip, also called a BLE (Bluetooth® low energy).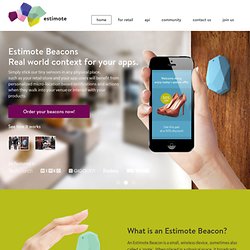 Beacons — real world context for your apps
Home of the ION Air Pro - One of the lightest HD action cameras on the market
Technicolor presents QEO
The Fast Track to the Internet of Everything - AllJoyn
Welcome | Sensor PlatformsSensor Platforms | Deriving the Where and Why of Motion
Xanboo
IPSO Alliance | Enabling the Internet of Things
NewAer
Get Started with Ayla
Weightless SIG for M2M and Internet of Things IOT
Neul - the Internet of Everything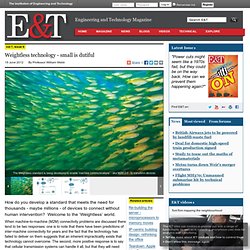 How do you develop a standard that meets the need for thousands - maybe millions - of devices to connect without human intervention? Welcome to the 'Weightless' world. When machine-to-machine (M2M) connectivity problems are discussed there tend to be two responses: one is to note that there have been predictions of inter-machine connectivity for years and the fact that the technology has failed to deliver on them suggests that an inherent impracticality exists that technology cannot overcome. The second, more positive response is to say that cellular transmission systems can handle it all, but that they will need major reinvestment along with backhaul support from other communications infrastructure.
Weightless technology - small is dutiful
Puppet Inc. | making your world smarter
Securing the Internet of Things - Embedded SSH, Embedded SSL, Embedded IPSEC and OpenSSH/OpenSSL Alternatives, FIPS Validated Crypto, FIPS Validation, FIPS 140-2 Validated, FIPS 140-2 Validation, FIPS Approved, FIPS certified, FIPS certification, FIPS 140
As more embedded devices connect to the Internet and each other, LynxOS 7.0 meets the increasing security requirements for real-time operating systems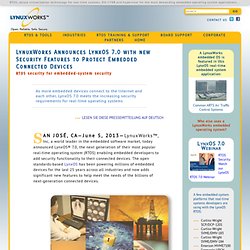 Announces LynxOS 7.0 with new Security Features to Protect Embedded Connected Devices
The Kickstarter is over, but if you missed out on backing us, not to worry. You can still join the thousands of other awesome Twine owners by pre-ordering on Supermechanical. It's the next best thing to being an original backer! Follow us on Facebook or Twitter. Want to hook up things to the Web? Maybe you want to get a tweet when your laundry's done, or get an email when the basement floods while you're on vacation.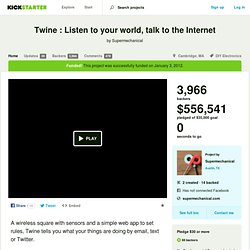 First came the dotcom boom. And I did nothing, because I didn't learn how to write HTML quickly enough. Then came the mobile apps wave. And I missed that, because I couldn't find any porn actresses, I don't understand gambling and I discovered that hiring developers was like herding cats (my friend actually managed to get hold of some Ukrainian code writers, but he had to fly out to Harkova before he could get them to finish the project they'd been paid for) Never mind, they said, there'll be another bandwagon along in a minute!
lumn: You wait ages, then two bandwagons come at once
Labs' Central Nervous System for the Earth project aims to build a planetwide sensing network: HP Labs Feature Article (November 2009)
In the first commercial application of CeNSE technology, HP and Shell will build a wireless sensing system to acquire high-resolution seismic data. By vastly improving the quality of seismic imaging, the new system will allow Shell to more easily and cost-effectively explore difficult oil and gas reservoirs. The ground-breaking solution will be delivered by HP Enterprise Services, and will include HP's high-performance sensing technology, a recent breakthrough from HP Labs and the company's Imaging and Print Group. The solution will provide a better picture of existing and alternative energy resources – allowing Shell to perform more targeted oil exploration and reduce their environmental impact.
Box Top | Broadband for Everyone
Quantified Self Forums