VCs and Angels
Are there any real technologies left to develop, or have we reached the end of the line, a sort of technological equivalent end of history? Once every last retailer migrates onto the Internet, will that be it? At Founders Fund, we vigorously reject this notion, and support the principle that human creativity and technical ability can build a better future for all humanity.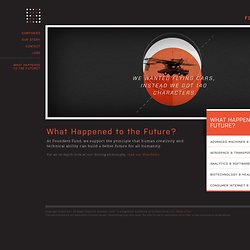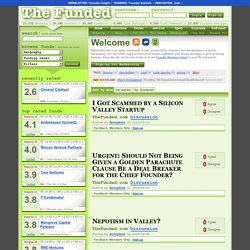 TheFunded.com Discussion Posted by Anonymous about 7 hours ago Posted by Anonymous about 13 hours ago
It's hard to believe that it's been almost a decade since we embarked on a crazy experiment. We wanted to test a new model of early-stage investing and see if it would line up with the new realities of startups. We wanted to be the best partner for founders needing someone to believe in them before their startup was "hot" and on the radar screens of everybody else. The bet worked, and we have been grateful to team with some of the best entrepreneurs in the world who have built some of today's greatest new digital businesses. Like so many of the founders we work with, we are just getting started. We know what it's like to experience the "us against the world" feeling that comes with inventing a new category of technology — We faced similar challenges when we needed to convince the best founders to take a chance on us.
Floodgate Fund: Opening the Gates to Success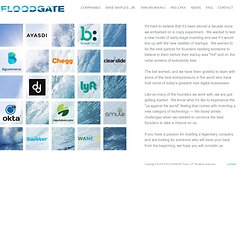 SVAngel
Felicis Ventures
True Ventures | Early Stage Capital
Sequoia Fund, Inc.
First Round Capital | Seed Stage Venture Capital Fund in San Francisco, New York and Philadelphia
<a href="https://qualaroo.com/">Survey by Qualaroo</a> We're TurningVenture Capitalon its Head We're reimagining venture capital from the ground up to help founders win. We invest at idea inception - and build technology and services to connect our entrepreneurs with resources and each other to maximize their impact. Happy Holidays from First Round Capital!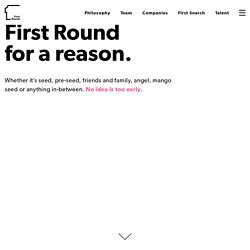 GeorgeKellerman/angels-and-vcs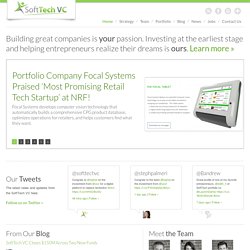 SoftTechVC: Building great companies...
Forbes released its third annual '30 Under 30' list of young disrupters, innovators and entrepreneurs – and we're proud to see many of SoftTech's founders represented again this year and joined by several our new rising stars. Meet our founders that made the list and a huge congratulations to Aaron, Xan, David, Alex, Sam, Liam, Tyler, San, and Rafael!
In 2005, Y Combinator developed a new model of startup funding. Twice a year we invest a small amount of money ($14-20k + an $80k note) in a large number of startups (most recently 68). The startups move to Silicon Valley for 3 months, during which we work intensively with them to get the company into the best possible shape and refine their pitch to investors. Each cycle culminates in Demo Day, when the startups present their business plans to a carefully selected, invite-only audience. But YC doesn't end on Demo Day. We and the YC alumni network continue to help founders for the life of their company, and beyond.