Code
Python Vs Ruby
So, how do Python and Ruby compare? They look more similar to each other than either does to Perl. What are the differences? Points of comparison: Overview Heritage and Philosophy Popularity Readability Ease for Beginners Ruby Blocks and Python Lambdas Development Environments Community and Documentation Libraries, Platforms and Applications Performance Opinions : Leaving Python for Ruby / Leaving Ruby for Python (anybody?)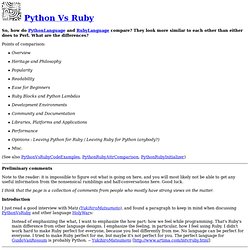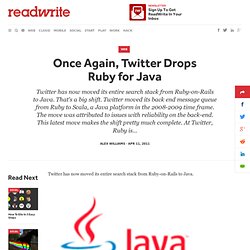 Once Again, Twitter Drops Ruby for Java - ReadWriteCloud
Twitter has now moved its entire search stack from Ruby-on-Rails to Java. That's a big shift. Twitter moved its back end message queue from Ruby to Scala, a Java platform in the 2008-2009 time frame. The move was attributed to issues with reliability on the back-end.
I come from a PHP background, but these days, I'm a full-time Rails developer. The difficulty for most people who make the switch lies in the learning curve that's involved. Once you've become proficient in a language or framework, switching to a new one feels like an unnecessary (and time-consuming) challenge. However, learning Ruby and Rails is actually pretty easy! It's an incredibly powerful framework, and has a huge community pushing it along.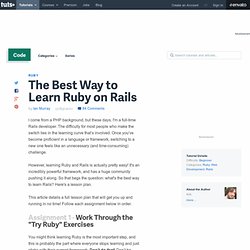 This article was written in 2011 and remains one of our most popular posts. If you're keen to learn more about Ruby and the Rails framework, you may want to head straight to the source — RubySource, that is — and you may find this recent article on Ruby and Sass of great interest. While it certainly makes no attempt to constitute a complete guide to the Ruby language, this tutorial will introduce you to some of the basics of Ruby. We'll power through a crash-course in object oriented programming, covering the more common features of the language along the way, and leaving the more obscure aspects of Ruby for a dedicated reference guide .