Code
Python Vs Ruby
So, how do PythonLanguage and RubyLanguage compare? They look more similar to each other than either does to Perl. What are the differences? Points of comparison: Overview Heritage and Philosophy Popularity Readability Ease for Beginners Ruby Blocks and Python Lambdas Development Environments Community and Documentation Libraries, Platforms and Applications Performance Opinions : Leaving Python for Ruby / Leaving Ruby for Python (anybody?)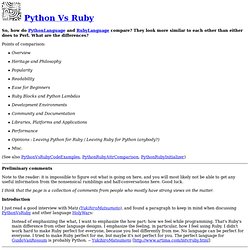 ReadWriteCloud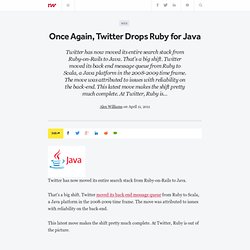 Once Again, Twitter Drops Ruby for Java - ReadWriteCloud
Twitter has now moved its entire search stack from Ruby-on-Rails to Java. That's a big shift. Twitter moved its back end message queue from Ruby to Scala, a Java platform in the 2008-2009 time frame. The move was attributed to issues with reliability on the back-end.
I come from a PHP background, but these days, I'm a full-time Rails developer. The difficulty for most people who make the switch lies in the learning curve that's involved. Once you've become proficient in a language or framework, switching to a new one feels like an unnecessary (and time-consuming) challenge.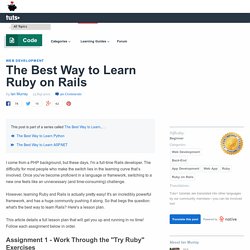 Ruby on Rails is the web development framework of the moment, powering GitHub, Twitter, Hulu and many more successful apps and websites. The arrival of Rails 4 is the perfect time to learn it. SitePoint's newest ebook, 'Jump Start Rails', from Andy Hawthorne, will get you up to speed with Ruby on Rails in just a weekend. Andy has also prepared the 'Build your first Rails' app online course to take you from creating a complete Ruby on Rails 4 app with a log in system all the way to deploying it to Heroku, a leading Rails application hosting environment, in a couple of hours.