Internet MKT News
P&G Plans More Cuts in Headcount, Agency Fees, Production | CMO Strategy. Facebook Buys Instagram for $1 Billion. How Facebook's Reach Generator is Guaranteeing More Fan Reach. The social media sphere, friends, followers and fans were sitting today on pins and needles – awaiting Facebook's announcements on "What will be changing?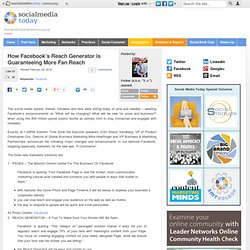 What will be new for users and business?" When using this 800 million pound (users) Gorilla as primary form to stay connected and engaged with followers. Exactly at 1.00PM Eastern Time Zone the Keynote speakers COO Sheryl Sandberg, VP of Product Christopher Cox, Director of Global Business Marketing Mike Hoefflinger and VP Business & Marketing Partnerchips announced the following major changes and enhancements to our beloved Facebook, targeting especially marketers for the new epic "F-Commerce". The three new marketers solutions are: Social media watch. Social media watch Posted by Sheila Shayon on August 24, 2012 12:21 PM First it was LinkedIn, then Instagram lost its friend-finding privileges on Twitter, and now it's Tumblr whose users lost the ability to connect with Twitter friends in "a veritable third-party relationship killing spree by Twitter, which is on a mission to assert more control over its ecosystem."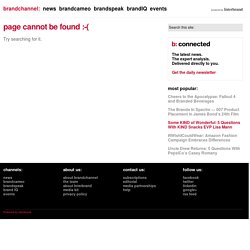 Within hours of BuzzFeed's Matt Buchanan's prediction that Tumblr was a primary target on Twitter's third-party "hit list," the option to locate Twitter friends disappeared from Tumblr's site. Tumblr issued this unhappy statement: To our dismay, Twitter has restricted our users' ability to 'Find Twitter Friends' on Tumblr. Social media tool aims to help journalists find undiscovered, reliable sources on Twitter. A couple of tweets, discovered well after we all learned that Whitney Houston had died Saturday, illustrate a challenge journalists face in a breaking news situation.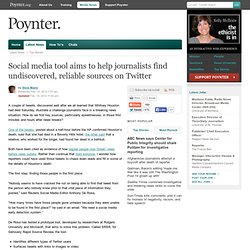 How do we find key sources, particularly eyewitnesses, in those first minutes and hours after news breaks? One of the tweets, posted about a half-hour before the AP confirmed Houston's death, said that she had died in a Beverly Hills hotel; the other said that a relative, who worked for the singer, had found her dead in a bathtub. The first step: finding those people in the first place. "Nobody seems to have cracked the nut on being able to find that tweet from the person who nobody knew prior to that vital piece of information they posted," said Reuters Social Media Editor Anthony De Rosa. Giants Website Prematurely Reveals Super Bowl Winner [PIC] The New York Giants official website accidentally announced the winner of Super Bowl XLVI more than 24 hours before Sunday's big game even started, by the look of images floating around the web.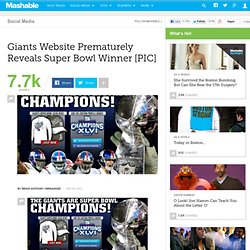 The error was immortalized Saturday in this TwitPic screenshot (above), which Jeff Frias posted to Twitter. No signs of the mistake are left on the team's site other than a reported link that leads to the image below. SEE ALSO: Turn Patriots Coach Bill Belichick into a Super Bowl Meme [CONTEST] How to Follow Super Bowl 2012 With Social Media.
It's never been easier to get your pigskin fix on the internet than Super Bowl XLVI.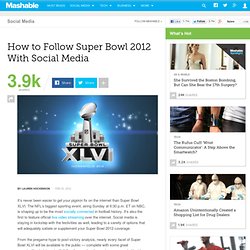 The NFL's biggest sporting event, airing Sunday at 6:30 p.m. ET on NBC, is shaping up to be the most socially connected in football history. It's also the first to feature official live video streaming over the internet. Social media is staying in lockstep with the festivities as well, leading to a vareity of options that will adequately satiate or supplement your Super Bowl 2012 coverage. From the pregame hype to post-victory analysis, nearly every facet of Super Bowl XLVI will be available to the public — complete with some great opportunities to interact with fellow fans and perhaps win some coveted loot in the process. Digital Divide: If You're Reading This, You're One of the Lucky Ones [INFOGRAPHIC] Even in the richest countries on the planet such as the U.S., not everyone has easy access to this cornucopia of connectivity, the Internet.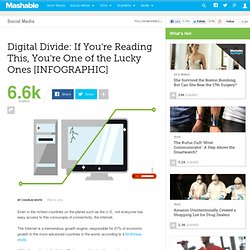 The Internet is a tremendous growth engine, responsible for 21% of economic growth in the more advanced countries in the world, according to a McKinsey study. While those of us in the United States complain about how we have to pay more for Internet service that's slower than those of other first-world countries, within the United States there's a gaping chasm between the haves and the have-nots. In this infographic by OnlineITdegree.net, an ad-free website describing itself as "an online informational resource for individuals looking to pursue IT degree of related education and careers," you'll find surprising information about the differences in Internet access in the United States.
Facebook's $5 Billion IPO, By The Numbers [CHARTS] Facebook has filed its IPO paperwork and the S-1 statement contains an utterly dizzying amount of statistics.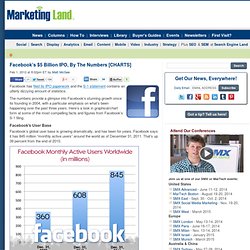 The numbers provide a glimpse into Facebook's stunning growth since its founding in 2004, with a particular emphasis on what's been happening over the past three years. Here's a look in graphical/chart form at some of the most compelling facts and figures from Facebook's S-1 filing. Facebook's User Base Facebook's global user base is growing dramatically, and has been for years. Facebook says it has 845 million "monthly active users" around the world as of December 31, 2011. The IPO Won't Change Facebook. Online Ads Will. Will an IPO change Facebook?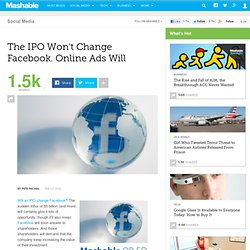 The sudden influx of $5 billion (and more) will certainly give it lots of opportunity, though it'll also mean Facebook will soon answer to shareholders. And those shareholders will demand that the company keep increasing the value of their investment. In his letter within the IPO filing, Facebook CEO Mark Zuckerberg talks high-mindedly about his creation being a social experience first, and a company second. But in the same document, Facebook talks about the value its massive scale and knowledge of "demographic factors" can bring to advertisers and marketers, calling out vaguely uncomfortable examples, like Starbucks being able to pay to get users' check-ins promoted in their friends' news feeds.
Pinterest Becomes Top Traffic Driver for Retailers [INFOGRAPHIC] Pinterest, a two-year-old social bookmarking site that lets users collect and share things they like on the web, is driving increasingly significant amounts of traffic to retailers' websites.
The service enables users to create online bulletin boards, or "pinboards," for popular categories such as home decor, food and wedding inspiration. Members can use Pinterest's "Pin It" bookmarklet tool and iPhone app to save things they see online and offline, and explore and repin the images their friends collect via their personal newsfeeds. The website is especially popular among women, who account for 58% of Pinterest's traffic, according to Experian Hitwise. Giants? Patriots? Mobile and Social to Win Super Bowl XLVI.
The New York Giants and New England Patriots face off for gridiron glory this Sunday in Super Bowl XLVI.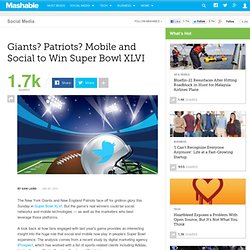 But the game's real winners could be social networks and mobile technologies — as well as the marketers who best leverage those platforms. A look back at how fans engaged with last year's game provides an interesting insight into the huge role that social and mobile now play in people's Super Bowl experience. Global Digital Communication: Texting, Social Networking Popular Worldwide. Usage Differs by Age and Education Survey Report Cell phones are owned by overwhelmingly large majorities of people in most major countries around the world, and they are used for much more than just phone calls. In particular, text messaging is a global phenomenon – across the 21 countries surveyed, a median of 75% of cell phone owners say they text.
Texting is widespread in both wealthy nations and the developing world. In fact, it is most common among cell phone owners in two of the poorest nations surveyed: Indonesia and Kenya. Google to Congress: We're Still Not Evil. Google sent a 13-page letter to Congress Monday explaining changes to its privacy policy that the search giant announced last week.
Those changes are scheduled to go into effect for Google's 350 million global users on March 1. The letter is a response to a letter Congress sent to Google last week, which requested more specific knowledge about Google's new privacy policy and practices. How Americans used their phones to assist with purchasing decisions this holiday season. How Americans used their phones to assist with purchasing decisions this holiday season More than half of adult cell phone owners used their cell phones while they were in a store during the 2011 holiday season to seek help with purchasing decisions. During a 30 day period before and after Christmas: 38% of cell owners used their phone to call a friend while they were in a store for advice about a purchase they were considering making 24% of cell owners used their phone to look up reviews of a product online while they were in a store 25% of adult cell owners used their phones to look up the price of a product online while they were in a store, to see if they could get a better price somewhere else.
Apple's First Quarter Earnings: The Unbelievable Numbers. Apple's blowout first quarter was notable for many reasons, not least of which was the company's record revenues of $46.3 billion. But the quarter was remarkable for several other reasons as well. Apple, which is known for keeping its affairs close to the vest, released a raft of information on Tuesday. Here are some of the highlights: Apple sold 37 million iPhones in the quarter, a 128% jump over the comparable quarter in 2010.iPad sales hit 15.4 million, a rise of 111%.Mac sales were 5.2 million, an increase of 26%.Apple sold 15.4 million iPods, a number which is down 21% as the iPhone cannibalizes sales of more limited-function devices.Apple now has $97.6 billion in cash on hand.Revenues from iTunes hit $1.7 billion.
Technology. MediaShift. The Great Web Blackout. The Rise of the New Groupthink. Jerry Yang, 'Chief Yahoo,' Steps Down From Board. Explainer: understanding Sopa | Technology. PQ Media :: Press Releases.
---