Affiliate Marketing
The Truth About Abs: How To Make $1,000,000 Profit Per Month with Digital Products (Plus: Noah Kagan results)
Six-pack abs sell. (Photo: San Diego Shooter) Once or twice in the past, I have referred to "someone" who has earned $5,000,000-$10,000,000 per year with e-books and cross promotion. For that, I should apologize, as it's not accurate: his numbers are now closer to $1,000,000 per month, and "e-book" doesn't begin to explain what he does. That someone is named Mike Geary. He prefers to keep a low profile, skiing powder and refining his "muse," or automated business, to a precise science.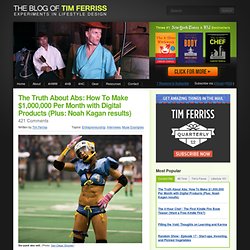 WickedFire
SBI! - Build An e-BUSINESS
Affiliate Program - oDesk Forum
De afgelopen vijf jaar is Daisycon zes maal door publishers tot beste affiliatenetwerk gekozen. 2012 - winnaar vierde Yonego affiliate onderzoek2011 - winnaar derde Yonego affiliate onderzoek2010 - winnaar tweede Yonego affiliate onderzoek2009 - winnaar eerste Yonego affiliate onderzoek2009 - winnaar warme douche affiliate-forum.nl2008 - winnaar warme douche affiliate-forum.nl Leest het artikel Daisycon populairst onder affiliates in Twinkle. Wilt u geld verdienen met uw websites of e-mailbestanden? Met Affiliate Marketing en Lead Generation werkt u als publisher (ook wel affiliate genoemd) samen met Daisycon en haar adverteerders om de inkomsten uit uw websites en e-mailbestanden te verhogen. U verwerkt het promotiemateriaal van adverteerders in uw websites en nieuwsbrieven.
Publisher/ Affiliate worden - Geld verdienen met Affiliate Marketing!