Internet & Computers
Facebook. SEPIARVPRadio chat group - Paranormal Radio Chat Room. Web Analytics. Lunitech Inc. Free SEO Tools - Increase Web Site Traffic for Free. Flash.
Curating the Web
Amateur Radio World-Wide - NW7US - HAM Radio on LF, MW, HF, VHF, and higher. The Ingredients of a Successful Website. The first published article on Six Revisions was about the things you need for a web project to succeed.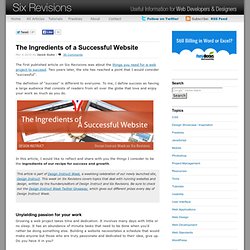 Two years later, the site has reached a point that I would consider "successful". The definition of "success" is different to everyone. To me, I define success as having a large audience that consists of readers from all over the globe that love and enjoy your work as much as you do. Search Engines. Knowledge & deep Search engine.
Secret-Internet. Blog Web Design. Design blogs. WebRings.
---
dreagusproductions Oct 14 2011

We are trying to better utilize our computers and the internet to connect with fans, networks, and potential new members. Any and all suggestions on doing this are welcome.
---