Benchmarking
L'Europe soutient-elle ses entreprises à l'exportation? Introduction Ignasi GUARDANS, Député européen, Rapporteur de la "Stratégie de l'UE pour assurer aux entreprises européennes un meilleur accès aux marchés extérieurs" présente les enjeux du débat.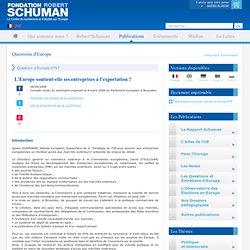 Le Directeur général au commerce extérieur à la Commission européenne, David O'SULLIVAN, souligne les freins au développement des entreprises européennes et, notamment, les petites et moyennes entreprises (PME) sur les marchés extérieurs.
Austrade (Australian Trade Commission) - The Australian Governme. Italia Export - All the Made in Italy. Swiss Export. UK Trade & Investment: International Business, Exporting from th. UKTI TAero SC21 Small firms aerospace scheme. Chaîne de UKTIWeb. US National Initiative For Exports.
---