International Law
LIBEX international library and information job exchange - Home. A gateway to Environmental Law - ECOLEX. Lawfare › Hard National Security Choices. Opinio Juris Opinio Juris » International Law Institute - International Law Institute. International Legal Research. Customary International Law: Research Guides & Background Information Customary international law "... consists of rules of law derived from the consistent conduct of States acting out of the belief that the law required them to act that way."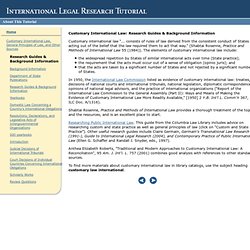 (Shabtai Rosenne, Practice and Methods of International Law 55 (1984)). International Association of Refugee Law judges. First phase helsinki process three tracks. A Brief History of U.S. Diplomacy. Contemporary Issues International law is constantly evolving according to the creation of new conventions, treaties and state decisions that respond to ever-shifting current events.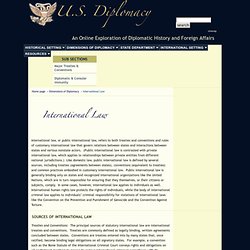 In the last few decades, however, there has been a clear trend toward the increased importance and applicability of public international law to states' foreign policies as well as to the protection of individual rights. This trend can be seen in two contemporary examples that are at the forefront of the debate over public international law. One is the increased recognition of international humanitarian law (IHL) as it applies to state interventions in internal conflicts, such as military operations in Lebanon, Iraq and Afghanistan.
State Succession In International Law - Debt, Property & Asset - Author - Divyam Agarwal & Mohit Goel. Introduction Since World War II, State succession has become increasingly important as it affects more States and more legal relationships than ever before.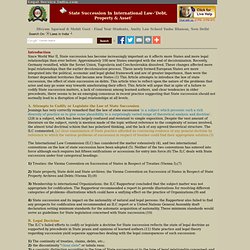 Approximately 100 new States emerged with the end of decolonization. Recently, Germany reunified, while the Soviet Union, Yugoslavia and Czechoslovakia dissolved. Other External Links. International commercial law links Research-guides LLRX Guide to international trade law sources on the internet Private International Law International Economic Law International Commercial Arbitration Starting points Lex Mercatoria Transnational Law Database Other resources.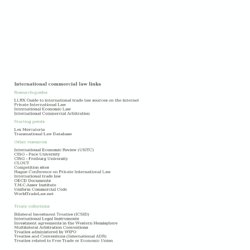 ESIL: European Society of International Law. Austria University of Graz Institute of International Law and International Relations, Universitätsstrasse 15/A4, A-8010 Graz.
Tel: +43 316 380 3410 Fax: +43 316 380 9455 E-mail: gabriele.sohar@uni-graz.at Homepage: www.kfunigraz.ac.at/vrewww. Biblioteca della Camera dei deputati - Guida alla ricerca - Legislazione comparata e dell'Unione europea. Commission européenne. Union européenne - SEAE (Service européen pour l'action extérieure) | Countries / Territories. Synthèses de la législation de l'UE. Yearbook of the United Nations. United Nations - Office of Legal Affairs.
The Legal Counsel's participation at a roundtable discussion on the R2P concept at the 55th annual meeting of the Russian Association of International Law in Moscow.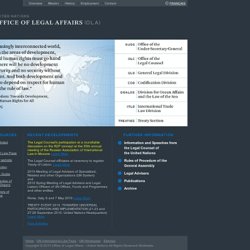 Learn More The Legal Counsel officiates at ceremony to register Treaty of Lisbon. Learn More 2010 Meeting of Legal Advisers of Specialized, Related and other Organizations (UN System) and 2010 Spring Meeting of Legal Advisers and Legal Liaison Officers of UN Offices, Funds and Programmes and other entities. International Law Society - ILS. School of Advanced International Studies (SAIS) | Home. Space Law. International Law Office. Welcome to the Hague Justice Portal » The Hague Justice Portal. Encyclopédie numérique des droits de l'homme. Jus cogens: Developments in International Law. ECOLEX - The gateway to environmental law. Canadian Association for Refugee and Forced Migration Studies (CARFMS) Annual Conference. International Law Commission. Electronic Information System for International Law - EISIL - Public International law | An introduction to public international law for students.
---