International Law
Lawfare › Hard National Security Choices
We're going to skip all of the preview stories about the President's NSA speech tomorrow. You'll find out what he's going to say when he says it. We begin with military news. The Air Force leadership has announced that 34 nuclear missile launch officers cheated on monthly launch proficiency tests and have had their clearances revoked. The discoveries were made as part of an investigation into illegal drug possession by the officers.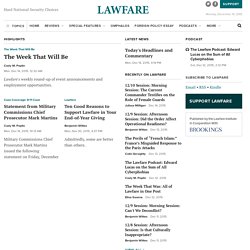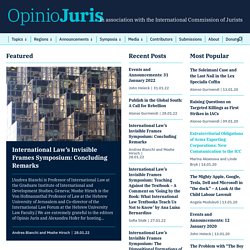 Put the words "Al Qaeda" in a news headline, and you inevitably conjure a very particular idea in the mind of the American reader. "Al Qaeda" is the group that attacked the United States on 9/11. The group led by Osama bin Laden (now led, some might recall, by his successor, Ayman Zawahiri). The group we've been at war with for the past decade-plus, and that would gladly attack us again when it has the chance. It's the group (legal-minded readers would add) whose members the President is authorized by the AUMF statute to detain indefinitely or target lethally. It's a term, in other words, that has specific and powerful meaning in our political and legal life.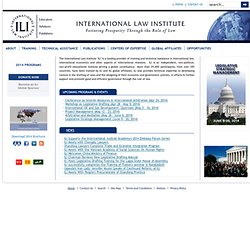 The International Law Institute "ILI" is a leading provider of training and technical assistance in international law, international economics and other aspects of international relations. ILI is an independent, non-political, non-profit educational institute serving a global constituency. More than 29,000 participants, from over 185 countries, have been trained by ILI and its global affiliates.
International Law Institute - International Law Institute
Customary International Law: Research Guides & Background Information Customary international law "... consists of rules of law derived from the consistent conduct of States acting out of the belief that the law required them to act that way." (Shabtai Rosenne, Practice and Methods of International Law 55 (1984)).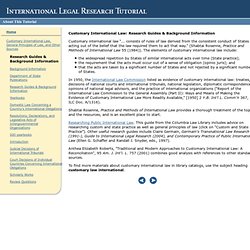 International Legal Research
International Association of Refugee Law judges
The IARLJ European conference has taken place in Göteborg, Sweden on Thursday 21 and Friday 22 November 2013. As announced at the conference the book Assessment of Credibility by Judges in Asylum Cases in the EU is available and can be ordered here. Subscriptions to the Newsletter on European Asylum Issues (NEAIS) can be made by sending an email to the editorThis email address is being protected from spambots.
first phase helsinki process three tracks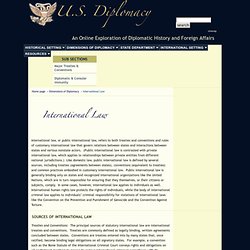 Contemporary Issues International law is constantly evolving according to the creation of new conventions, treaties and state decisions that respond to ever-shifting current events. In the last few decades, however, there has been a clear trend toward the increased importance and applicability of public international law to states' foreign policies as well as to the protection of individual rights. This trend can be seen in two contemporary examples that are at the forefront of the debate over public international law. One is the increased recognition of international humanitarian law (IHL) as it applies to state interventions in internal conflicts, such as military operations in Lebanon, Iraq and Afghanistan.
A Brief History of U.S. Diplomacy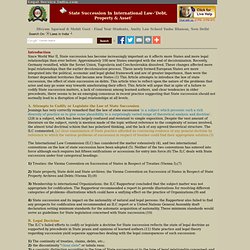 Introduction Since World War II, State succession has become increasingly important as it affects more States and more legal relationships than ever before. Approximately 100 new States emerged with the end of decolonization. Recently, Germany reunified, while the Soviet Union, Yugoslavia and Czechoslovakia dissolved.
State Succession In International Law - Debt, Property & Asset - Author - Divyam Agarwal & Mohit Goel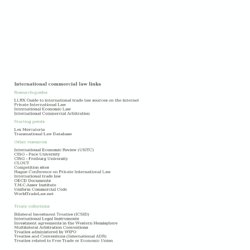 Other External Links
International commercial law links Research-guides LLRX Guide to international trade law sources on the internet Private International Law International Economic Law International Commercial Arbitration Starting points Lex Mercatoria Transnational Law Database Other resources
Austria University of Graz Institute of International Law and International Relations, Universitätsstrasse 15/A4, A-8010 Graz. Tel: +43 316 380 3410 Fax: +43 316 380 9455 E-mail: gabriele.sohar@uni-graz.at Homepage: www.kfunigraz.ac.at/vrewww.
ESIL: European Society of International Law
Biblioteca della Camera dei deputati - Guida alla ricerca - Legislazione comparata e dell'Unione europea
https://openaccess.leidenuniv.nl/bitstream/handle/1887/13844/Front.pdf?sequence=3
Union européenne - SEAE (Service européen pour l'action extérieure) | Countries / Territories
Yearbook of the United Nations
United Nations - Office of Legal Affairs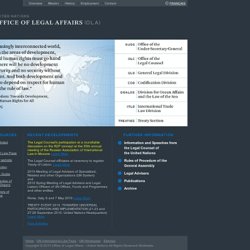 The Legal Counsel's participation at a roundtable discussion on the R2P concept at the 55th annual meeting of the Russian Association of International Law in Moscow. Learn More The Legal Counsel officiates at ceremony to register Treaty of Lisbon. Learn More 2010 Meeting of Legal Advisers of Specialized, Related and other Organizations (UN System) and 2010 Spring Meeting of Legal Advisers and Legal Liaison Officers of UN Offices, Funds and Programmes and other entities
International Law Society - ILS
School of Advanced International Studies (SAIS) | Home
International Law Office
Welcome to the Hague Justice Portal » The Hague Justice Portal
Encyclopédie numérique des droits de l'homme
Security Council Compendium, a juscogens.net feature, provides a comprehensive, concise summary of the work of the United Nations Security Council in an organized, central location and an unbiased, objective manner. For comments or suggestions, please contact editor@juscogens.net. Security Council Resolutions
Jus cogens: Developments in International Law
ECOLEX - The gateway to environmental law
Canadian Association for Refugee and Forced Migration Studies (CARFMS) Annual Conference
Established in November 2007, the mandate of the Association is to foster an independent community of scholars dedicated to the advancement and dissemination of Canadian refugee and forced migration research, establishing active partnerships and collaborations among researchers, teachers, practitioners, policy makers and advocates, and supporting publications, conferences, and other fora that contribute to open and inclusive communication and networking around issues relating to refugee and forced migration studies in Canada and elsewhere. CARFMS 2013: Spaces of Refuge The 2013 CARFMS Conference will bring together researchers, policymakers, displaced persons and advocates from diverse disciplinary and regional backgrounds to discuss spaces of refuge for forced migrants in the context of a changing global geopolitical context.
International Law Commission
Electronic Information System for International Law - EISIL -
Sri Lankan District Court, 0n 30.04. 2013, denied immunity to several officials of Norway. Please see attached translation of the Order taken from a web based newspaper. Please note that this translation has many grammatical mistakes and is, in places, incomprehensible.
Public International law | An introduction to public international law for students