Intermediary/SE Liability
The EU E-commerce directive and section 230 DMCA have edicted the principle of immunity of Intermediairies for third party content. Hence, this liability is interpreted differently between the US and the EU where the liability is knowledge based. The question of Notice and Take Down remains very unclear and can be harmful to the freedom of expression. How is the ISP, being the Judge and the Jury, is supposed to act 'expeditiously' ? biggest US ISPs are not in conformity with the EU regulations. They often don't have means of contact by telephone or email.
Cyberstalking has become a real threat online.
IP infringement is tackled in a wrong way with serious threat to fundamental Human Rights. Regulations such as ACTA, PIPA, SOPA, HaDoPI, DEAct, etc... are taking the wrong balance of proportionality of harm versus private financial interests. Shouldn't we start by clarifying the principal notion of IP rights in the digital world? Where judges can't agree on what is an IP infringement, how can we expect users to conforme with regulations? clarinette02 Jan 7
ISP liability for 1/3 party content
ISP liability for 1/3 party content
The 1709 Blog: Lessig triumphs in fair use battle
Dutch court rules that IP blocks are ineffective against piracy,
Vous êtes ici : Numerama > Magazine > Société 2.0 Allemagne : Ra
About Hogan Lovells Hogan Lovells is an international legal practice that includes Hogan Lovells International LLP, Hogan Lovells US LLP and their affiliated businesses. Disclaimer This publication is for information only. It is not intended to create, and receipt of it does not constitute, a lawyer-client relationship.
Global Media and Communications Quarterly Issue 4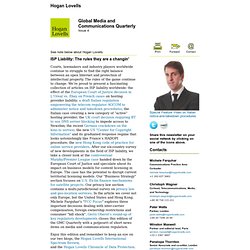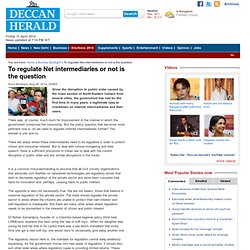 To regulate Net intermediaries or not is the question
Sunil Abraham, Aug 26, 2012, DHNS : Given the disruption to public order caused by the mass exodus of North-Eastern Indians from several cities, the government has had for the first time in many years, a legitimate case to crackdown on Internet intermediaries and their users. There was, of course, much room for improvement in the manner in which the government conducted the censorship.
Google active censor of copyright violation
Twitter publisher or distributor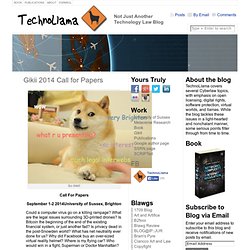 So Gikii! Call For Papers September 1-2 2014University of Sussex, Brighton
TechnoLlama
Iptegrity.com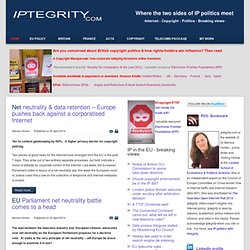 Monica Horten Published on 14 March 2014 Does the Internet belong to corporations or to citizens? Who runs it? Who owns it? Who decides what's on it?
Liability for Obscene Materials UK
EFF resource ISP chokepoints
D Kramer successfully pleading against Googe
India FB, G, Yahoo ordered to remove anti re
liability and Freedom of speech
Second BGH decision on Google Image search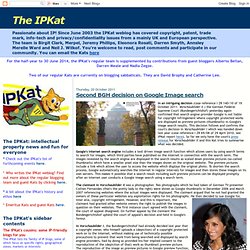 In an intriguing decision (case reference I ZR 140/10 of 19 October 2011- Vorschaubilder II ) the German Federal Supreme Court (Bundesgerichtshof) yesterday again confirmed that search engine provider Google is not liable for copyright infringement where copyright protected works are displayed as preview pictures (thumbnails) in Google's image search results. This decision follows and confirms the court's decision in Vorschaubilder I which was handed down last year (case reference I ZR 69/08 of 29 April 2010, see IPKat report here). So far we only have the court's press release for Vorschaubilder II and this Kat tries to summarise what was decided. Google's Internet search engine includes a text driven image search function which allows users by using search terms to search for images, which third parties have published on the Internet in connection with the search term.
Global Voices Advocacy - Posts from Clarinette
The structure of SE-Grimmelmann
the issue of Take Down Notice
Intermediary liability for CopR infringement