Libraries & Bookcases
13 Brilliant Bookcases For Kids. Cribs, changing tables, rocking chairs and the like have a short life in a nursery.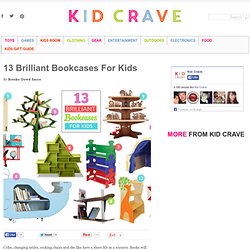 Books will always need a home in a child's space, so seeking out one very cool and unique shelf for them will certainly have a greater reward. Not only can you get up to a decade of use out of most of these styles, but they will be encouraging story (and clean up) time throughout their days. And while some of them might be insanely out of reach, that doesn't make them any less worthy of their 13 Brilliant Bookcases for Kids status. 1. Tambino AlplhaBookShelf Rail – $150.
The Bookcase Table by MOCO. Taking inspiration from its own Ptolomeo and Ptolomeo Wall book shelf designs (pictures 2), the Italian designers at MOCO have applied the same space-saving, hidden shelving ethic to "Ex Libris," the table whose legs double as book storage "A new way of designing a table is a difficult and fascinating challenge that has been resolved ironically with a light and elegant top, like the page in a book, yet to be discovered, that finds support in overlapping books.Table with metal legs and glass top laquered in black colour. " And it might just be the smartest table we've ever seen. via Freshome.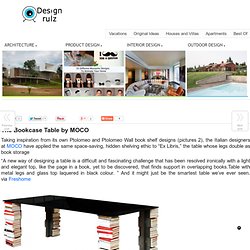 Library information desk. Scroll bookshelf: holding books in place with tensioned metal rolls. 20 Insanely Creative Bookshelves: Pics, Videos, Links, News. Cozy book nook. Most Interesting Libraries of the World. Bookshelf Porn. The Great Geek Manual » The World's Most Beautiful Libraries. I make no secret of the fact that I'm a hardcore bibliophile, but we're a common enough lot these day.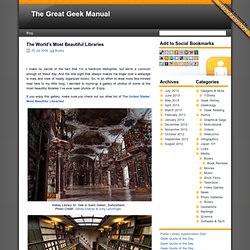 And the one sight that always makes me linger over a webpage is rows and rows of neatly organized books. So, in an effort to draw more like-minded read here to my little blog, I decided to round-up a gallery of photos of some of the most beautiful libraries I've ever seen photos of. Enjoy. If you enjoy this gallery, make sure you check out our other list of The United States' Most Beautiful Libraries!
Reader request - bookshelves. Branch Bookshelf. 35 Cozy Reading Corners Making it Easy to Enjoy Every Book to the Fullest. We realized we haven't paid any attention to good books lately, which is why we decided to make a post especially for them.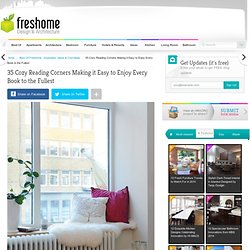 In our opinion, every home should be enriched by a bookcase, no matter how minimalist its design would be. Most people prefer reading in bed before sleep or taking a good book outside and find the coziest park bench. A bookstore in France. Library6.jpg (JPEG Image, 793x505 pixels) The Ofo Reading Chair. Cool Home Bookcases - 20 Brilliant Bookcase Designs. While it becomes easier to store digital media, it seems to become more interesting to store the real deal.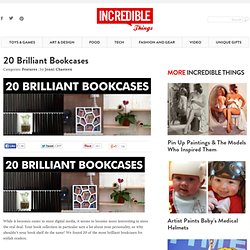 Your book collection in particular says a lot about your personality, so why shouldn't your book shelf do the same? We found 20 of the most brilliant bookcases for stylish readers. 3 Story Tower Made of 15,000 Books About Abraham Lincoln. This 3 story tall tower of books features 15,000 different titles about President Lincoln.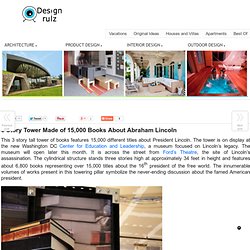 The tower is on display at the new Washington DC Center for Education and Leadership, a museum focused on Lincoln's legacy. The museum will open later this month. It is across the street from Ford's Theatre, the site of Lincoln's assassination. BOOKHOOK by Lockengelöt.
---