Bedroom
Ultimate Bed by Anderson
Hello, come into my blanket fort! Just a humble little place built by me out of old sheets and comfy cushions, but you can crouch in here for a while. I'm not sure what we'll get up to just yet, but it will be a cozy little place.
Welcome to my blanket fort « Blanket Fort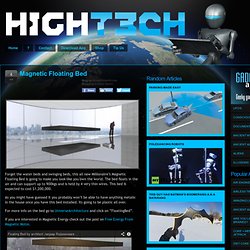 Forget the water beds and swinging beds, this all new Millionaire's Magnetic Floating Bed is going to make you look like you own the world. The bed floats in the air and can support up to 900kgs and is held by 4 very thin wires. This bed is expected to cost $1,200,000. As you might have guessed it you probably won't be able to have anything metalic in the house once you have this bed installed. Its going to be plastic all over.
High T3ch » Magnetic Floating Bed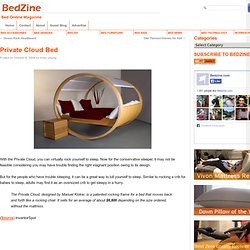 With the Private Cloud, you can virtually rock yourself to sleep. Now for the conservative sleeper, it may not be feasible considering you may have trouble finding the right stagnant position owing to its design. But for the people who have trouble sleeping, it can be a great way to lull yourself to sleep. Similar to rocking a crib for babies to sleep, adults may find it as an oversized crib to get sleepy in a hurry. The Private Cloud, designed by Manuel Kloker, is a patented rocking frame for a bed that moves back and forth like a rocking chair. It sells for an average of about $6,800 depending on the size ordered, without the mattress.
Private Cloud Bed
Rise and Sing with the Bird Alarm Clock
4/25/2009 under Cool Objects - by Grace Murano - TAGS: cool pillows Blood Puddle Pillow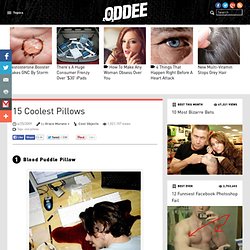 15 Coolest Pillows - Oddee.com (cool pillows)
Accessories are one of the most important parts of the design process. They complete the overall look of a space and add the fine little details we all love so much. Your bedroom nightstand should be no exception to receiving fabulous accessories. Yours may currently have a lamp, stacks of books and an alarm clock (that's what mine looks like and there's nothing pretty about it!). While that might be functional, you may want to consider sprucing things up a bit. There are 3 key elements to consider when accessorizing a nightstand: The Lamp - make sure it has a beautiful base and shade OR mount a sconce to the wall.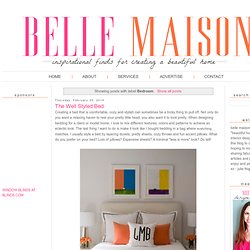 Bedroom
Do you prefer plush padding a minimalist pillow, a decked-out design or toned-down interior? From dazzling abstract designs to humorously offbeat sleeping spaces here are seven brilliant bedroom designs to inspire your imagination. Who knows, with a few decorative adjusts you might be able to remodel your own bedrooms to similar effect.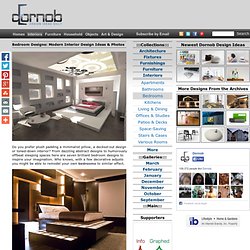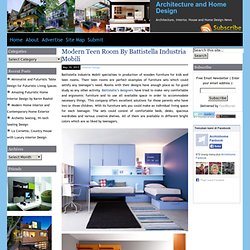 Modern Teen Room By Battistella Industria Mobili | Architecture and Home Design
Sponsored Link Battistella Industria Mobili specialises in production of wooden furniture for kids and teen rooms. Their teen rooms are perfect examples of furniture sets which could satisfy any teenager's need. Rooms with their designs have enough place as for good study as any other activity.
Amazing pictures and great ideas can be almost as helpful in designing the best new bedroom as having a cool designer – and inspiration is free. From retro and vintage to modern and bohemian, small spare rooms to magnificent master bedrooms, here are some of the most creative and unique photos of bedroom interior designs online. Cool & Hot Colored Bedroom Design: An age-old interior designer trick is to start with a great color palette and work from there, finding, designing and painting around that first defining choice.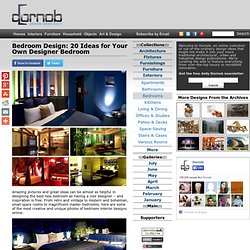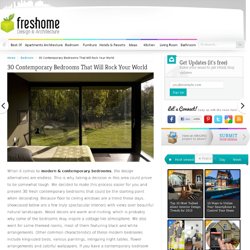 When it comes to , the design alternatives are endless. This is why taking a decision in this area could prove to be somewhat tough. We decided to make this process easier for you and present 30 fresh contemporary bedrooms that could be the starting point when decorating. Because floor to ceiling windows are a trend these days, showcased below are a few truly spectacular interiors with views over beautiful natural landscapes. Wood decors are warm and inviting, which is probably why some of the bedrooms may inspire a cottage-like atmosphere.
Luxury Beds To commemorate Valentine's Day , we've searched the world to find a collection of the most lavish, over-the-top, amazingly cozy, and unique beds a couple could ever wish to spend 48 hours in.
The World's Best Beds: Where Daydreams Do Come True