Bedroom
6 Summer Bunk Bed Rooms. Whether you have a large family or a busy summer house, a bunk room is an ideal solution for accommodating lots of guests.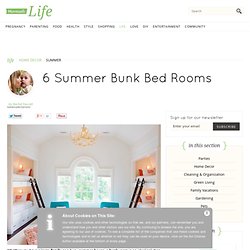 Here are some of our favorites. This nautical-inspired bunk room in a Hamptons home by Steven Gambrel features lots of room for storage with built-ins and under-bed drawers. Custom netting provides safety for the top bunks. An absolutely gorgeous bunk room from the Lerer House in Park City, Utah. Love the barrel ceiling! Ultimate Bed by Anderson. Welcome to my blanket fort « Blanket Fort. Hello, come into my blanket fort!
Just a humble little place built by me out of old sheets and comfy cushions, but you can crouch in here for a while. I'm not sure what we'll get up to just yet, but it will be a cozy little place. High T3ch » Magnetic Floating Bed. Private Cloud Bed. With the Private Cloud, you can virtually rock yourself to sleep.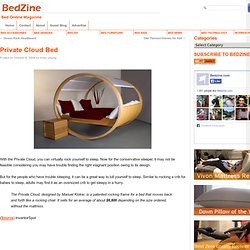 Now for the conservative sleeper, it may not be feasible considering you may have trouble finding the right stagnant position owing to its design. But for the people who have trouble sleeping, it can be a great way to lull yourself to sleep. Similar to rocking a crib for babies to sleep, adults may find it as an oversized crib to get sleepy in a hurry. The Private Cloud, designed by Manuel Kloker, is a patented rocking frame for a bed that moves back and forth like a rocking chair. It sells for an average of about $6,800 depending on the size ordered, without the mattress. Rise and Sing with the Bird Alarm Clock. My current alarm clock is jarring.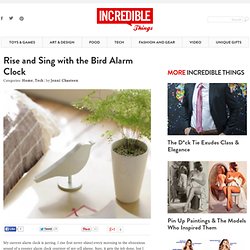 I rise (but never shine) every morning to the obnoxious sound of a rooster alarm clock courtesy of my cell phone. Sure, it gets the job done, but I never wake feeling like I got out of the right side of the bed… and the people around me notice. For years I've figured that I'm just not a morning person, but maybe I'm just waking up to the wrong bird. Bird Alarm Clock replaces buzzing, beeping and cock-a-doodle-doo-ing with the sweet singsong sounds of chirping for a much more peaceful morning. Available in white, rose and light brown, this little birdie stays perched by your bed waiting to serenade you at sunrise… or whatever time it is that you set your alarm for in the morning. 15 Coolest Pillows - Oddee.com (cool pillows)
Blood Puddle Pillow If your idea of a good time is tricking people into thinking you've been shot, these blood puddle pillows are perfect for you.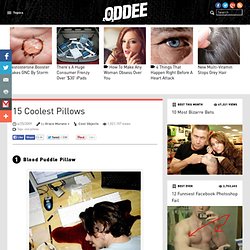 Inspired by those suspenseful moments when a sleeping loved one is a little too still for a little too long, they are an irreverent combination of comfort and fear. In bed with good design. Bedroom. I've been busy designing a project that installs at the end of the month (a model home) and am working on bedding at this very moment.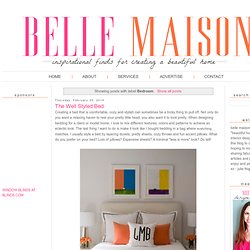 Finding myself hitting a "creativity" roadblock, I decided jump online to hopefully spark some fresh ideas. After analyzing bedroom after bedroom, I've come to the conclusion that pretty much anything goes when it comes to bedding...as long as the fabrics somehow coordinate, you can pull almost anything off! Headboards definitely add something special to the overall look of a bed, but if that isn't an option, wallpaper or accent paint are just as great to really make everything pop.
I love very minimal bedding but also have a weakness for lots of pillows and texture! What do you prefer when it comes dressing the bed? Bedroom Designs: Modern Interior Design Ideas & Photos. Do you prefer plush padding a minimalist pillow, a decked-out design or toned-down interior?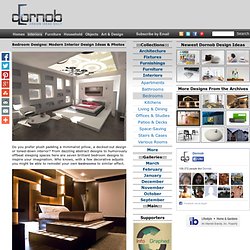 From dazzling abstract designs to humorously offbeat sleeping spaces here are seven brilliant bedroom designs to inspire your imagination. Who knows, with a few decorative adjusts you might be able to remodel your own bedrooms to similar effect. If you love soft illumination and hate to sacrifice privacy, this bedroom interior has a brilliant combination of strategies from uplighting around the bed itself to wall panels that block direct views and sunlight but let light in around them.
If you are more of a minimalist, this simple bedroom space has a rhythmic modularity and combines soft white walls and ceiling with variegated wood furniture and furnishings for a pleasantly mixed aesthetic experience. Modern Teen Room By Battistella Industria Mobili | Architecture and Home Design. Battistella Industria Mobili specialises in production of wooden furniture for kids and teen rooms.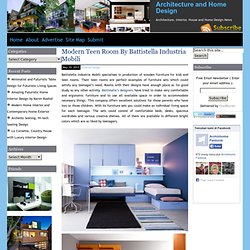 Their teen rooms are perfect examples of furniture sets which could satisfy any teenager's need. Rooms with their designs have enough place as for good study as any other activity. Battistella's designers have tried to make very comfortable and ergonomic furniture and to use all available space in order to accommodate necessary things.
Bedroom Design: 20 Ideas for Your Own Designer Bedroom. Amazing pictures and great ideas can be almost as helpful in designing the best new bedroom as having a cool designer – and inspiration is free.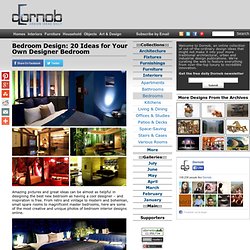 From retro and vintage to modern and bohemian, small spare rooms to magnificent master bedrooms, here are some of the most creative and unique photos of bedroom interior designs online. Cool & Hot Colored Bedroom Design: An age-old interior designer trick is to start with a great color palette and work from there, finding, designing and painting around that first defining choice. From simple modern black, white or grey palettes the bright blue, yellow and red choices in the pictures above, this is a good way to start small and build a big space around a tiny color concept. 30 Contemporary Bedrooms That Will Rock Your World.
When it comes to , the design alternatives are endless.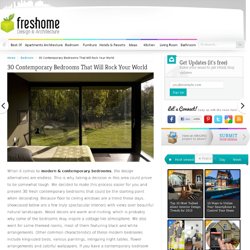 This is why taking a decision in this area could prove to be somewhat tough. We decided to make this process easier for you and present 30 fresh contemporary bedrooms that could be the starting point when decorating. Because floor to ceiling windows are a trend these days, showcased below are a few truly spectacular interiors with views over beautiful natural landscapes. Wood decors are warm and inviting, which is probably why some of the bedrooms may inspire a cottage-like atmosphere. The World's Best Beds: Where Daydreams Do Come True. Luxury Beds To commemorate Valentine's Day, we've searched the world to find a collection of the most lavish, over-the-top, amazingly cozy, and unique beds a couple could ever wish to spend 48 hours in.
Consider it a "bucket list" for romantic getaways-with pictures to inspire. By Lena Katz Sleeping With the Stars Bed | Los Cabos, Mexico One of the most romantic and elegant hotels in Los Cabos is Las Ventanas al Paraiso.
---