2
During the 2nd century of the Christian Era, Illyria (part of which is modern Albania) was Christianised. In 732 Pope Gregory III placed the Albanian churches under the leadership of the patriarch of Constantinople. The Christians became part of the Eastern Orthodox church. In 1054, following the Schism between the Eastern and Western churches, there was a split in the Albanian church. Southern Albania remained associated with Constantinople, and northern Albania reunited with Rome. Then, in the 15th century, the Turks introduced Islam.
The Bektashi Order of Sufi Dervishes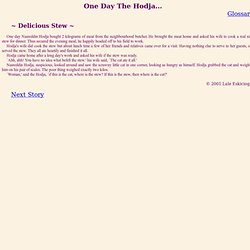 One Day The Hodja...
~ Delicious Stew ~ One day Nasreddin Hodja bought 2 kilograms of meat from the neighbourhood butcher. He brought the meat home and asked his wife to cook a real nice stew for dinner.
The Bektashi Order of Sufi Dervishes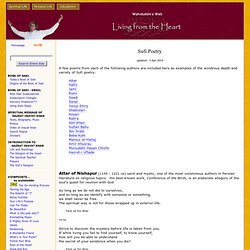 updated: 13-Aug-2010 A few poems from each of the following authors are included here as examples of the wondrous depth and variety of Sufi poetry: Attar Hafiz Jami Rumi Saadi Sanai Yunus Emry Shabistari Ansari Rabi'a Abil Kheir Sultan Bahu Ibn 'Arabi Baba Kuhi Mansur al-Hallaj Amir Khusrau Moinuddin Hasan Chishti Hazret-i Uftade Also see the Sufi poetry of wahiduddin . Attar of Nishapur (1145 - 1221 ce) saint and mystic, one of the most voluminous authors in Persian literature on religious topics. His best-known work, Conference of the Birds, is an elaborate allegory of the soul's quest for reunion with God
Sufi Poetry
::Moments With Shams::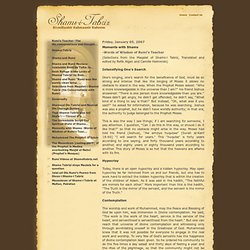 Friday, January 05, 2007 Moments with Shams -Words of Wisdom of Rumi's Teacher (Selections from the Maqalat of Shams-i Tabriz, Translated and edited by Refik Algan and Camille Helminski) Intensifying One's Search One's longing, one's search for the beneficence of God, must be so strong and intense that like the longing of Moses it allows no obstacle to stand in the way.
Perko's reviews
~ Gift Rabbit ~ A few people from another village, mere acquaintances of Nasreddin Hodja, were in Aksehir for some trade business. At the end of the day, they knocked on Hodja's door. `Hodja Effendi, since we were in town, we thought we should pay you a little visit.
One Day The Hodja...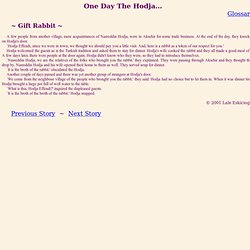 The 30th of September this year marks the 800th birth anniversary of one of the greatest Sufi mystic poet of Islam, Mevelana Hazrat Jalaluddin Rumi. In honor of Mevlana's 800th birthday, UNESCO has declared 2007 to be the Year of Mevlana – a year of love and understanding. The name Mevlana Jalaluddin Rumi stands for an ecstatic flight into the infinite love. Everything other than love for the most beautiful God Though it be sugar- eating.
Mevlana Rumi: Ecstasy And Order | Indian Muslims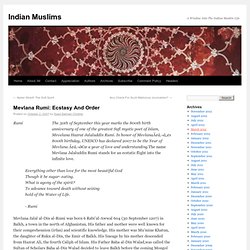 1. Nafs-i-Ammara, the Commanding Nafs Behold! The commanding nafs encourages evil, except when my Lord bestows mercy.
Levels of Nafs