Objects
Dumpling - The Backpack by Shin Ji-Young. Dumpling Inspired Backpack Here's a slightly different take on the backpack.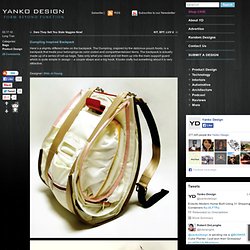 The Dumpling, inspired by the delicious pouch foods, is a backpack that treats your belongings as color coded and compartmentalized items. The backpack is actually made up of a series of roll-up bags. 10 Cool and Creative Bookmarks. Cassette Tape Bookmark This has to be one of my favorite bookmarks yet.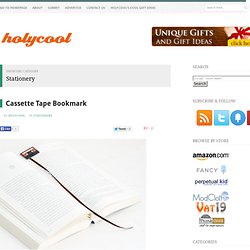 The cassette features magnets on the inside so it clings securely in place. The polyester tape makes it easier to flip open your book. Sold in a set of 3, available in many colors. $6 Buy it here. AtoD Rechargeable Battery by Pyeong Joo Goh, Jong Seung Choi & Ji Soo Hong. Never Get The Size Wrong What size are they….AA, C, D?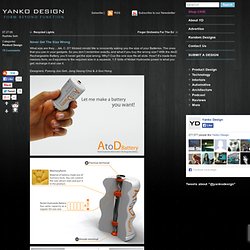 Wicked minds! Me is innocently asking you the size of your Batteries. The ones that you use in your gadgets. 82 Clever and Creative Fred & Friends Products. I'm sure you've come across Fred & Friend products before at your local indie store and might not have even known it.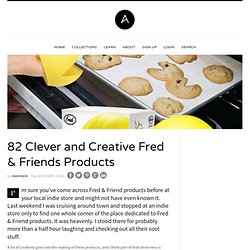 Last weekend I was cruising around town and stopped at an indie store only to find one whole corner of the place dedicated to Fred & Friend products. It was heavenly. Last Drop : Pumping Up Till The Last Drop From The Bottom of A Bottle | Modern Industrial Design and Future Technology - Tuvie. The Last Drop concept derived from the inconvenience of pumping up the finishing liquid from the bottom of a shampoo or shower gel container to avoid everyday wastage.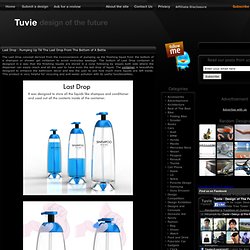 The bottom of Last Drop container is designed in a way that the finishing liquids are stored in a cone following by slopes both side where the dispenser can easily reach and let the user to have even the last drop of liquid. The container is beautifully designed to enhance the bathroom décor and lets the user to see how much more liquids are left inside. This product is very helpful for recycling and anti-water pollution with its useful functionalities. Designer : Seonkeun Park and Jinsun Park. An Idea Can Change Your Life. Buckyballs | The Amazing Magnetic Desktoy You Can't Put Down.
9 Hilarious Wall Hook Designs. 10 Ships with Unusual Large Cargo Heavy lift vessels are quite amazing vessels, built to load, carry and discharge large, unusual shaped cargoes (or even smaller vessels) that will simply not fit inside the holds of conventional vessels.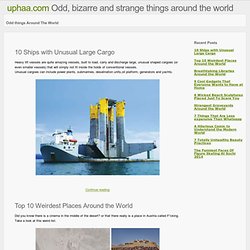 Unusual cargoes can include power plants, submarines, desalination units,oil platform, generators and yachts. Continue reading Top 10 Weirdest Places Around the World. Bathrooms of the Future. Ever wonder how tomorrow's bathrooms would look like?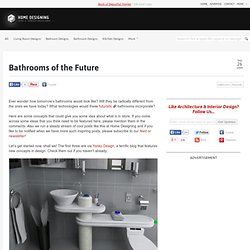 Will they be radically different from the ones we have today? What technologies would these futuristic bathrooms incorporate? Here are some concepts that could give you some idea about what is in store. Sleep With The Fishies: Shark Sleeping Bag. Ever wanted to sleep inside a shark?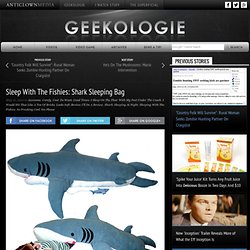 Me neither, I've just always wanted to cuddle. But if you're in college and want to experiment before settling down in a relationship, make sure to get your roommate blackout drunk first. Then when he wakes up in the morning and can't remember anything tell him he had a fine-ass girl over. But it was really you. 10 Most Unusual Mirrors - Oddee.com (cool mirror, creative mirrors) Razorblade Mirror A nice piece of design from Suck UK, the Razorblade Mirror is based on the shape of a typical razorblade.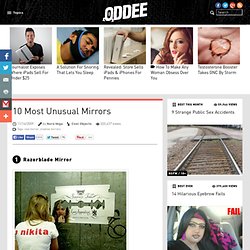 Designed by Phil Sims and ideal for a novelty shaving mirror or just an interesting decoration for your living room wall, it's even got the name of the most famous razorblade-user of all on the front - Sweeney Todd. Razor Blade Mirror is selling for £74.99. The price is pretty high for a mirror. So, make sure you are not buying this mirror only for just a "mirror"! 15 Coolest Pillows - Oddee.com (cool pillows) Blood Puddle Pillow If your idea of a good time is tricking people into thinking you've been shot, these blood puddle pillows are perfect for you.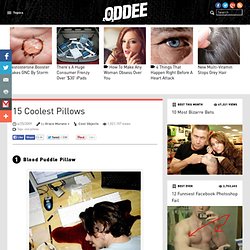 Inspired by those suspenseful moments when a sleeping loved one is a little too still for a little too long, they are an irreverent combination of comfort and fear. Carzor by Kuo Chia Hung. Carzor! The Stubble Eliminator! Have you ever woken up one day, gotten ready for work, prepared for the biggest meeting of your LIFE, and realize, oh NO! There's stubble on your face? Well let me tell you about this thing then! It is called Carzor!
---