Interesting Books on the Brain & Mind
The books included within this pearltree are those I either have read or intend to read and as such may or may not be of a highly scientific type., as I am merely an interested layman. I therefore make no claims to their value for scientific research, but just as interesting reading. charmainezoe Aug 16
Get flash to fully experience Pearltrees
Review "Arrowsmith-Young's poignant and uplifting book about her transformation from a child born with severe learning disabilities to a dynamic pioneer in cognitive education offers hope to anyone who has ever struggled with a learning disorder, brain trauma, ADD, or stroke.
by Maria Popova What seeing rainbows has to do with artificial intelligence and the biology of infidelity. Sum: Forty Tales from the Afterlives by neuroscientist David Eagleman is one of my favorite books of the past few years.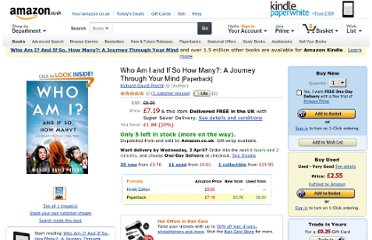 There are many books about philosophy, but Who Am I?
I don't know what I expected from The Neurotourist but it wasn't what I got. In this book Danish scientist Lone Frank visits a variety of academic institutions and has conversations with a variety of neuroscientists and discusses how neurology impacts religion, ethics, sociology, crime, marketing and economics. Some of these subjects are interesting but it's very much theory-lite.
by Maria Popova What mirror neurons have to do with Abu Ghraib, the science of religion, and how happiness flourishes. For the past 15 years, literary-agent-turned-crusader-of-human-progress John Brockman has been a remarkable curator of curiosity, long before either "curator" or "curiosity" was a frivolously tossed around buzzword. His Edge.org has become an epicenter of bleeding-edge insight across science, technology and beyond, hosting conversations with some of our era's greatest thinkers (and, once a year, asking them some big questions .) Last month marked the release of The Mind , the first volume in The Best of Edge Series , presenting eighteen provocative, landmark pieces — essays, interviews, transcribed talks — from the Edge archive.