RESEARCH GROUPS
fine research labs in robotics
fine research labs in robotics
Robotics Research
DTI - Robot Technology
Socially Intelligent Machines Lab
Robocup Dutch Open - Welkom
Robotics Conferences | NestedUniverse.net
LogiXperience - logistiek en supply chain
It's a place where your refrigerator could be connected to the Internet, so it could order groceries when they ran low. Your dinner plate could post to a social network what you're eating. Your robot could go to the office while you stay home in your pajamas. And you could, perhaps, take an elevator to outer space.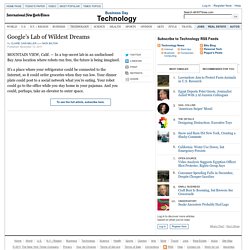 * The Future of Robotics and Artificial Intelligence (Andrew Ng, Stanford University, STAN 2011)
* Robot plays pool
When mendengan Wiilow Garage in mind you will definitely go to a robot PRnya. because lately Willow Garage has introduced the Open Source Operating System to the newest robots (ROS).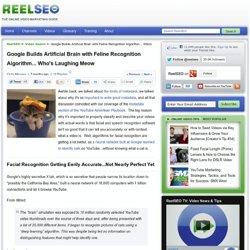 Awhile back, we talked about the kinds of metadata , we talked about why it's so important to write good metadata , and all that discussion coincided with our coverage of the metadata section of the YouTube Advertiser Playbook .
* Google Builds Artificial Brain with Feline Recognition Algorithm... Who's Laughing Meow
* Quadrotor Autonomous Flight and Obstacle Avoidance with Kinect Sensor
'Green Brain' project to create an autonomous flying robot with a honey bee brain - News releases - News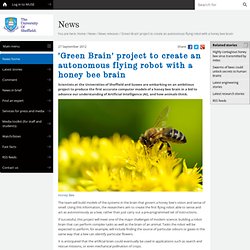 Scientists at the Universities of Sheffield and Sussex are embarking on an ambitious project to produce the first accurate computer models of a honey bee brain in a bid to advance our understanding of Artificial Intelligence (AI), and how animals think.
EURON | Projects
RoboCom Flagship: More than Future | CA-RoboCom
Robotics Research | TU Berlin
iCat Research Platform
Always being connected is something everyone takes for granted nowadays.
Information, communication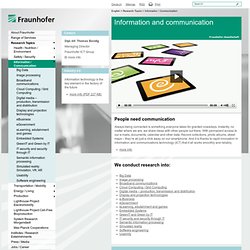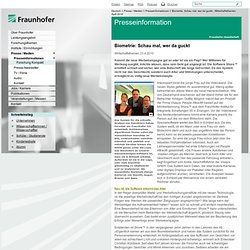 Biometrie: Schau mal, wer da guckt | Fraunhofer
Interessiert blickt die junge Frau auf die Videowand. Die neuen Styles gefallen ihr ausnehmend gut.
TU Delft Robotics Institute
KSERA
How to build socially engaging robots and interactive technologies that provide people with long-term social and emotional support to help people live healthier lives, connect with others, and learn better. Robots are an intriguing technology that can straddle both the physical and social world of people. Inspired by animal and human behavior, our goal is to build capable robotic creatures with a "living" presence, and to gain a better understanding of how humans will interact with this new kind of technology. People will physically interact with them, communicate with them, understand them, and teach them, all in familiar human terms. Ultimately, such robots will possess the social savvy, physical adeptness, and everyday common sense to partake in people's daily lives in useful and rewarding ways.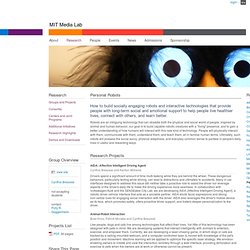 Personal Robots | MIT Media Lab
Many universities around the world are working on the development of robots. In most cases independently, which means development takes longer, robots remain costly and products from different groups are incompatible. That's why Eindhoven University of Technology (TU/e) is today, 1 December 2011, starting the Robotic Open Platform (ROP), an open source system for robot hardware. The aim is for this to become a large plug and play library to which robot builders worldwide can add their designs or improve existing ones. The higher goal is to accelerate the development of applications such as care robots, and to make them much cheaper than they are at present. TU/e itself is making available the complete blueprints of its AMIGO care robot and the well known TU/e soccer robots.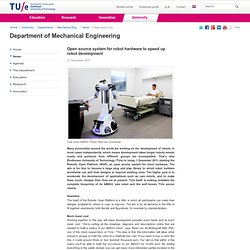 * Open source system for robot hardware to speed up robot development
Sioux heeft onlangs de ontwikkeling van de technische software van zorgrobot Rose afgerond. Mede dankzij deze software kan Rose intelligente thuiszorgtaken verrichten zoals eten in de magnetron doen, een pak melk pakken, een dienblad optillen of de tafel met een doek afnemen.
Sioux ontwikkelt technische software voor zorgrobot Rose - Nieuws - Engineersonline.nl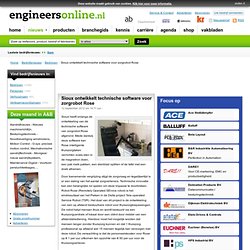 News Check out our latest information here! Many bodies, many brains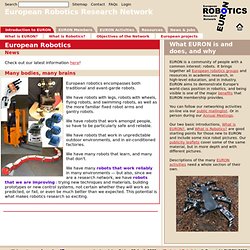 European Robotics Research Network
European Robotics Public Private Partnership (PPP)
The European Robotics Public Private Partnership (PPP) is the teaming up of the robotics industry, research, academia and the European Commission to launch a joint research, development and innovation programme in order to strengthen the position of European robotics as a whole. The programme will be jointly developed by the private side (robotics manufacturers, component manufacturers, systems integrators, end users, research institutes, universities) and the public side (the European Commission).
European Summit - Lyon Mars 2012
EUROP, the European Robotics Technology Platform, is an industry-driven framework for the main stakeholders in robotics to strengthen Europe's competitiveness in robotic R&D, as well as global markets, and to improve quality of life. To this aim EUROP has developed a joint European Strategic Research Agenda (SRA), which would help focus research initiatives and innovative activities towards maximum impact. The SRA was published in July 2009.
European Robotics Technology Platform
* Professional service robots - Continued Increase
**CompanionAble
32767-annex_6_to_the_decision_ict_for_cap_en
The International Journal of Robotics Research
Biomechatronics | MIT Media Lab
Synthetic Neurobiology