Psy Ops
Defensie bereidt zich voor op digitale oorlog | nu.nl/internet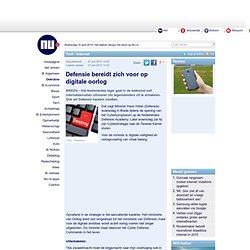 BREDA - Het Nederlandse leger gaat in de toekomst zelf internetaanvallen uitvoeren om tegenstanders uit te schakelen. Ook wil Defensie hackers inzetten. Foto: Thinkstock
Psywar - Full Documentary
Tupac Exposed: Breaking the Illuminati Oath
Illuminati - The Music Industry Exposed [Full Length]
New Tupac Shakur Documentary Full Movie by KnowTheTruthTV Hologram Killuminati Illuminati Exposed
Occult Forces(1943)
'Fuck Euro2012'
De kunst van het liegen We beginnen met een citaat. Mag u raaien van wie het is: "Er is in de grove leugen altijd iets geloofwaardigs gelegen, omdat de grote massa, in haar primitieve eenvoud van geest, eerder zwicht voor een grote dan voor een kleine leugen, aangezien zij zichzelf wel aan leugens om kleinigheden schuldig maakt, maar zich ervoor zou schamen leugens op grote schaal te debiteren. Het zou nimmer bij de grote massa opkomen enorme onwaarheden te vertellen, en zij weigert dus ook te geloven dat anderen zo brutaal zijn om de waarheid op zo onbeschaamde wijze verdraaien."
De kunst van het liegen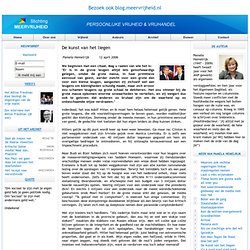 Otpor - The Revolution Business - Arab Spring Occupy ........ - Tír na Saor ~ Land of the Free
The Revolution Business - World
Die Revolutionsprofis - ORF - 1 / 2
Otpor's Revolution Business - Helping Arab revolutions
Syria - Houla Massacre and BBC Scandal 28-05-2012
Occupy Wall Street And Its CIA And Oligarchical Roots
Things to Come
As with all totalitarian regimes, the black/white or the good/bad Baby Bush "You're either with us or you're with the Terrorists" – binary rhetoric lies at the heart of the Global Power Elite's PsyWar technology. In 2004, Denis Boneau, a French journalist writing for the Voltaire Network, published an article called "The Science of World Domination" (www.voltairenet.org/The-Science-of-World-Domination), making an excellent summary of key milestones in the development of the United States' post-World War II Global Psychological Warfare Strategy. He starts by describing the Truman Doctrine of "Containment" of the former Soviet Union that was based on the so-called "long telegram" sent to the State Department in 1946 by an advisor in the US embassy in Moscow – and key Council on Foreign Relations (CFR) scholar – George S.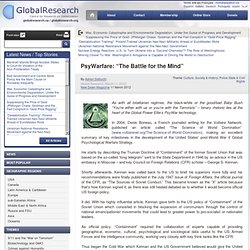 PsyWarfare: "The Battle for the Mind"
Exposed: Kony 2012 Scam Is a Soros/NGO Front
Alex Jones & Aaron Dykes Prison Planet.com March 15, 2012 Kony 2012, hyped on the backs of celebrities and do-gooders, is revealed for what it is– a propaganda salvo for a continent wide invasion of Africa. Yes, the mantra War is Peace is once again drumming U.S. soldiers into further conflict.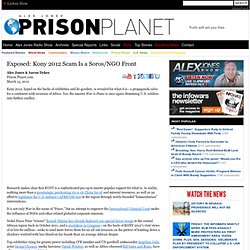 Secrets KONY 2012 Is Desperate to Hide
A Shocking Truth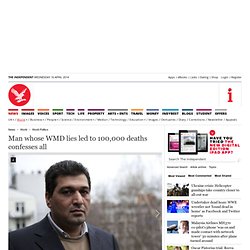 "Curveball", the Iraqi defector who fabricated claims about Iraq's weapons of mass destruction, smiles as he confirms how he made the whole thing up. It was a confidence trick that changed the course of history, with Rafid Ahmed Alwan al-Janabi's lies used to justify the Iraq war. He tries to defend his actions: "My main purpose was to topple the tyrant in Iraq because the longer this dictator remains in power, the more the Iraqi people will suffer from this regime's oppression." The chemical engineer claimed to have overseen the building of a mobile biological laboratory when he sought political asylum in Germany in 1999.
Man whose WMD lies led to 100,000 deaths confesses all - World Politics - World
Obama's dirty dozen: Secret Service men behaving badly in Colombia
Nederland geeft 1 miljoen euro voor opvang Syrische vluchtelingen
President Abdullah Gül (links) luistert naar premier Rutte, die vanmiddag toezegt één miljoen euro beschikbaar te stellen voor de opvang van Syrische vluchtelingen in Turkije. Beeld: screenshot Youtube.com Binnenland Nederland stelt een miljoen euro beschikbaar aan de vluchtelingenorganisatie van de Verenigde Naties (UNHCR) voor de opvang van Syrische vluchtelingen in Turkije, meldt persbureau Novum. Dat heeft premier Rutte vanmiddag gezegd na een ontmoeting met de Turkse president Abdullah Gül.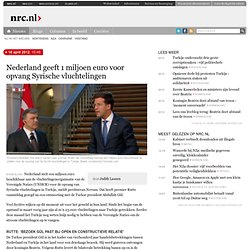 Rutte over bezoek Gül: past bij open en constructieve relatie
De Nederlandse Publieke Omroep maakt gebruik van cookies. We maken een onderscheid tussen functionele cookies en cookies voor het beheer van webstatistieken, advertenties en social media. De cookies bevatten geen persoonsgegevens en zijn dus niet tot een individu te herleiden. Met de cookies voor advertenties en social media worden mogelijk door derden gegevens verzameld buiten de websites van de Nederlandse Publieke Omroep. Bij instellingen kun je aangeven deze cookies niet te accepteren. Door hiernaast op akkoord te klikken of door gebruik te blijven maken van deze website, geef je toestemming voor het plaatsen van cookies bij bezoek aan de websites van de Nederlandse Publieke Omroep.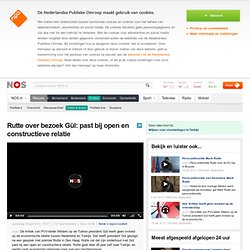 Mount Vernon, October 24, 1798. Revd Sir: I have your favor of the 17th. instant before me; and my only motive to trouble you with the receipt of this letter, is to explain, and correct a mistake which I perceive the hurry in which I am obliged, often, to write letters, have led you into. It was not my intention to doubt that, the Doctrines of the Illuminati, and principles of Jacobinism had not spread in the United States. On the contrary, no one is more truly satisfied of this fact than I am.
George Washington acknowledged the Doctrines of the Illuminati were spreading in United States (in Library of Congress)