Hibernate
Compass and Grails how to - Grails - Confluence. By Maurice Nicholson Update Why Compass?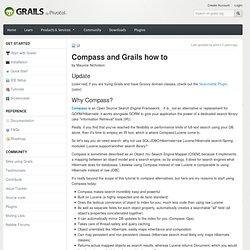 Objects by Design: Open Source Software. Hibernate + IndexColumn. La persistance des données avec Hibernate 2.1.8 - Club d'entraide des développeurs francophones. Hibernate est une bibliothèque Java diffusée sous licence LGPL.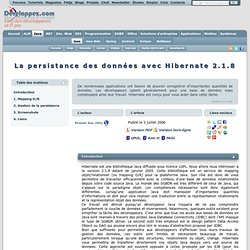 Nous allons nous intéresser à la version 2.1.8 datant de janvier 2005. Cette bibliothèque est un service de mapping objet/relationnel (ou mapping O/R) pour la plateforme Java. Son rôle est donc de vous permettre de travailler efficacement avec le contenu d'une base de données relationnelle depuis votre code source Java. How to configure logging in Hibernate – SLF4j + Log4j. Hibernate uses Simple Logging Facade for Java (SLF4J) to redirect the logging output to your perfer logging frameworkis (log4j, JCL, JDK logging, lofback…).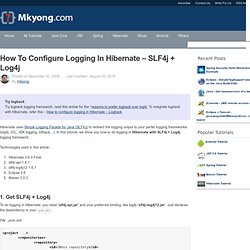 In this tutorial, we show you how to do logging in Hibernate with SLF4j + Log4j logging framework. Technologies used in this article : Hibernate 3.6.3.Finalslf4j-api-1.6.1slf4j-log4j12-1.6.1Eclipse 3.6Maven 3.0.3.
---