Karsh
Yousuf Karsh / Photographer / Yousuf karsh. Yousuf Karsh. Yousuf Karsh, CC (Armenian: Յուսուֆ Քարշ; December 23, 1908 – July 13, 2002) was an Armenian-Canadian portrait photographer.[2] Life and career[edit] Yousuf Karsh was born in Mardin, a city in the eastern Ottoman Empire (present Turkey).[3] He grew up during the Armenian Genocide where he wrote, "I saw relatives massacred; my sister died of starvation as we were driven from village to village.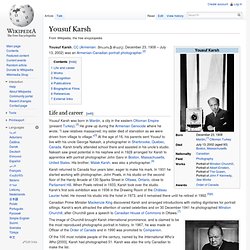 Richard Avedon. Richard Avedon (May 15, 1923 – October 1, 2004) was an American fashion and portrait photographer.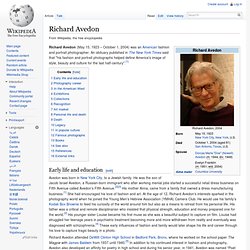 An obituary published in The New York Times said that "his fashion and portrait photographs helped define America's image of style, beauty and culture for the last half-century".[1] Early life and education[edit] Photography career[edit] Richard avedon. THE RICHARD AVEDON FOUNDATION.
---