Information
10 Awesome Infographics for Graphic Designers. As a graphic designer, you've probably designed at least a few infographics for your clients – or even for fun.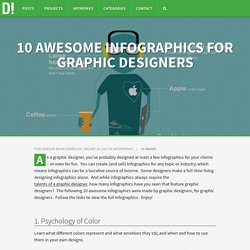 You can create (and sell) infographics for any topic or industry, which means infographics can be a lucrative source of income. Some designers make a full-time living designing infographics alone. And while infographics always require the talents of a graphic designer, how many infographics have you seen that feature graphic designers? The following 10 awesome infographics were made by graphic designers, for graphic designers. Anatomy of a Web Design Client. Share this infographic on your site!
<a href=" src=" alt="Anatomy of a Web Design Client" width="500" border="0" /></a><br />From: <a href=" Web Design Schools</a> Embed this infographic on your site! How to Forecast Weather | Ever wondered how to forecast the weather without actually using instruments?
Check the Clouds: Clouds can tell us a lot about the weather. For example, they can tell us if it's going to be warmer on a particular night by simply being there. That's because they prevent heat radiation from escaping. 50 most stunning examples of data visualization and infographics. 50 most stunning examples of data visualization and infographics Posted by Richie on Thursday, April 15, 2010 · 86 Comments "A picture is worth a thousand words", if I had a penny for every time I heard that!! There is so much data in the world today that it has become impossible for us to analyze them with patience. Data as we perceive it, need not be boring, bland and cumbersome to remember. Of All The People In All The World. Of All The People In All The World, a traveling art exhibit in the UK, uses grains of rice to bring the large numbers behind world populations to the grasp of the average human being.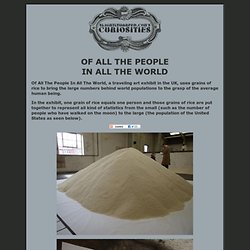 In the exhibit, one grain of rice equals one person and those grains of rice are put together to represent all kind of statistics from the small (such as the number of people who have walked on the moon) to the large (the population of the United States as seen below). Link. The World of 100 : Toby Ng Design. The World of 100 If the world were a village of 100 people, what would its composition be?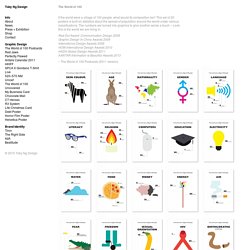 This set of 20 posters is built on statistics about the spread of population around the world under various classifications. The numbers are turned into graphics to give another sense a touch – Look, this is the world we are living in. Red Dot Award: Communication Design 2009 Graphic Design In China Awards 2009 International Design Awards 2009 HOW International Design Awards 2010 HKDA Global Design Awards 2011 KANTAR Information Is Beautiful Awards 2013 – The World of 100 Postcards (2011 version)
25+ Useful Infographics for Web Designers. Infographics can be a great way to quickly reference information.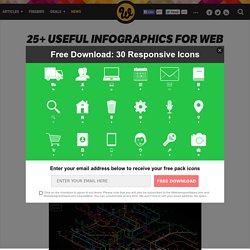 Instead of pouring over figures and long reports to decipher data, an infographic can immediately make apparent exactly what a dataset actually means. Below are more than 25 infographics that can be useful to web designers. Some are incredibly practical, some provide information that might be of interest to designers and some just present data that might be interesting to those who design websites all day. Typography Meets Infographics on Datavisualization. 45 Creative Resumes to Seize Attention.
Are you one of those job seekers who have been sending far too many resumes and been hit with far too many disappointment?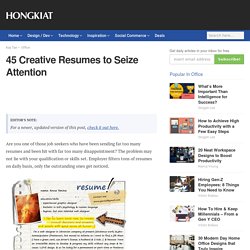 The problem may not lie with your qualification or skills set. Employer filters tons of resumes on daily basis, only the outstanding ones get noticed. A creative resume is fairly important. Infographic of the Day: How Color Affects Purchases | Designerscouch #thecritiquenetwork.
---