Inspiration
30 Things to Stop Doing to Yourself. Post written by: Marc Chernoff Email When you stop chasing the wrong things you give the right things a chance to catch you.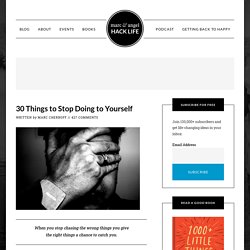 As Maria Robinson once said, "Nobody can go back and start a new beginning, but anyone can start today and make a new ending." Nothing could be closer to the truth. The Top 20 Things Oprah Knows for Sure. YOU. You.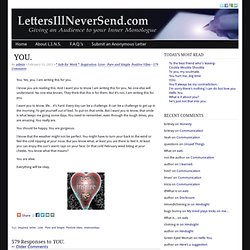 Yes, you. I am writing this for you. I know you are reading this. And I want you to know I am writing this for you. No one else will understand. LYRICS TO LIVE BY. Expressions - Photo 165 of 263. Jazzyrae's ramblings. — The greatest irony of life is loving the right... The greatest irony of life is loving the right person at the wrong time, having the wrong person when the time is right and finding out you love someone after that person walks out from your life.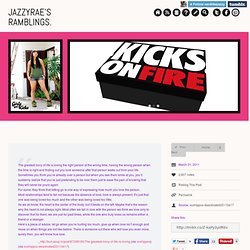 Sometimes you think you're already over a person but when you see them smile at you, you'll suddenly realize that you're just pretending to be over them just to ease the pain of knowing that they will never be yours again. For some, they think that letting go is one way of expressing how much you love the person. 24886620_3uUjHxhZ_c.jpg (500×357) 359Uu.jpg (480×563) A little inspiration goes a long way (32 Photos. 70 Reminders to Help You Break Any Barrier. I am pleased to introduce this guest article by a new friend John, the creator of HiLife2B, where he hopes to inspire people and to help them achieve their dreams.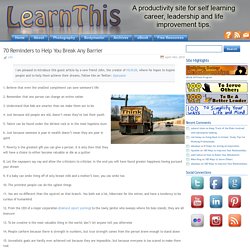 Follow him on Twitter: @janyasor 1. Believe that even the smallest compliment can save someone's life 2. Remember that one person can change an entire nation. Quotes-quotes--art-photography--messages-and-quotes--ceca--mix--words--miracles--sayings--PICS-FOR--tags_large.jpg (413×550) One red paperclip. The paperclip that Kyle MacDonald traded for a house.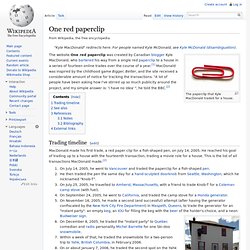 The website One red paperclip was created by Canadian blogger Kyle MacDonald, who bartered his way from a single red paperclip to a house in a series of fourteen online trades over the course of a year.[1] MacDonald was inspired by the childhood game Bigger, Better, and the site received a considerable amount of notice for tracking the transactions. "A lot of people have been asking how I've stirred up so much publicity around the project, and my simple answer is: 'I have no idea'", he told the BBC.[2] Trading timeline[edit] 12 Steps to Make a Dream a Reality. Email No fluff.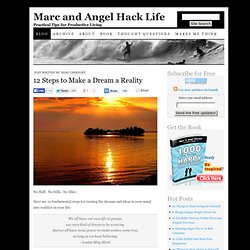 No frills. No filler. Here are 12 fundamental steps for turning the dreams and ideas in your mind into realities in your life. We all have our own life to pursue, our own kind of dream to be weaving. Gandhi's Top 10 Fundamentals for Changing the World. "You must not lose faith in humanity.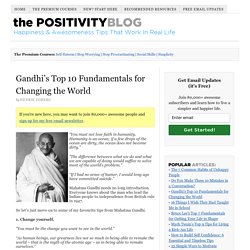 Humanity is an ocean; if a few drops of the ocean are dirty, the ocean does not become dirty." "The difference between what we do and what we are capable of doing would suffice to solve most of the world's problem." 13 sites to get your creative juices flowing | dreambeaker. By Ophelia on 2/10/2014 looking on the side FWB.......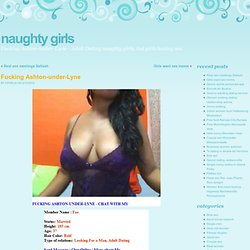 Hello, x year good old male here looking for a women for nsa situation(clean, enjoyable & safe). Anyone who are able to host comes to start fucking Ashton-under-Lyne with. i have an important pic to business. fucking Ashton-under-Lyne Heiligenhaus DE Germany, Cottondale town, Valley Hill CDP, Newry borough, Saanich, British Columbia, Atherstone, Game Creek AK, Egan South Dakota SD. 60 Small Ways to Improve Your Life in the Next 100 Days. Contrary to popular belief, you don't have to make drastic changes in order to notice an improvement in the quality of your life.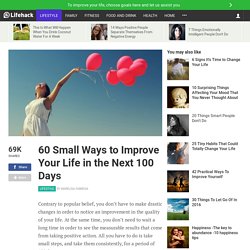 At the same time, you don't need to wait a long time in order to see the measurable results that come from taking positive action. All you have to do is take small steps, and take them consistently, for a period of 100 days. Below you'll find 60 small ways to improve all areas of your life in the next 100 days. Home. Believe--Lewis-Carroll-Magnet-C11813944.jpeg 400×402 pixels picture on VisualizeUs. Quote-mary-ruggle.jpg (335×480) Life-quotes.jpg (500×375) 25 Most Romantic Movie Quotes | Extra. Heartbreak044.gif (400×195) Quote by Bob Marley: "Only once in your life, I truly believe, you find..." Mae West Quotes. MyQuotes. People That Come Into Your Life. Sometimes people come into your life and you know right away that they were meant to be there... to serve some sort of purpose, teach you a lesson or help figure out who you are or who you want to become.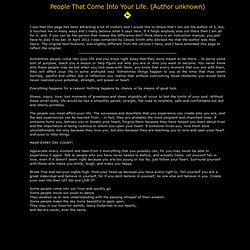 You never know who these people may be but when you lock eyes with them, you know that every moment that you are with them, they will affect your life in some profound way. Sometimes things happen to you at the time that may seem horrible, painful and unfair, but in reflection you realize that without overcoming those obstacles you would have never realized your potential, strength, will power or heart. Everything happens for a reason! Nothing happens by chance or by means of good luck. Illness, injury, love, lost moments of greatness and sheer stupidity all occur to test the limits of your soul. I've learnt that... One day Alice came to a fork in the road and saw a Cheshire cat in a tree. "Which road do ..... - Lewis Carroll. 7 Lessons From 7 Great Minds. Have you ever wished you could go back in time and have a conversation with one of the greatest minds in history?
Well, you can't sorry, they're dead. Unless of course you're clairaudient, be my guest. How to Wake up Every Morning on Top of The World. "You get peace of mind not by thinking about it or imagining it, but by quietening and relaxing the restless mind." ~Remez Sasson What's the first thought that goes through your head when you wake up in the morning? Is it deliberate or is it the default "Oh shi#$, it's six!"? If that's how you start your day, then it's likely your day will be filled with anxiety and stress. 168174_136086809786879_100001566818579_231457_4771928_n_large.jpg (500×304) Words of Wisdom ~ Communication & Relationships. Compiled by Peter Shepherd "Communication is the solvent of all problems and is the foundation for personal development." —Peter Shepherd "A good listener is not only popular everywhere, but after a while he knows something."
—Wilson Mizner "Nothing lowers the level of conversation more than raising the voice." Author Pablo Neruda Quote So I Wait For You Like A Lonely House. Author Edgar Allan Poe Quote Years Of Love Have Been. Author Osho Quote Silence. The Inspiration Tree: The Pursuit of Happiness: 15 Lessons to Keep in Mind.
---