Paper
How To Create Paper Blossoms | Apartment Therapy DC. Previous image Next image We've talked about using paper decorations to punch up a last minute party, but there are ways that you can incorporate paper into your everyday décor as well.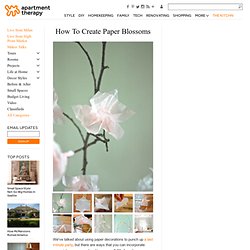 Free Printable, Party Printable, Kawaii, Paper Crafts, Kids Crafts, Stationery, Printable. Paper Crafts & Scrapbooking. Free Hi-Res Old Grunge Paper Textures | fudgegraphics | for love. It's time for another high resolution texture set.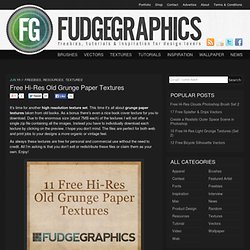 This time it's all about grunge paper textures taken from old books. As a bonus there's even a nice book cover texture for you to download. Due to the enormous size (about 7MB each) of the textures I will not offer a single zip file containing all the images. Instead you have to individually download each texture by clicking on the preview. Books & Notebooks. My hero, soldier. Easy Cut Pop-up™ are makers of the printable Kirigami pop-up card pattern.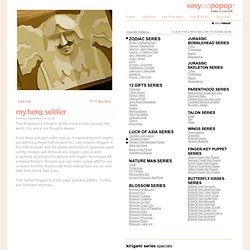 These elegant card making templates make the art of Kirigami pop-up cards easy for even the novice crafter. With so many printable pop-up card making patterns, you can make a special greeting card for any occasions. Ideal for novice paper crafters and advanced paper craft enthusiast. If you enjoy Paper Crafts, Origami, Kirigami, Monkiri, Papel Picado, Scherenschnitte, Wycinanki, Card Making, and Scrapbooking, Easy Cut Pop-up™ patterns are a great addition to your paper craft studio.
Crafts Beautiful Magazine | Arts and Craft Ideas | Hobby Crafting. Nona Designs - Dyan Reaveley "Dylusions" Stamps by Stampers Anonymous. Paper Layerz - The Coordinated Die-Cutting Paper for Layering Ease. Paper Layerz is the paper that makes coordinating die-cut shapes and layers from ANY die-cutting machine faster, cheaper and easier!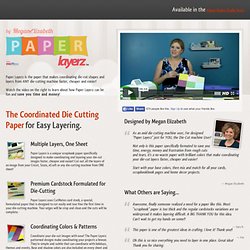 Watch the video on the right to learn about how Paper Layerz can be fun and save you time and money! The Coordinated Die Cutting Paperfor Easy Layering. Multiple Layers, One Sheet Paper Layerz is a unique scrapbook paper specifically designed to make coordinating and layering your die-cut images faster, cheaper and easier! Cut out all the layers of an image from your Cricut, Sizzix, eCraft or any die-cutting machine from ONE sheet!
Floral Print Home Decorating Ideas - Decorate with Floral Prints. Like flowers in a country bouquet, all blooms go together.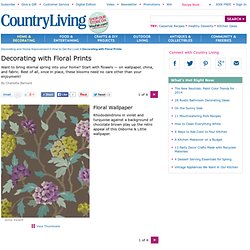 Take this notion to the table for an enchanting effect (clockwise from top right): 1 Botanic Garden soup tureen, Portmeirion; 2 & 3 Gien France Clématites sugar bowl and creamer, Baccarat; 4 Pensées sugar bowl, Bernardaud; 5 Cashmere flatware in Fuchsia, Sabre; 6 Eden dinner plate, Portmeirion; 7 Big pink floral napkins, Kerry Cassill; 8 Accoutrements by Anna Griffin stackable tea set, Lenox; 9 Roses cake pedestal, John Derian; 10 Red Rose tray, Fringe; 11 Pensées saucer, Bernardaud; 12 A stack of three Flower of the Month teacups, Spode; 13 Eden mug, Portmeirion; 14 American Wildflowers Collection Morning Glory dinner plate, Herend.
Creative Papercrafts. Free Printable Storage Labels. Page corner bookmark for kids in Ideas for kids' crafts. Paper Jewels and other Crafty Gems. Inka Gold Tips & Techniques. Don't forget to scroll down the page to see all of the photos!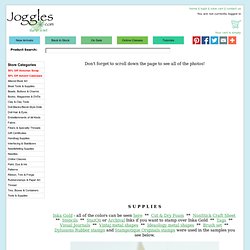 Inka Gold - all of the colors can be seen here ** Cut & Dry Foam ** NonStick Craft Sheet ** Stencils ** StazOn or Archival Inks if you want to stamp over Inka Gold ** Tags ** Visual Journals ** Vintaj metal shapes ** Ideaology metal shapes ** Brush set ** Dylusions Rubber stamps and Stampotique Originals stamps were used in the samples you see below. Hearts and stars, all chipboard, colored with Inka Gold. Simple and effective! This cutie's crown was colored with Inka Gold and is from the Tim Holtz Regal Adornments Ideaology set.
I used my finger and applied the color to the high spots on the piece to allow some of the color of the metal to show in the deeper recesses. Paper Phenomenon. Product Spotlight & Freebie Friday: Pink Paislee Vintage Vogue Collection Week 1…Enter To Win! This week's Freebie Friday Give-Away comes from the Pink Paislee collection called "Vintage Vogue".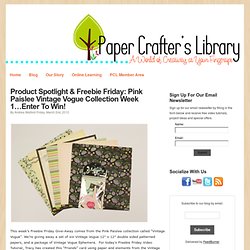 We're giving away a set of six Vintage Vogue 12″ x 12″ double sided patterned papers, and a package of Vintage Vogue Ephemera. For today's Freebie Friday Video Tutorial, Tracy has created this "Friends" card using paper and elements from the Vintage Vogue Collection: Download the pdf handout here. Paper embossing. Prairie Paper and Ink. Paper Covered Switch Plate « The Hybrid Chick. I've been working on revamping my powder room.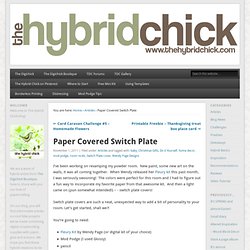 New paint, some new art on the walls, it was all coming together. When Wendy released her Fleury kit this past month, I was seriously swooning! The colors were perfect for this room and I had to figure out a fun way to incorporate my favorite paper from that awesome kit. And then a light came on (pun somewhat intended!) – - switch plate covers!
---